It was a wild one in Seattle on Sunday night. And the LA Galaxy are both lucky and unfortunate to walk away from the tie with a 1-1 Draw against the Seattle Sounders.
Gyasi Zardes scored the only Galaxy goal in the 25th-minute when Jonathan dos Santos was able to find Romain Alessandrini streaking into the Sounders' right-hand flank, just outside the box. Alessandrini beat one man and lofted a perfectly timed cross, with his right foot, to the head of Zardes who was left completely unmarked by Chad Marshall.
SCORING SUMMARY:
LA – Gyasi Zardes (Assisted by Romain Alessandrini, Jonathan dos Santos) 25'
SEA – Lamar Neagle (Assisted by Roman Torres) 85'
The goal is the second in two games for Zardes, who went more than a year before scoring his first in 2017, and it's the fourth goal in two games for the club.
Alessandrini picked up his ninth assist of 2017 which pulled him to an equal amount of goals (nine goals, nine assists). It was his first assist since July 22 – a game the Galaxy lost 4 to 3 at New England.
The Galaxy held that lead into halftime. Something they've accomplished just seven times this season – holding a record of 5-2-0 before this match (now 5-2-1). It's also just the seventh time this season the Galaxy have scored first in a match (5-1-1) and the first time they've recorded a draw after allowing the first goal.
On the flip side, the Galaxy have been guilty of allowing the first goal of the game a whopping 17 times in 2017.
But the Sounders (11-7-10) weren't the type of team to go down quietly.
They outshot the Galaxy 20 to nine overall and five to two on goal. And the second half was rife with chances towards goal.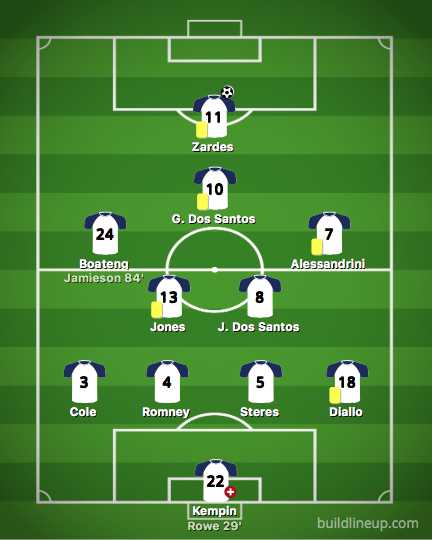 But it took a substitute, Lamar Neagle, to eventually break through the Galaxy's defense. Neagle entered the match in the 83rd minute for Victor Rodriguez and promptly went to work.
Just two minutes later, an amazing cross from Román Torres found Neagle just slightly pulled away from Galaxy defender Bradley Diallo. Diallo was a full step late as Neagle's shot ricocheted off of Daniel Steres and into the back of the net. It was poor marking from the Galaxy's right back, but it was a beautiful bit of football to get the ball in the back of the net and past Galaxy substitute goalkeeper Brian Rowe.
Rowe was brought into the game for an injured Jon Kempin who was involved in a late challenge from the Sounders' Nicolás Lodeiro just before the 30th-minute of play. A foul was called, but little punishment was wielded by Referee Drew Fischer. Something that standouts out as a brief moment of clarity for a referee who eventually handed out seven yellow cards – five to the Galaxy – and one red card.
The second half was full of cards and challenges with many other challenges completely shrugged off by Fischer almost inviting more aggressive plays. But despite several clear chances to use VAR, the Fischer and his crew never went into a full review. And both sets of fans were worse off for it.
MISCONDUCT SUMMARY:
LA – Jermaine Jones (caution) 34'
LA – Bradley Diallo (caution) 42'
LA – Romain Alessandrini (caution) 55'
SEA – Oniel Fisher (caution) 73'
SEA – Osvaldo Alonso (caution) 75'
LA – Giovani dos Santos (caution) 80'
LA – Gyasi Zardes (caution) 81'
SEA – Roman Torres (ejection) 90'
The Galaxy have a legitimate gripe that a late stomp and an elbow to the face by the Sounders' Osvaldo Alonso should've seen the player ejected. But a yellow card was issued for the foul on Boateng, and no review was made known.
And the Sounders will feel particularly aggrieved that Torres was sent off in the 89th-minute after chasing down the Galaxy's Jermaine Jones on a great counter attack. Torres is seen coming together with Jones just outside the Sounders' penalty box. Jones falls, but there seems to be very light contact from the angles available to the broadcast.
The red card, which is always reviewed by VAR, stood but without an on-field hold or review by center referee Fischer. Was it a clear and obvious error was made by the center official? It seemed that way, and Torres will miss the next game as well.
With six minutes of stoppage time, the Galaxy had a few more chances against a 10-man Sounder squad, but it all ended in a draw. A wildly entertaining draw from a neutral's perspective, but still well short of the three points both teams needed.
The Galaxy will have many casualties from the play tonight. With Kempin suffering an unknown injury, and both Jones and Alessandrini suspended for the Galaxy's next home match against Toronto FC for yellow card accumulation, the team that takes the field on September 16 might look much different than the one that graced the awful turf at Centurylink on Sunday evening.
The Galaxy sit in ninth place in the Western Conference and are still at least ten-points from a possible playoff spot.  But their draw has momentarily plunged the Sounders to second place in the conference and allowed the Portland Timbers to take over the conference lead.
If the Galaxy like playing spoilers, that's not a bad place to start. It'll only help for 2018.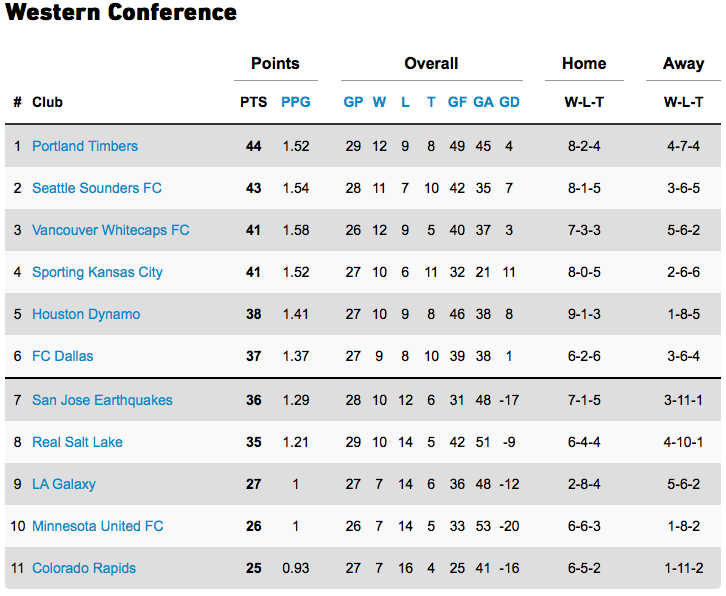 In the end, it was one of the Galaxy's better performances. Jones was a total pest in midfield and was largely responsible for keeping the Sounders frustrated when they entered the box.
Jonathan dos Santos was also good on the night as he kept the ball moving across the middle of the field and did well to find Alessandrini and Boateng who both played well.
And anytime Zardes can get a header on-frame is a good night for him. Although he did waste some dangerous chances and still looks a step slower than he's been throughout his career. His partnership with Giovani dos Santos is still a work in progress and most of that criticism should be heaped far away from Zardes.
The only big mistake came from Diallo who allowed Neagle to get too far away from him accounting for Seattle's most dangerous chance of the night. But he's the Galaxy's third choice and he's still got some growing to do if he's going to be a consistent option for this club.
Surely some Galaxy fans will take this draw as a loss, and who could blame them? It's been a bad year and wins are few and far between.
But this team has been beaten too many times this year and anytime you can go on the road, to a conference leader, and frustrate them for 96-minutes, you've done a job.
Hopefully, that kind of resolve will show up at home, when the Galaxy host Toronto next week.