The last thing the LA Galaxy wanted was to face the best team in Major League Soccer. But on Saturday night, at StubHub Center, they'll get that chance, and they'll be forced to do it without two of their better players.
Toronto FC (17-3-8; 59 points) currently holds the top spot in the Eastern Conference and leads the league and conference by nine-points. They'll enter the match on a ten-game undefeated streak and will look to equal a franchise record six consecutive wins (a record they set earlier this year) when they take on the Galaxy at StubHub Center.
GAME INFO: LA Galaxy vs. Toronto FC, Saturday, September 16, at 7:30 p.m. PT
TV INFO: SpectrumSN, SpectrumDeportes
The Galaxy (7-14-6; 27 points), on the other hand, are on a two-game undefeated streak, after recently ending both a ten-game winless streak at home and overall.
But in the Galaxy's 1-1 draw with the Seattle Sounders, last weekend – a match that saw seven yellow cards and a red card – both Romain Alessandrini and Jermaine Jones picked up cautions. Both players will now have to miss out on this weekend's clash due to yellow card accumulation.
Alessandrini has been directly involved in 19 of the Galaxy 36 goals this season ( nine goals, ten assists) and has been viewed as the club's most dangerous player. He's dynamic on the wings and has even been credited, in the last two games, with helping Gyasi Zardes regain some confidence.
"Our wing guys are doing an amazing job, Romain [Alessandrini] on the right and Ema [Boateng] on the left. They're getting to the end-line, they're getting crosses in, and that's allowing me to get opportunities," Zardes told reporters after the game last weekend. "I can easily free myself from two defenders, but they're finding me."
Equally as important to the last few games has been Jones. With Galaxy Head Coach Sigi Schmid demanding Jones play a more defensive midfield position (the no. 6 position), the Galaxy's somewhat porous defense has become more formidable. And Jones' persistent pestering of the Sounders' Clint Dempsey, and any other player who dared to try and run through the middle of the field, was a key reason the Galaxy were able to be competitive in a game where they were dominated statistically.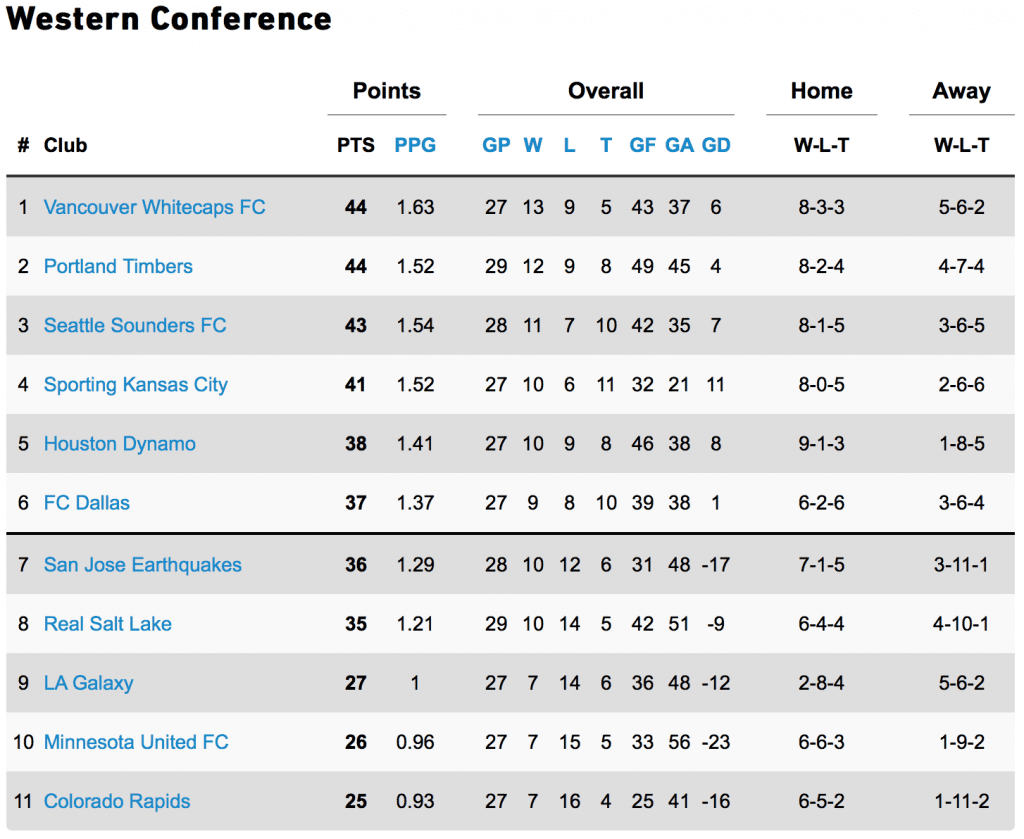 Losing both of these players, and an injured Daniel Steres, against a very deep Toronto team, is a tough blow to any remaining fantasy-based playoff hopes.
The one bit of good news for the Galaxy is that Toronto will also be without two of their best players. Both Jozy Altidore and Sebastian Giovinco will not travel to Los Angeles for this game. Combined, they've scored 28 of the Toronto's almost 60 goals. So their exclusion from this game only makes a monumental task, slightly less monumental.
It's unlikely that Toronto's offense will be too stunted, however. They've scored a league-leading 59 goals this season. That's four more goals than Atlanta United FC who just finished a seven-goal rout of the New England Revolution, and that's 23 more goals than the Galaxy's paltry 36 goals on the season.
Toronto has also scored 29 league goals since July 1, while the Galaxy have scored just eleven times in the same period and won just a single game in that span.
And Toronto will still have Michael Bradley, Jonathan Osorio, Victor Vasquez. All wonderful players in their own right.
Simply put, it's a tale of two completely positioned and constructed teams.
INJURIES AND LINEUPS
Jon Kempin should return to start in goal for the Galaxy after having to exit in the 30th-minute of last weekend's match with a left knee contusion. But he's been back to training with the club since the middle of the week and shouldn't see much impact from his forced exit. If for some reason he can't go, Brian Rowe will likely slot into that spot again.
Michael Ciani, the newly-signed French center back, will be on the 18-man roster for the first time. And with Steres out (confirmed by Schmid) with what looks to be a back injury, it's likely the Frenchman could see his first Galaxy minutes in this game.
João Pedro should also see a return to the starting lineup in place of Jones after being left out of the starting lineup for only the third time this season.
Finally, Bradford Jamieson is likely to revive his role on the right-hand side of the midfield in place of Alessandrini.
It's far from an ideal lineup, but given the Galaxy's options, it will have to do.
THE FINAL ACT
The Galaxy sits 10-points from a playoff position with just seven games remaining. And Toronto is by far the toughest opponent in their last three home games — Real Salt Lake and Minnesota United are the other two matchups.
The Galaxy will depart this match for a three-game road trip that will take them through Atlanta, Kansas City, and Houston before returning at the end of the month to host Real Salt Lake.
| DATE | TIME (PT) | OPPONENT | VENUE |
| --- | --- | --- | --- |
| Wednesday, September 27, 2017 | 5:30 PM | Houston Dynamo | BBVA Compass Stadium |
| Saturday, September 30, 2017 | 7:30 PM | Real Salt Lake | StubHub Center |
| Sunday, October 15, 2017 | 4:30 PM | Minnesota United FC | StubHub Center |
| Sunday, October 22, 2017 | 1 PM | FC Dallas | Toyota Stadium |
But the focus remains on Toronto, first.
"We just take it game by game," Emmanuel Boateng told reporters after Saturday's draw. "Toronto is going to be a big challenge in our home but we just have to get ready for that one."
This is just the start to a busy, and travel-filled string of games that will leave little time for training or recovery but it could ultimately shape the way next season plays out. Any ground gained in these remaining games is positive; even if this game most likely ends up in a negative result.
PREDICTED LINEUP: