Carson, CA – The LA Galaxy didn't get a single shot on goal in their 4-0 loss to Toronto FC on Saturday night and at times it looked like MLS-best Toronto (18-3-8) were merely toying with them. And that was without Jozy Altidore or Sebastian Giovinco – their two leading scorers.
It was another embarrassing loss in a season that has seen more than a few. Maybe even worse than when Real Salt Lake traveled to Carson on July 4 and promptly hung six goals on the galaxy in a 6-2 loss.
And while the loss does little to hurt the Galaxy's playoff hopes (7-15-6) — they were slim to nonexistent, to begin with — it does stunt a psyche that was starting to form some glimmers of hope and competence after a 3-0 win over Colorado and draw with the Seattle Sounders at CenturyLink last weekend.
The Galaxy have now been shutout five times in their last eight games and have been outscored 11 to five during that stretch. They've won just a single game since Schmid took over for ousted head coach Curt Onalfo and have a record of (1-5-2) and have looked anything but dangerous.
After the match, reporters were ushered away from the unopen doors of the Galaxy locker room while Schmid held a 15-minute post-game team meeting. Something that hasn't happened in at least the last six seasons.
"The main message was that guys are playing for their jobs," Jon Kempin told reports of the closed-door meeting. "Play for some pride. That's the main message. You've got to go to practice now and work hard and play hard. Have some pride. It wasn't loud, but he [Schmid] was frustrated."
And Schmid should be frustrated.
With Galaxy stars, Romain Alessandrini and Jermaine Jones suspended for yellow card accumulation and also missing defender Daniel Steres with injury, Schmid opted to start in a 3-5-2 formation with Frenchman Michael Ciani making his team and league debut.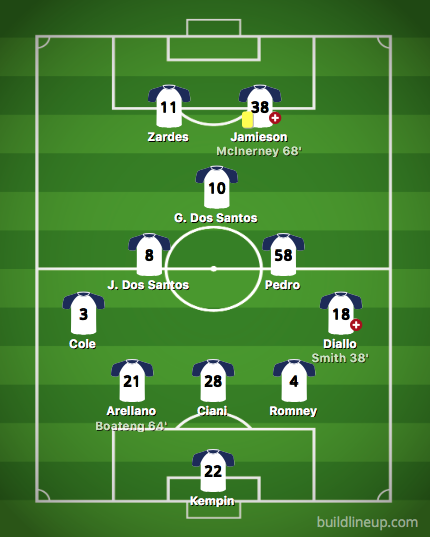 But from the start, Toronto proved how much better they were.
The Galaxy allowed the first goal when a quick free kick in the 24th-minute, taken by Toronto's Victor Vasquez, caught the entire team sleeping. Kempin went back to attempt a save but Vazquez's quick shot clanked off the woodwork and landed perfectly at the feet of Drew Moor who was able to slot it home for the opener.
The Galaxy were furious that a whistle didn't start the play, but Toronto was well within their rights to kick it.
"The [first] goal confuses me a little bit," Schmid told reporters during his press conference. "Did they ask for ten yards, did they not, did the referee push us back…but anyway, it's a non-attentive goal."
And it was downhill from there.
Tosaint Ricketts would add two more goals in the 37th and 76th minute and Vasquez would get the final goal of the night as a verbal miscommunication between Ciani and his entire backline gifted goalkeeper Alexander Bono an assist on the goal that was easily finished.

Despite the four goals, Kempin was still forced into making four saves on the night and kept the game from easily being worse than it was.
And, as if the season wasn't already filled with injuries, the Galaxy were forced to replace Bradley Diallo (Right Hamstring) in the first half with Nathan Smith and Bradford Jamieson IV (Cramps) in the 68th-minute with Jack McInerney.
In total the Galaxy were only able to muster three shots toward goal while Toronto lobbed 16 shots at the Galaxy's end of the field.
The offense was nonexistent.
When asked about the team's offensive struggles, Schmid was abrupt and pointed in his answer. "We weren't good enough."
Giovani dos Santos took two shots in the game, both within six minutes of each other and Jonathan dos Santos had the best chance of the night as his first half long-range attempt sailed just over the crossbar.
But the Galaxy were missing Alessandrini – the only true offensive creator for the club in 2017.
Michael Bradley was persistent and controlling in the middle of the field for Toronto and consistently broke up any hope of the Galaxy breaking free.
Even Emmanuel Boateng's substitute appearance in the second half wasn't enough to stoke the Galaxy towards any sort of offensive danger.
The Galaxy will begin a busy week as they'll play three consecutive road matches starting on Wednesday, September 20. They'll face off against a dangerous Atlanta United team and then play Sporting KC, and Houston before returning home to face Real Salt Lake at the end of the month.
| DATE | TIME (PT) | OPPONENT | VENUE |
| --- | --- | --- | --- |
| Wednesday, September 27, 2017 | 5:30 PM | Houston Dynamo | BBVA Compass Stadium |
| Saturday, September 30, 2017 | 7:30 PM | Real Salt Lake | StubHub Center |
| Sunday, October 15, 2017 | 4:30 PM | Minnesota United FC | StubHub Center |
| Sunday, October 22, 2017 | 1 PM | FC Dallas | Toyota Stadium |
And with the Galaxy's postseason fantasy destroyed, finding something to play for might be harder than it seems.
"Although you want to play for results every single game you're in, you can take good things out of maybe a draw or something you can build on for next season or something like that," Dave Romney told reporters after the game. "It's just playing for pride. It's frustrating."
Pride is all the Galaxy have left. And the season has been more frustrating than any in Galaxy history.