It's nearing an end. The LA Galaxy (8-17-8) will play their final game of the 2017 season on Sunday afternoon as they faceoff against FC Dallas on the road in Frisco, Texas (1 p.m. PT kickoff on SpectrumSN & Spectrum Deportes).
With a recent win over fellow cellar-dwellers Minnesota United at home, the resulting boost in confidence may have the Galaxy feeling better. And while their three wins at home this season is always going to be appalling, the Galaxy return to the road where they currently have the second-best record in the conference and the fifth-best record in the league (5-8-3; 18 pts).
FC Dallas (10-10-13), on the other hand, has a 7-2-7 record at home and probably welcomes any chance to host their final game of the season in front of their supporters.
GAME INFO: FC Dallas vs LA Galaxy, Sunday, October 22, 1:00 p.m., Toyota Stadium
TV INFO: SpectrumSN, Spectrum Deportes
A team the Galaxy started the season with (losing 2-1 on March 4), Dallas has had a Jekyll and Hyde type of year. Once regarded as "the team to beat" in the Western Conference, they've won only two of their last 16 games (since July 4) and have been outscored 32 to 13 during those matches (2-8-6; 12 points).
The Galaxy, to put that into perspective, are 2-9-4 for 10 points since July 4 and have been outscored 30 to 16.
But the Galaxy are at the bottom of the league where Dallas still has a chance at something more. And while neither team is impressing with their late season form, and neither team deserves to be in the playoffs at this point, hope is still alive for one of them. And where there is hope there is a chance for postseason play and a surprise MLS Cup.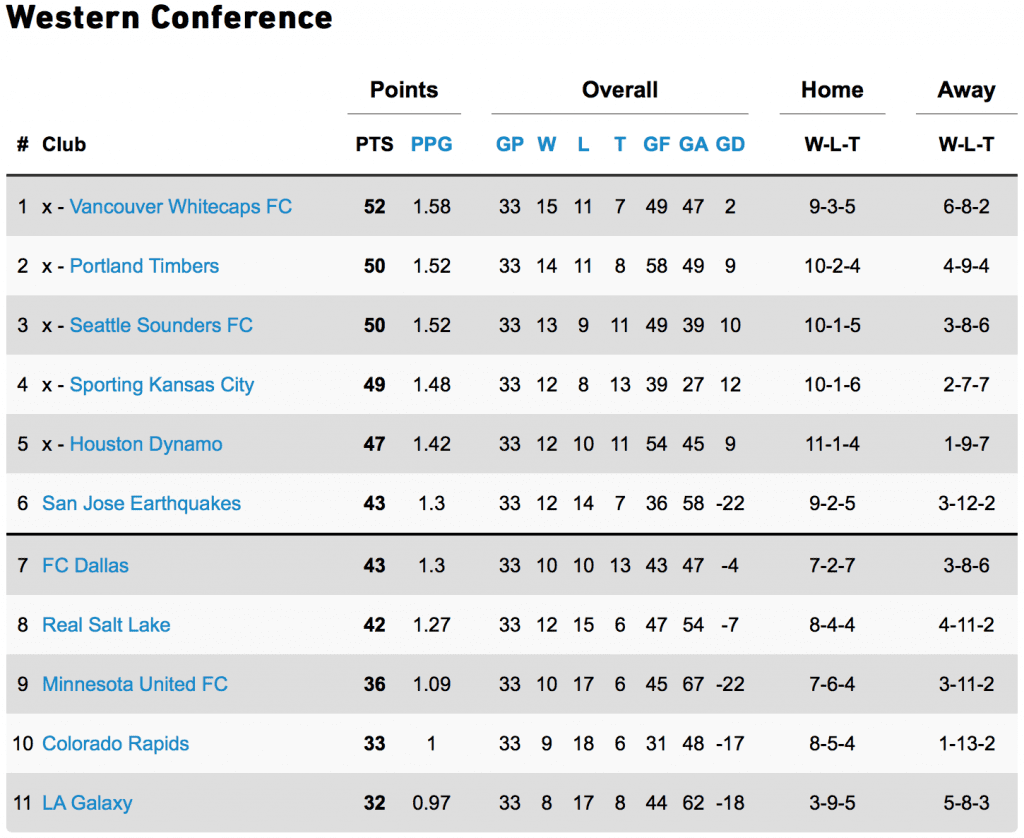 Dallas would need a win in order to move up the table and clinch a playoff position as they currently sit in seventh place in the Western  Conference. But they can't do it on their own. They'll also need the San Jose Earthquakes to find a reason to stumble against Minnesota United — something that is unlikely to happen.
The Galaxy may also have some table-climbing on their minds. Currently, the club sits at dead last in the league. A loss to FC Dallas would guarantee the five-time MLS Cup Champions would keep that position — something the club has never done in its 22-year history. Meanwhile, a win or a draw could see them climb over DC United who they are tied with at this moment or jump the Colorado Rapids who are a point ahead.
It's almost exciting to think about the ramifications that this game has on the history of the league or who gets into the 2017 playoffs. But it's also extremely discouraging to think that the Galaxy had a playoff position locked up last year and were only penalty kicks away from going to a Western Conference Final. This year they're trying to luck their way out of another historical low.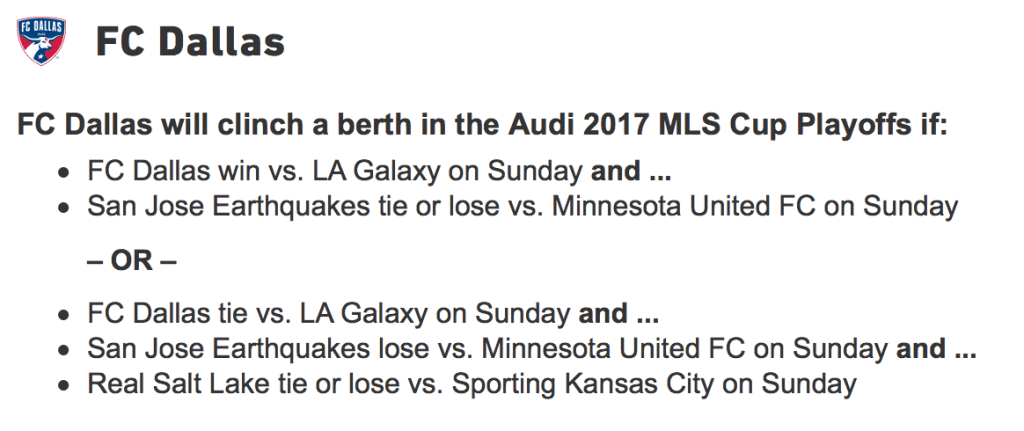 FC Dallas will look to rebound from a horrible performance against Seattle where they were blown out 4-0 at Centurylink Field. And with a win on their minds, a highly motivated group should take the field on Sunday. With 90 minutes all that separates them and a possible chance at the postseason, the game could be a lively affair with a desperate ending.
But simply stated, neither of these teams had anywhere near the season they expected. With both teams taking a significant hit to their mystique and influence within the league. FC Dallas was knowns as the team with the best young players and probably the best academy system in the league. And the Galaxy were known as consistent title contenders. Seeming to buck the trend of forced parity within the confines of MLS.
Neither seems to be the shining star of anything, at the moment. And this game won't change that overall opinion of this season.
With both teams looking at a long offseason, this game either goes down as one final example of how bad this season was, or a glimmer of hope for what could be in 2018.
Afterall, there's always next year!