The LA Galaxy are already deep into the draft season. And with two drafts already completed and more on the way, we thought we'd give you the perfect way to keep track of it all! Plus, we've also got all the trades and all the signings for the senior team below. Finally, we threw in a Rumor tracker as well. This is one-stop shopping to find out what your LA Galaxy have been up to this offseason.
Last Updated at 8:20 a.m. 2.14.18 – Zlatan Ibrahimovic Rumors; House Shopping in Los Angeles.
MLS DRAFT RESULTS
MLS WAIVER DRAFT
Took place on December 12, 2017
LA Galaxy Pass on their first overall selection.
Only two players are taken by the 23 teams in the league
Former LAG Goalkeeper Clement Diop is selected by Montreal
MLS RE-ENTRY DRAFT STAGE 1
Took place on December 15, 2017
LA Galaxy have the 1st pick. Results to Follow
LA Galaxy passed with their first selection.
Minnesota and Colorado were the only teams to acquire anyone.
MLS RE-ENTRY DRAFT STAGE 2
Took place on December 21, 2017
The LA Galaxy had the 1st pick. Results Below

LA Galaxy have selected Midfielder Servando Carrasco (12.21.17)

15 GP, 9 GS, 833 mins, 1 goal in 2017
126 GP, 77 GS, 7,206 mins, 2 goals Career
Spent last three seasons with Orlando City
Started his career in 2011 with the Seattle Sounders and Sigi Schmid
Is married to USWNT star, Alex Morgan (married in 2014) who currently plays for the Orlando Pride in NWSL
The Galaxy now hold the right to negotiate with Carrasco for a new contract and are required to make a genuine offer to the player within seven (7) days, subject to League Office approval.
UPDATE 1.5.18 – It's expected the Galaxy could sign Carrasco within the next week. Although things could still change, that's where things stand. 
The Galaxy have officially signed Carrasco (1.11.18)
2018 MLS SUPERDRAFT
The 2018 MLS SuperDraft will take place on Friday, January 19, 2018 in Philadelphia, PA following the 2018 MLS Combine (January 11-17) at Orlando City Stadium.
The LA Galaxy Have the following picks in the draft:
Round 1 – Tomas Hilliard-Arce (Defender, Stanford)

2nd pick in round 1
2nd Overall
Hilliard-Arce will be added to the Galaxy's Roster

Round 2 – Drew Skundrich (Midfielder, Standford)

17th pick in round 2
40th Overall

Acquired from Brian Rowe Trade to Vancouver

Round 3 – Nate Shultz (Defender, University of Akron)

2nd Pick in round 3
48th overall

Round 4 – Pass

21st pick in round 4
90th overall

Acquired from Columbus Crew via Jon Kempin Trade
TRANSACTIONS
NEW  SIGNINGS:
LA Galaxy acquires Norwegian Center Back, Jorgen Skjelvic on a Free Transfer from Rosenborg (12.14.17)
LA Galaxy acquires Venezuelan Right Back, Rolf Feltscher on a Free Transfer from Cardiff City. (12.19.17)
LA Galaxy have signed former San Jose Earthquakes goalkeeper David Bingham (1.8.18)

The Galaxy traded $100K in GAM and $100K in TAM to San Jose for his rights on 12.18.17.
Official Press release issued on 1.10.18.

LA Galaxy have signed former Orlando City midfielder Servando Carrasco (1.8.18)

The Galaxy acquired his rights in the 2nd stage of the 2017 Re-Entry Draft on 12.21.17
Press Release issued by the club confirming the signing (1.11.18)

LA Galaxy have signed Randers FC Midfielder Perry Kitchen on a Free Transfer (1.9.18)

Kitchen will be a domestic player and was signed using TAM
LA Galaxy traded for the rights to Kitchen with DC United

Galaxy send $100K in GAM and $200K in TAM to DC United for the rights to Kitchen
Press Release issued by the club confirming the signing.

LA Galaxy have signed North Carolina FC Goalkeeper, Brian Sylvestre (1.12.18)

Sylvestre is expected to be the Galaxy's backup goalkeeper.

LA Galaxy have signed Sacramento Republic defender, Emrah Klimenta (1.13.18)

Klimenta will not take up an international slot
Press Release issued by the club on 1.16.18

LA Galaxy have signed Free Agent and former Philadelphia Union Midfielder, Chris Pontius (1.22.18)

Pontius is 1 of 2 Free Agents the Galaxy are allowed.

LA Galaxy have signed goalkeeper Justin Vom Steeg from LA Galaxy II (3.1.18)

Vom Steeg is 20 years old and played with Galaxy II in USL last year
RE-SIGNINGS:
The #LAGalaxy have signed @TheRealAC3 and @Ba66io (that's Ashley Cole and Baggio Husidic) for 2018, Formal announcement expected soon. Cole's signing could leave the team squeezed for international spots

— Kevin Baxter (@kbaxter11) January 2, 2018
TRADE TRACKER:
LA Galaxy trade Goalkeeper Jon Kempin to Columbus Crew for 2018 4th round MLS SuperDraft Pick (12.13.17)

Galaxy receives 2018 4th Round Draft Pick in MLS SuperDraft
Columbus Crew receive the rights to Jon Kempin
LA Galaxy trade Forward Jack McBean to Colorado Rapids for 2019 conditional 4th round Draft Pick (12.14.17)

Galaxy receives 2019 conditional 4th Round Draft Pick in MLS SuperDraft
Colorado Rapids receive the rights to Jack McBean
LA Galaxy trade Goalkeeper Brian Rowe to Vancouver Whitecaps for a 2018 2nd round Draft Pick (12.15.17)

Galaxy receives 2018 2nd round Draft Pick in MLS SuperDraft
Vancouver Whitecaps receive the rights to Brian Rowe
LA Galaxy trade $100,000 in General Allocation Money and $100,000 in Targeted Allocation Money for the rights to San Jose Earthquakes Goalkeeper, David Bingham (12.18.17).

Galaxy receives the rights to GK David Bingham (Signing announcement expected soon)
San Jose receives $100,000 in GAM and $100,000 in TAM
LA Galaxy trade Forward Jose Villarreal to Orlando City for a 3rd Round 2019 SuperDraft Pick (12.27.17)

Galaxy receives a 3rd round 2019 MLS SuperDraft Pick
Orlando City receives the rights to Jose Villarreal
LA Galaxy trade striker Gyasi Zardes and $400,000 of Targeted Allocation Money to the Columbus Crew in exchange for Striker Ola Kamara (1.20.18)

Galaxy receives striker Ola Kamara
Columbus receives Gyasi Zardes and $400,000 in TAM (another $100,000 if Kamara scores 12 goals or more)
The following rumors have not been confirmed unless expressly stated that they have some substance to them.  Some of these are ridiculous. We didn't make them up. Go yell at someone else!
ZLATAN IBRAHIMOVIC TO THE LA GALAXY (AGAIN):
WARM
Here we go again! ESPN's Taylor Twellman reported that the Galaxy may once again be courting World Superstar Zlatan Ibrahimovic.
Keep an eye on @LAGalaxy and @Ibra_official as it has gained some serious legs over the last couple of days. I think a deal gets done. #MLS

— Taylor Twellman (@TaylorTwellman) January 29, 2018
Now there are plenty of reasons to dismiss this story. The Galaxy don't have any Designated Player spots, they're already over by one International slot, and surely Ibrahimovic, who has been sidelined by a knee injury since returning to Manchester United after what seemed like a career-ending injury isn't interested in coming to the Galaxy for pennies, right?
According to some reports, that's all wrong! And that's good for the Galaxy.
Zlatan is reportedly eyeing a Targeted Allocation Money deal that could see the 36-year old join the Galaxy for no more than $1.5 million a year. That would leave the Galaxy completely intact in terms of players they've already signed.
The only thing the Galaxy would need to hunt down is an international slot. Something they may already be working on considering that Kamara was the ninth International and the Galaxy only have 8 slots. The worst case scenario sees the Galaxy buy a slot from another team. Hardly a deal-breaker.
The really interesting part becomes how Ibrahimovic might acquire some additional wealth in Los Angeles. With sponsors possibly foaming at the mouth to get the superstar into the states, could the Swedish International put some additional dollars in his pocket besides the money the Galaxy would pay him? That's the current line of thinking.
Jose Mourhino has made it a policy to release players that don't want to be with Manchester United, so the Galaxy should be able to get Ibrahimovic on a free transfer and without too much squabbling from the EPL side. And he's been pushed so far down the depth chart, it's unlikely there is a reason for him to stay. So why continue in England?
The Galaxy seem to be closer than ever before on Ibrahimovic, but there is still plenty to be cautious about. Could this be another false start for the Galaxy and a very injured Ibrahimovic? Is he even a starter if he can't make his way off the bench?
Something tells me that we're going to get a chance to find out.
***UPDATE 1.31.2018*** French newspaper L'Equipe is reporting that Ibrahimovic has already signed a contract with the Galaxy and that it was done up to three weeks ago.
As discussed on the podcast, the Galaxy seem to be indicating that talks are ongoing and that nothing has been completed, yet.
***UPDATE 2.14.2018*** ESPN is reporting that Zlatan is house-hunting in the Los Angeles neighborhoods of Bel-Air and Beverly Hills. He's apparently exploring his options when it comes to living situations, and this includes checking things out in LA.
The article is very clear on saying that Ibrahimovic has not made up his mind about where he is going in the next stage of his career, but that all options seem to be on the table. That includes re-signing with Manchester United.
This all means absolutely nothing – until it does. So Galaxy fans will have to endure this rumor, even with the likelihood that the Galaxy will once again miss out on their big target man.
This could be setting up a summer transfer window move, or it could be that Ibrahimovic will arrive after the season has already started inside the primary window — if United release him, he could arrive outside a window. But at that point, are you just renting Ibrahimovic for 6 mos if it happens in the summer? Has the ship already sailed on this once promising rumor? Does it make the Galaxy sound desperate?
DEFENDER MICHAEL CIANI ON HIS WAY OUT: 
ROOM TEMPERATURE
The LA Galaxy are trying to offload Michael Ciani. That's probably not a surprise being his salary takes up $620,000, TAM, and an International Slot — all things the Galaxy could use other places.
Ciani seems to have been brought or signed before Sigi Schmid was installed as Head Coach and definitely before he was given control over all player personnel decisions. This signing seems to have the fingerprints of Pete Vagenas and Jovan Kirovski written all over it. And that should have Galaxy fans worried.
The Galaxy are trying to find a place for Ciani but as one could imagine, the contract will be a significant sticking point. No destinations for the French central defender have been mentioned, but there seems to be an attitude of "anywhere but here" surrounding his future.
If able to get salary cap relief, it would be surprising to have the club just eat his contract and release him — it's that bad.
While it would be surprising to see him on the roster on opening day, the trend right now is to move him at any cost.
***UPDATE 1.30.2018*** This saga continues but the Galaxy may be focusing in on moving the 33-year old defender. They need an INTL slot and they may need more than one if the Ibrahimovic rumors are true. Plus, Ciani takes up a lot of TAM they might need to land Zlatan. Wouldn't be surprised if Ciani isn't on the roster come March 4th!
STRIKER RODRIGO AGUIRRE ON LOAN TO THE GALAXY:
COLDER
Rumors are beginning to emerge that the Galaxy could be looking to sign 23-year old Uruguayan Striker Rodrigo Aguirre.
Aguirre is currently owned by Udinese but has been out on loan since 2014 and has played this season for Nacional. This year the young striker has 26 appearances with 13 goals.
The deal would apparently involve a loan for anywhere between $300,000-$500,000 with an option to buy for around $6 million.
Udinese apparently wants to sell the player but the Galaxy, according to reports, are only interested in a loan at this time. Probably because they don't have any DP spots open to absorb the transfer fee.
We have not been able to confirm any of these claims, but we do know that the Galaxy are involved in talks concerning multiple offensive targets.
Have been told that @Nacional and @Udinese_1896 striker Rodrigo Aguirre is on his way to @LAGalaxy

— Juan G. Arango (@JuanG_Arango) January 10, 2018
A Rodrigo Aguirre lo siguen negociando porque el Udinese quiere venderlo a los Angeles Galaxy.Se sube el prestamo a 500 mil dolares.

— Alberto Perez (@albertoperez141) January 10, 2018
Rodrigo Aguirre jugará en Los Ángeles Galaxy. Se va a préstamo por US$300.000 con opción de compra de 6 millones de dólares. Tremenda baja para Nacional.

Vía @albertoperez141 pic.twitter.com/x13m8RXo9B

— Valentin Fletcher (@vale_flet) January 10, 2018
***UPDATE 1.16.2018*** Uruguayan publication Diario El Pais did an interview with Aguirre's Agent. You can read it all HERE. In the article, he claims that another team blocked a move for Aguirre. That team could have been Montreal. Both teams were rumored to have interest and MLS may have stepped in to enforce some rules.
According to people we've been talking to, the Galaxy may have decided to move on, rather than the league blocking anything. And it may have been because the Galaxy are keeping their options open. Kamara may still be an option, or, there could be another name we haven't heard yet. But it's probably not wise to completely count out Aguirre yet either.
I know it's not cut and dry, but the interview with the agent may not be telling the whole story. Or shading the story in one direction because of the benefit to his client.
But who are we kidding? The league is perfectly capable of blocking deals and enforcing "non compete" rules.
LA GALAXY HUNT HUNGARIAN DEFENDER, ADAM LANG:
COLD
(1.1.18) The LA Galaxy are apparently interested in Hungarian defender, Adam Lang, according to L'Equipe. The 24-year old defender is currently on the outs with French Club Dijon and there are multiple teams interested in his services.
The Galaxy have already added Jorgen Skjelvik and Rolf Feltscher – both defenders and both internationals – so this particular move would be a bit puzzling. Especially when the club is flirting with being out of INTL slots – they currently have seven of their eight spots used (8 of 8 now that they've re-signed Ashley Cole).
Lang has suited up 22 times with the Hungarian National Team and could be the type of youth the Galaxy could build around. But if Lang comes in, likely at central defense, that could move Skjelvik out to left back and likely signal an end to Ashley Cole's time with the club.
***UPDATE 1.5.2018*** With the re-signing of Ashley Cole and no available international slots, this deal feels like it's dead. Metro.US' Kristian Dyer is reporting that
Sous contrat jusqu'en 2020, Adam Lang pourrait être prêté lors de ce mercato d'hiver. Il serait suivi par des clubs polonais, russes, Nancy (L2) et les Los Angeles Galaxy (MLS).

via @lequipe pic.twitter.com/gii6sLTBd4

— Made in DFCO (@MadeinDFCO) December 29, 2017
***UPDATED: 1.3.2018*** With the announcement of Ashley Cole re-signing with the Galaxy, it seems unlikely they would load up on another defender and on another international — they still haven't signed that striker everyone is waiting for.
MIGUEL IBARRA TO THE LA GALAXY:
COLD
The LA Galaxy are interested in Minnesota United's Miguel Ibarra. Ibarra lost his starting spot for United and now it seems that the Galaxy and Schmid are interested in bringing him to the City of Angels. According to Metro, there are several teams that inquired about the midfielder's availability. And apparently, Sigi has tried to get him once before when he was at Seattle.
I'm hearing that #LAGalaxy are pushing hard to acquire #MNUFC winger Miguel Ibarra. They aren't the only ones – #RCTID and #Sounders are trying to make a deal for him, as well.

— Jeff Rueter (@jeffrueter) December 15, 2017
One more thing, Galaxy Insider talked to Schmid today and he's confident that he's going to land someone soon. Is Ibarra one of those guys?
"We have some players who are in play in that position," Schmid told LA Galaxy Insider. "I don't like to talk about it until we get it done, but right now, we're continuing to get it done and we're hard at work in that process."
ALEXANDRE PATO TO THE GALAXY:
COLD
If you're not aware of the ongoing saga between the Galaxy and Pato, then you're not missing much. But there is some history to this. Ever since Jonathan dos Santos arrived, it seems as if Pato has turned his attention to the club. He likes and responds to posts on Instagram on the regular and talks to both of the dos Santos brothers via social media as well. What does that mean for the Galaxy? NOTHING! Well until it does.
Is a recent social media story by Jonathan dos Santos change this? Probably not. We've had no confirmation from anyone around the club. Still, it's interesting. But let's leave it at that for now. Especially being the 28-year old striker is currently playing in China.
Don't mind me. I'm just surely because the portrait nature of the picture screws up my tracker!
@GalaxyPodcast @RiotSquadcast @LAisOurHouse 👀?! #LAGalaxy pic.twitter.com/cQlExXD0Ur

— Madam Serrano (@LAGalaxyOUTSDR) December 16, 2017
UPDATE: FWD ROBIN VAN PERSIE TO THE LA GALAXY:
COLD
Robin Van Persie is interested in coming to the Galaxy from Turkey. He's still coming off of injury, and he's not getting playing time, but is this really about a 34-year old coming to compete? Or is it a 34-year old coming to retire? One source says he's talking to both LA Teams.This deal is not dead. It's quiet and surely a long shot, but it's not dead. That is all.
This deal is not dead. It's quiet and surely a long shot, but it's not dead. That is all.
***UPDATE: 12.26.2017*** More reports swirl around the possibility of Van Persie coming to the Galaxy. With one report saying that the Galaxy have put in a bid of $450,000 for the striker (although those number often confuse dollars with Euros and other things). But at that price point RVP would be under the Salary Cap and not would not cost the Galaxy any TAM.
These reports are from no reputable sources – and are generally impossible to track down – but we told this deal wasn't dead last week, and it's still not dead. We're giving it an upgrade in terms of heat. This rumor now moves to WARM!
We're not sure if it gets done, but there is real interest and that's enough to warrant our continued observation.
***UPDATED: 1.3.2018*** L'Equipe is reporting that RVP is headed home to Feyenoord Rotterdam. Perhaps this will finally put this rumor to bed? Probably not. Not until he signs.
Robin van Persie négocie son départ avec Fenerbahçe afin de revenir dès cet hiver au Feyenoord Rotterdam https://t.co/45j3LlzKC5 pic.twitter.com/HNefs1znYy

— L'ÉQUIPE (@lequipe) January 3, 2018
FREE AGENT CHRIS PONTIUS IS LIKELY TO SIGN WITH THE LA GALAXY:
CONFIRMED
Let's just say we had a conversation with someone during the last days of the Galaxy's horrible 2017 campaign about Free Agent Chris Pontius wanting to come home to Los Angeles (originally from Yorba Linda, CA). Now both LA teams were in the conversation, but it always seemed a better fit with Sigi Schmid than with Bob Bradley.
Reporter Paul Tenorio now gives us a reason to open up about the possible deal.
Pontius is 30 years old and had two goals and six assists in 2017 for the Philadelphia Union where he played for the last two seasons.
League rules allow each team to sign two free agents per year. The Galaxy haven't signed any in 2018, so they don't have an issue there.
Pontius will enter his 10th year of MLS competition after spending most of that time with DC United. He's an attacking left-sided midfielder who would do well to replace Emmanuel Boateng as a bench player. This, of course, would link the rumors of Pontius coming to the Galaxy with Boateng's rumor of being involved in the Zardes/Kamara trade. When you connect the pieces they seem to fit.
And while Pontius isn't as good as Boateng, the Galaxy are using the high value of Boateng to get Kamara. It's not a ridiculous claim despite the fact that he's a beloved member of the Galaxy's squad. Jamieson could also fill in on th wing, and with Pontius' history of injury, it might be wise not to put too much stock in him starting on a regular basis. But maybe a bench role is exactly what he's looking for.
Would you make the trade?
More buzz: #LAGalaxy is the most likely landing spot for #MLS veteran free agent Chris Pontius, per a league source. Pontius, 30, had 2 goals, 6 assists last year after 12g, 6a in 2016. From just down the road in Yorba Linda, Calif.

— Paul Tenorio (@PaulTenorio) January 17, 2018
***UPDATED: 1.20.2018*** We continue to hear Pontius' name being talked about. The Galaxy seem like a likely landing spot, even with Boateng staying with the Galaxy. This could be some great depth and a good veteran presence for the Galaxy.
We think this deal gets done.
UPDATE: FWD OLA KAMARA TO LA GALAXY:
CONFIRMED
The Galaxy are interested in Columbus Crew's Ola Kamara. Multiple Twitter reports have this being true. But what would the Galaxy have to give up?
#MLS sources telling me that #LAGalaxy have approached #CrewSC to discuss Ola Kamara's availability. The striker has 34 goals in two seasons with Columbus.

— Jeff Rueter (@jeffrueter) December 12, 2017
***UPDATE 12.22.2017*** This deal is not dead. At least not yet. The Galaxy seem to be eying this as a realistic solution to their striker problem and have now shifted considerable focus to this position. But there are other options that haven't leaked, apparently. So don't be surprised if another name suddenly pops up out of nowhere.
***UPDATE 1.5.2018*** There may be something to this move once again. Kamara (along with Justin Meram) have apparently asked the Crew to move them. This would once again open up a route to the Galaxy for Kamara who could be the striker the Galaxy need. With a boatload of TAM, it may be time to make a deal with Columbus.
Sources: Justin Meram and Ola Kamara have both asked to be moved by Columbus this winter. Crew SC are shopping both, but the asking prices are high: https://t.co/jMuC8mowcb

— Sam Stejskal (@samstejskal) January 5, 2018
***UPDATE 1.14.2018*** First of all, let's classify this as a rumor. A big juicy rumor. But what makes this different from a lot of rumors, is that it's perfectly reasonable.
With recent comments from Sigi Schmid saying the Galaxy spent "too much money" on Kitchen and Bingham, and this rumor stating the club could get cash from the Philadelphia Union in order to make the deal for Kamara, all the boxes get checked.
It's not often we can look at a rumor and say "this makes sense." But that's what we're doing. We know the Galaxy are interested. We know they need a striker. We know they need cash. It all falls right in line.
The only piece missing in this deal is packaging Gyasi Zardes with the cash and bringing Kamara to Los Angeles.
We'll update this rumor when it becomes available.
RUMOR: @PhilaUnion will trade for @LAGalaxy's spot in the #MLSSuperDraft and the #LAGalaxy will use that extra cash to sign @OlaKamara.

— #SaveTheCrew Soccer (@CrewHD_VIDEOS) January 14, 2018
***UPDATE 1.17.2018*** It seems that the Galaxy and the Colorado Rapids aren't the only teams who are interested in the talented striker. Metro.US reporter Kristian Dyer is reporting that a mid-table LA Liga club is interested in gaining the services of Kamara.
From our recent talks with people surrounding the team, this doesn't count the Galaxy out. But it also doesn't make Kamara a lock. And the Galaxy seem to be interested in more than just Kamara and Aguirre — although, we have yet to hear those names.
I've been told there are multiple targets the Galaxy are looking to acquire and that Kamara and Aguirre were just two of them.
And now, as part of the ongoing rumors, we have Ema Boateng's name entering the trade talks. His value is high after his performance last year. Sometimes you trade the pieces you don't want to trade for a piece you need.
#LAGalaxy and #CrewSC remain engaged in trade talks for Ola Kamara, per league sources. A package of Gyasi Zardes, allocation money and a draft pick has been discussed, but deal would have to be agreed upon before Friday's draft. #MLS

— Paul Tenorio (@PaulTenorio) January 17, 2018
Adding a further wrinkle to this: I've heard that Ema Boateng's name has popped up in the Ola Kamara trade discussions between Crew SC and the Galaxy. https://t.co/SymEHmZ9di

— Sam Stejskal (@samstejskal) January 17, 2018
***UPDATE 1.20.2018*** The LA Galaxy have officially announced the trade for Ola Kamara. The trade sends Gyasi Zardes and $400K in TAM to the Columbus Crew.
FWD GYASI ZARDES TO COLUMBUS:
CONFIRMED
Gyasi Zardes is being shopped to multiple teams throughout the league (Confirmed that the Galaxy have shopped Zardes before the end of the 2017 season, as well). Columbus is the most likely landing spot at this time.
Getting word Columbus Crew is the most likely destination for Gyasi Zardes, whom the Galaxy is shopping. No deal in place. He could end up elsewhere. Just the latest buzz. #mls

— Steven Goff (@SoccerInsider) December 10, 2017
***UPDATE 1.8.18*** Zardes may be staying with the Galaxy. It looks as though there aren't any takers. Although, a trade with Columbus isn't totally out of the question. Espeically with the Kamara rumor taking shape.
DEFENDER EMRAH KLIMENTA HAS SIGNED WITH THE LA GALAXY:
CONFIRMED
CoG is reporting that Sacramento Republic captain, Emrah Klimenta has signed with the LA Galaxy. Klimenta is a 26-year old defender that will give the club depth at right back and be able to fill in centrally as well.
He joined Sacramento in 2014 in the USL and also has three caps to the Montenegrin National Team (first cap in 2016).
CoG is told that Klimenta does not take up an international slot, although that has not been confirmed. He was born in Rozaje, Montenegro.
Klimenta started his youth career in the United States before heading to Europe. He played for both MŠK Žilina and FC Ingolstadt 04 before returning to the United States and joining NPSL's Bay Area Ambassadors.
An official announcement from the club is expected in the coming days.
SIGNING: LA Galaxy have signed 26 year old Montenegrin defender Emrah Klimenta, according to a source.

Klimenta captained Sacramento Republic and joined that team in 2014.

Has three caps with Montenegro.

Expected as depth on the right and in the middle. #LAGalaxy

— Corner Of The Galaxy (@GalaxyPodcast) January 14, 2018
GOALKEEPER BRYAN SYLVESTRE COMING TO THE GALAXY:
CONFIRMED
CoG is reporting that the Galaxy are interested in 25-year-old Bryan Sylvestre to fill their backup goalkeeping spot. Sylvestre is a product of the Vancouver Whitecaps residency program and was loaned to the Philadelphia Union for some time while playing with USL's North Carolina FC (Formerly the Railhawks).
His stint with North Carolina FC started in 2015 and he's played in multiple leagues at multiple levels throughout his young career.
Sylvestre is 6 foot, 5 inches and originally hails from Hollywood Florida. He has also made some early appearances with the US U-17 and U-20 teams.
The Galaxy currently only have one goalkeeper on the squad – David Bingham.
RUMOR: Hearing the LA Galaxy are interested in 25-year old goalkeeper Brian Sylvestre

Sylvestre played the 2017 season for North Carolina FC (USL)#LAGalaxy #MLS #USL

— Corner Of The Galaxy (@GalaxyPodcast) January 10, 2018
***UPDATE: 1.12.2018*** The LA Galaxy have signed Sylvestre. Official announcement via press release. Story Here.
MIDFIELDER PERRY KITCHEN COMING TO THE GALAXY:
CONFIRMED
Jeff Carlisle of ESPN is reporting that the Galaxy are going after current Randers FC player Perry Kitchen. Kitchen who has been playing in the Danish league since joining Randers earlier this year.
Kitchen is a holding defensive midfielder who has some limited appearances for the USMNT (5 caps) but has played for the US at many different youth levels.
He most recently transferred to Randers after a successful stint with Scottish side Heart of Midlothian. That followed a five-year stint that saw 158 appearances with DC United in MLS.
***UPDATE: 12.22.2017*** DC United owns his rights, so this might not be a very easy deal to make. But, there already seems to have been significant progress made with Kitchen, and if there is progress then all parties have already talked through the initial hurdles.
"His contract with D.C. expired at the end of the 2015 season, and the two sides were unable to agree to an extension to keep the defensive midfielder in the nation's capital. Because they made an attempt to re-sign him, D.C. will retain Kitchen's MLS rights." Via MLSSoccer.com
This deal still seems to be 50/50 right now but leaning in the direction of the deal getting done (that makes no sense, but yet, you still understood it).
The Galaxy seem to be building up their defensive strength and having another holding midfielder to pair with Jonathan dos Santos or Sebastian Lletget in the middle, might sound like a good idea. Via Jeff Carlisle of ESPN
***UPDATE 1.5.2018*** This deal holds exactly where we have it. It still seems likely this deal gets done and Kitchen will be added to the club.
***UPDATE 1.9.2018*** ESPN's Jeffrey Carlisle has confirmed that Perry Kitchen will be joining the LA Galaxy. The LA Galaxy have put out a press release confirming the singing. Kitchen will be a domestic player and was signed using Targeted Allocation money. This one is done! CoG Article Here
DEFENDER ROLF FELTSCHER TO THE GALAXY:
CONFIRMED
Cardiff City Defender, Rolf Feltscher may have his eye on the Galaxy. With his contract expiring in January, he's yet to make a single appearance for City this year. The 27-year old could be a right back replacement for van Anholt who is almost certain not to re-sign with the club anytime soon after he injured his ACL and MCL.
Reminder: the club has no right backs at the current time.
Feltscher has 16 caps for Venezuela starting back in 2011 and was also part of the Switzerland U19/U21 squads. The money may be right on this one for it to make sense. Via the Express.
***UPDATE 12.19.17*** If I'm your Magic 8-Ball, I'd currently be reading "All Signs Point to Yes!"
And the Galaxy have just made it official. Rolf Feltscher will be joining the club. Most likely a Right Back although he can play other defensive positions.
LA GALAXY TO ACQUIRE GK DAVID BINGHAM FROM EARTHQUAKES:
CONFIRMED
Galaxy are working on a deal to bring San Jose Goalkeeper David Bingham to the club. "If the deal is completed, San Jose will receive a combination of General Allocation Money and Targeted Allocation Money between $200,000 and $250,000." Via ESPN's Jeffrey Carlisle. NOTE: CoG can independently confirm that there is something to this deal. Probably not happening quickly, though.
The #LAGalaxy are close to completing a deal to acquire G David Bingham from #Quakes74. https://t.co/5m6KTaTU7l

— Jeff Carlisle (@JeffreyCarlisle) December 15, 2017
***UPDATE 12.18.17*** The LA Galaxy have announced the deal in a press release. They've secured his rights for $100K in GAM and $100K in TAM. A signing announcement is expected later this week. But could this deal fall apart? Sam Stejskal is saying that Bingham may try his luck overseas. Where would that leave the Galaxy? 'Keeperless!
Source: Though the Galaxy now hold his MLS rights, not yet a done deal David Bingham signs with LA. Still looking at everything, including potential options in Europe.

— Sam Stejskal (@samstejskal) December 18, 2017
***UPDATE 1.5.18*** We're expecting some movement on this in the next week. Looks like things have been ironed out and it's expected that Bingham will sign with the Galaxy and become their starting goalkeeper in 2018. This might also coincide with Carrasco being signed as well.
UPDATE – GK DAVID OUSTED TRADE NIXED BY LEAGUE: CONFIRMED
The Galaxy had the league deny a trade to acquire David Ousted from the Vancouver Whitecaps or something of that nature, according to reports. There seems to be an issue with Ousted's salary in 2018. Possibly that it doesn't meet TAM requirements. There's more to this story but the details are unknown. SOURCE
1. Due to «blacklist of players» TAM rules in MLS, I have not been able to agree to terms with 3 teams offering me my option year salary by using TAM.

— David Ousted (@David_Ousted) December 15, 2017
***UPDATE 12.26.2017*** It looks as if Ousted could be on his way to DC United. So either DC figured out a way to slide him under the salary cap or MLS decided to step in and fix the issue with TAM and his 2018 contract.
The rumor says that Ousted's rights will be traded but that he might not sign with DC United. Maybe some International options have popped up for him this time.
Word is the return for Ousted is a late round draft pick. No guarantee he signs with DC United though, as he already has 3-4 good offers on the table. #VWFC #DCU #MLS

— GlassCity (@GlassCityFC) December 24, 2017
***UPDATE 1.8.2018*** Ousted officially signs with DC United after they trade with Vancouver for his rights.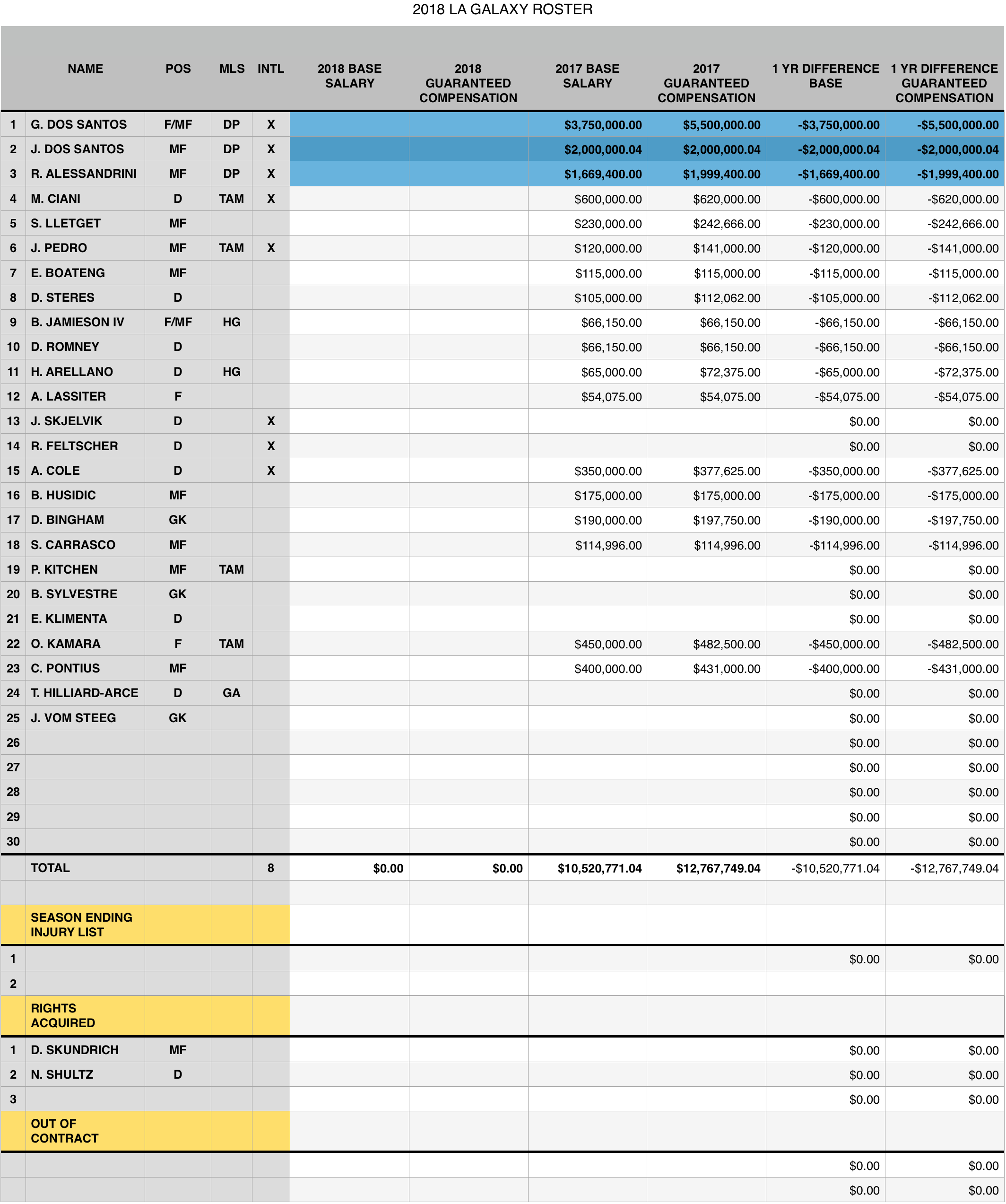 2018 ALLOCATION ORDER
ORLANDO CITY SC
LA GALAXY
DC UNITED
COLORADO RAPIDS
MINNESOTA UNITED FC
FC DALLAS
MONTREAL IMPACT
PHILADELPHIA UNION
NEW ENGLAND REVOLUTION
REAL SALT LAKE
LAFC
SAN JOSE EARTHQUAKES
SPORTING KANSAS CITY
ATLANTA UNITED
CHICAGO FIRE
NY RED BULLS
VANCOUVER WHITECAPS FC
PORTLAND TIMBERS
NEW YORK CITY FC
HOUSTON DYNAMO
COLUMBUS CREW SC
SEATTLE SOUNDERS
TORONTO FC
If you have more rumors send them to @GalaxyPodcast on Twitter or [email protected]