The LA Galaxy are starting to fall back into a dangerous trend, and the season has just started. Reminiscent of the injury problems that plagued the 2017 team, the Galaxy lost two more players in a 2-1 loss to New York City FC on Sunday afternoon, at Yankee Stadium.
The Galaxy (1-1-0) gave up two first-half goals to New York (2-0-0) but were eventually able to pull one back in the second half. The effort, while better in the second half than the first, was far from complete and there were real lapses of chemistry and understanding out of the Galaxy on multiple occasions.
The first goal, eventually scorched home by New York's Anton Tinnerholm in the 22-minute, came from a quick series of passes after Jonathan dos Santos coughed up a turnover in the Galaxy's attacking third. With the ball quickly interchanging between several New York players and a wonderful pass put behind Galaxy center-back Jorgen Skjelvic, the ball came to NYC superstar David Villa. Villa centered a pass that Michael Ciani did well to change directions on and block. Unfortunately for Ciani, it fell to Anton Tinnerholm who rocketed a shot past Galaxy goalkeeper, David Bingham.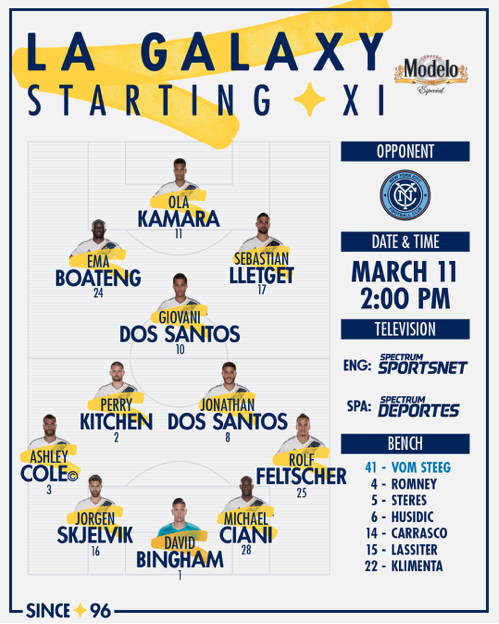 The second goal came 11-minutes later after a cynical foul from New York's Ben Sweat on Sebastian Lletget. Lletget, who was making his first start for the Galaxy in 359 days, was clipped across his left foot subsequently allowing for a Galaxy set-piece.
Giovani dos Santos took the free kick on the extreme right side of the field about 16 yards from the end line. His cross fell short of his intended target and New York quickly countered through the center of the field. Jonathan dos Santos, who was in a position to chase the play allowed Emmanuel Boateng to get crossed in defense and Boateng and Ashley Cole fell behind the breakaway rather quickly.
New York's Jesus Medina raced through the center of the field before slipping a good centering pass to Sweat. Sweat's shot was blocked by Bingham but the rebound fell right to the feat of Villa. Villa didn't miss from there and the Galaxy were trailing by two goals in the 33-minute.
On the night Bingham would make five saves, with each continuing to keep the game close for the visitors.
But the bad luck had just started for the Galaxy. Ciani would pull up just before halftime with a tightness in his hip flexor and was replaced by Daniel Steres. Then, coming out of the break, Giovani dos Santos was replaced by Servando Carrasco with tightness in his hamstring.
The Galaxy took up something closer to a 4-3-3 formation that centered Perry Kitchen, Jonathan dos Santos, and Carrasco as the midfielders. Ola Kamara, Emmanuel Boateng, and Sebastian Lletget took the more offensive side of things. And a backline of Rolf Feltscher, Steres, Skjelvic, and Cole sat in front of Bingham.
And the Galaxy thrived, for a bit, under the change.
For a first half that had too many turnovers, too many players running with the ball into coverage, and too many boneheaded mistakes, the second half saw a glimpse of better passing, better runs, and more composure.
For as small as the field looked in the first half – the field at Yankee Stadium is a full 16,000 square feet smaller than the one at StubHub Center – the Galaxy began to find some space. It was a good adjustment and the Galaxy were able to capitalize on that when Jonathan dos Santos scored the team's only goal of the afternoon.
The play started with a looping pass from Steres in the 60th-minute. Lletget was able to track the ball down and played a quick pass to Boateng who immediately ran toward the box and clipped a cross that was inches from the touchline. Jonathan dos Santos was able to beat the ball to New York goalkeeper Sean Johnson and toe-poked it to the near post, from a very, very tight angle, and into the net.
But with momentum restored for the next 15-minutes, the final nail in the coffin for the Galaxy, came when Cole picked up his second yellow in the 85-minute. It's a play that should be closely scrutinized by MLS as there appears to be no contact with Villa to cause him to go sprawling after picking up a ball that got stuck under Cole's feet. It was a tough break for the Galaxy's captain, but indicative of the night the defense had.
Ashley Cole is shown a second yellow. Sorry this is the best shot they showed of it. pic.twitter.com/LwP1Tioh1l

— Total MLS (@TotalMLS) March 11, 2018
"I thought it was a good effort from the group, we are still getting to know each other," Lletget explained after the game. "The pitch definitely played a factor, it is something we are not used to, we knew this going into this, this is not an excuse. But I give credit to New York, they had a good way of playing, but we got the hang of it and we put some pressure on them and we created some chances but we couldn't compromise."
As a unit, the defense was overly reactive, slow to cover counter-attacks, and tended to follow the ball instead of the player. The tight confines of the field saw New York overload the penalty box whenever they could, and the Galaxy's back four did a poor job of following them.
It's a chemistry issue, for sure. But also a symptom of the overall question mark regarding the defense.
But this was never about a 10-man Galaxy team losing to New York. Framing it as such would do a disservice to a team that flat outplayed the Galaxy on almost every spot on the field. No, this was simply another step in the Galaxy, who jettisoned 15-players from last year and replaced them with 13 new players before the season started, feeling each other out. This game was about a system that hasn't developed yet and a core group of players that don't know how to play with their teammates.
"They (New York City FC) are a good team," Schmid told reporters after the game. "Their nucleus on that team is the same as it was last year. There is a better cohesion in their group right now than there is for us but that is something that will come."
For now, the Galaxy are left with injuries to six players – Bradford Jamieson IV (Concussion), Joao Pedro (Left Hamstring), Romain Alessandrini (Right Hamstring Strain), Chris Pontius (Unknown), Ciani (Hip Flexor), and Giovani dos Santos (Hamstring). The depth the Galaxy had built up in the offseason will be put to the test as the Galaxy ready themselves for a match against Vancouver in 13-days time. Enough time to possibly get a couple of these players back.
The result against New York isn't surprising. When you factor in the injuries they brought into the game, the injuries sustained during the game, the field (which definitely affected play), and the travel, a one-goal loss is hardly the end of the world.
And more speedbumps are to be expected, as this team continues to build familiarity with each other.
SCORING SUMMARY:
NYC – Anton Tinnerholm 22'
NYC – David Villa 33'
LA – Jonathan dos Santos 60' (Assisted by Emmanuel Boateng, Sebastian Lletget)
MISCONDUCT SUMMARY:
LA – Jonathan dos Santos (caution) 11'
LA – Ashley Cole (caution) 76'
LA – Ashley Cole (ejection; second caution) 85'
LINEUPS:
LA Galaxy: David Bingham; Rolf Feltscher, Michael Ciani (Daniel Steres 45'), Jorgen Skjelvik, Ashley Cole ©; Jonathan dos Santos, Perry Kitchen; Sebastian Lletget (Dave Romney 77'), Giovani dos Santos (Servando Carrasco HT), Emmanuel Boateng; Ola Kamara.
Substitutions not used: Justin Vom Steeg, Emrah Klimenta, Baggio Husidic, Ariel Lassiter.
TOTAL SHOTS: 7; SHOTS ON GOAL: 3;  FOULS: 11; OFFSIDE: 4; CORNER KICKS: 5; SAVES: 2.
New York City FC: Sean Johnson, Anton Tinnerholm, Sebastian Ibeagha, Alexander Callens, Ben Sweat, Alexander Ring, Yangel Herrera, Jesús Medina (Ebenezer Ofori 68'), Maximiliano Morález, Rodney Wallace (Ronald Matarrita 89'), David Villa © (Ismael Tajour 87')
Substitutions not used: Brad Stuver, Cédric Hountondji, Thomas McNamara, Kwame Awuah
TOTAL SHOTS: 12; SHOTS ON GOAL: 7; FOULS: 15; OFFSIDE: 2; CORNER KICKS: 6; SAVES: 5.
Referee: Ismail Elfath
Referee's Assistants: Corey Parker and Kathryn Nesbitt
4th Official: Alex Chilowicz
VAR: Jorge Gonzalez
Attendance: 26,221
https://www.youtube.com/watch?v=033uFUvXF7s