The story leading into the Saturday night match in Vancouver was the mountain of injuries, suspensions, and international absences the LA Galaxy (1-1-1) would have to endure while playing against a near full-strength Vancouver Whitecaps (2-1-1) on the carpet at BC Place. And how they'd be able to focus on this match when a bigger, more important home game against LAFC and the possible debut of Zlatan Ibrahimović was quickly running its way toward them for the following weekend.
The story after the game was the herculean 90-minute effort put forth by a Galaxy defense that had yet to prove itself and how this 2018 team exhibited an overall toughness in snatching a 0-0 Draw on the road from a tough Western Conference opponent.
The Galaxy, missing nine players with either injury, suspension, or national team duty, started a lineup that placed three center backs in front of goalkeeper David Bingham and saw Dave Romney and Rolf Feltscher play wing-backs going forward into the attack, but mostly dropping back to help out the back line.
The 3-5-2 formation put in place by Galaxy head coach Sigi Schmid, a necessity on the night, hid a Galaxy bench that only reached the full 18-man roster by dressing three goalkeepers – Bingham, Justin Vom Steeg, and Brian Sylvestre.
Giovani dos Santos (Hamstring)
Jonathan dos Santos (Hamstring)
Romain Alessandrini (Hamstring)
Michael Ciani (Groin/Abdominal)
Bradford Jamieson IV (Concussion Protocol)
Ashley Cole (Red Card Suspension)
Emrah Klimenta (National Team Duty – Montenegro)
Ola Kamara (National Team Duty – Norway)
Efrain Alvarez (Galaxy Academy U-17, Generation Adidas Cup)
Center backs Daniel Steres, Jorgen Skjelvik, and Tomas Hilliard-Arce – who made his MLS and Galaxy debut after being drafted second overall in the 2018 MLS SuperDraft – were outstanding on the night.  They limited the Whitecaps to just two shots on goal and frustrated star-striker Kei Kamara throughout the evening.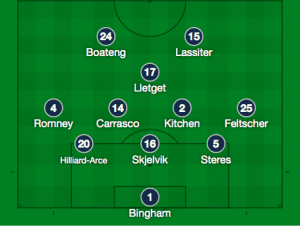 Bingham, also outstanding on the night, had to make only two saves but was strong when he needed to be, punching away clearances and gobbling up wayward crosses from a Whitecaps team that never looked in control despite the 55-percent advantage in possession.
Further plaudits can be heaped at Perry Kitchen and Servando Carrasco who played a defensive midfield pairing behind Sebastian Lletget. Lletget took up the playmaking role for the Dos Santos brothers and wore the captain's armband for the first time in his career in place of the suspended Ashley Cole.
Lletget, even tweeted out what wearing the armband meant to him on the night.
"What an honor to captain this amazing club for the 1st time," he said. "We all showed some courage tonight and we walk away with a point."
What an honor to captain this amazing club for the 1st time. We all showed some courage tonight and we walk away with a point. CANT WAIT FOR THE NEXT ONE @LAGalaxy

— Da Boy (@SLletget) March 25, 2018
The only thing lacking was some form of a coherent attack. But Ariel Lassiter, who was quietly marked out of the game for most of the night, and Emmanuel Boateng couldn't find much in the way of dangerous scoring looks.
If there was a chance, and there was, it came in the 57-minute when Boateng took a long ball over the top while Whitecaps defender Jose Aha tried to box him out. The ball fell to Boateng's feet inside the box, but his shot went well wide as Whitecap's goalkeeper, Stefan Marinovic, rushed toward him.
It was more than disappointing, the shot was such a good chance for the Galaxy, fans could argue the miss cost the club two more points. Sigi Schmid felt the same.
"I thought we had the best chance of the game, Ema [Boateng]'s chance, we could have walked out of here winners," Schmid told reporters after the game. "But a tie is probably well deserved and we're happy with that."
But on the whole, the Galaxy, outside their offense, stood strong and impressed most observers.
Feltscher was particularly good with a series of defensive actions taken against Whitecaps attacker Alphonso Davies. Davies, much faster than Feltscher was stymied for most of the night while Feltscher had continued success going forward. And while the final cross or pass never quite materialized, he kept the Whitecaps honest long enough to allow the Galaxy to get possession and move forward.
He had four tackles on the night, plus he recovered the ball for the Galaxy six times.
It also didn't hurt that Feltscher had an extra defender behind him with Steres and Hilliard-Arce playing the position well.
Skjelvik however, was the real standout on the night. The Norwegian cleared the ball ten times and recovered the ball 4 other times for the Galaxy. And his calm and confidence kept a younger back line in balance throughout the match.
Even when the Whitecaps were able to break down the defense, the Galaxy regrouped around Skjelvik time and time again with timely tackles and well-placed passes.
Altogether the three Galaxy center backs combined for 31 clearances, nine interceptions, and 13 aerial battles won. All of that, plus a solid performance by Bingham, equaled the Galaxy's first shutout of the year.
The Galaxy ended a hardworking night by returning Kitchen, Chris Pontius, and João Pedro to the lineup which took the Galaxy's 12-player question mark and turned into a five-player question mark going into next week's LAFC game.
With Pontius, Kitchen, and Pedro healthy enough to play, and the return of Cole from suspension, Emrah Klimenta, Ola Kamara from international duty, and Efrain Alvarez from the GA Cup in Texas, the Galaxy will have a reasonable shot at being relatively healthy for the March 31 matchup with LAFC.
Massive point for us tonight! Now for the big one next weekend. #thisisLA #LAgalaxy

— Perry Kitchen (@PerryKitchen23) March 25, 2018
Alessandrini and Giovani dos Santos both look like they'll be ready to return to the lineup and that would leave Ciani, Jamieson, and Jonathan dos Santos in the infirmary – and there is speculation that Jonathan dos Santos might have a shot at Saturday's match as well.
But for now, the Galaxy will allow themselves to celebrate a well-played 90-minutes – 90-minutes that the 2017 Galaxy wouldn't have been able to put down.
"We're a much more hardened team than we were last year," Schmid said. "Last year we would have come in here and we wouldn't have gotten a result. So we went for a win, we went for a game plan that we thought could give us a win, and we said that if we don't get the win we'll walk away with the tie."
And finally, without guilt, they can turn their attention to a big arrival in Zlatan Ibrahimovic, and their first LA derby.
"Massive point for us tonight," Galaxy midfielder Kitchen tweeted out postgame. "Now for the big one next weekend."
MATCH HIGHLIGHTS
https://www.youtube.com/watch?v=TfXY-r9j_NY