Welcome back to another edition of "It's too early to go over numbers, but we're going to do it anyway!" With this week's numbers focusing on a new chart that we've added to keep track of the LA Galaxy and their table position in Major League Soccer.
The Galaxy battled out a 0-0 draw with the Vancouver Whitecaps over the weekend despite missing nine players and dressing three goalkeepers. Psychologically, it's a win. But on the chart, it doesn't quite raise up to that level.
The single point raises the Galaxy's positioning in week four of the season (Galaxy have only played in three of the first four weeks) to seventh in the Western Conference and twelfth in the Supporters Shield Race. To date, the lowest positioning for this 2018 club is ninth in the conference and fourteenth overall.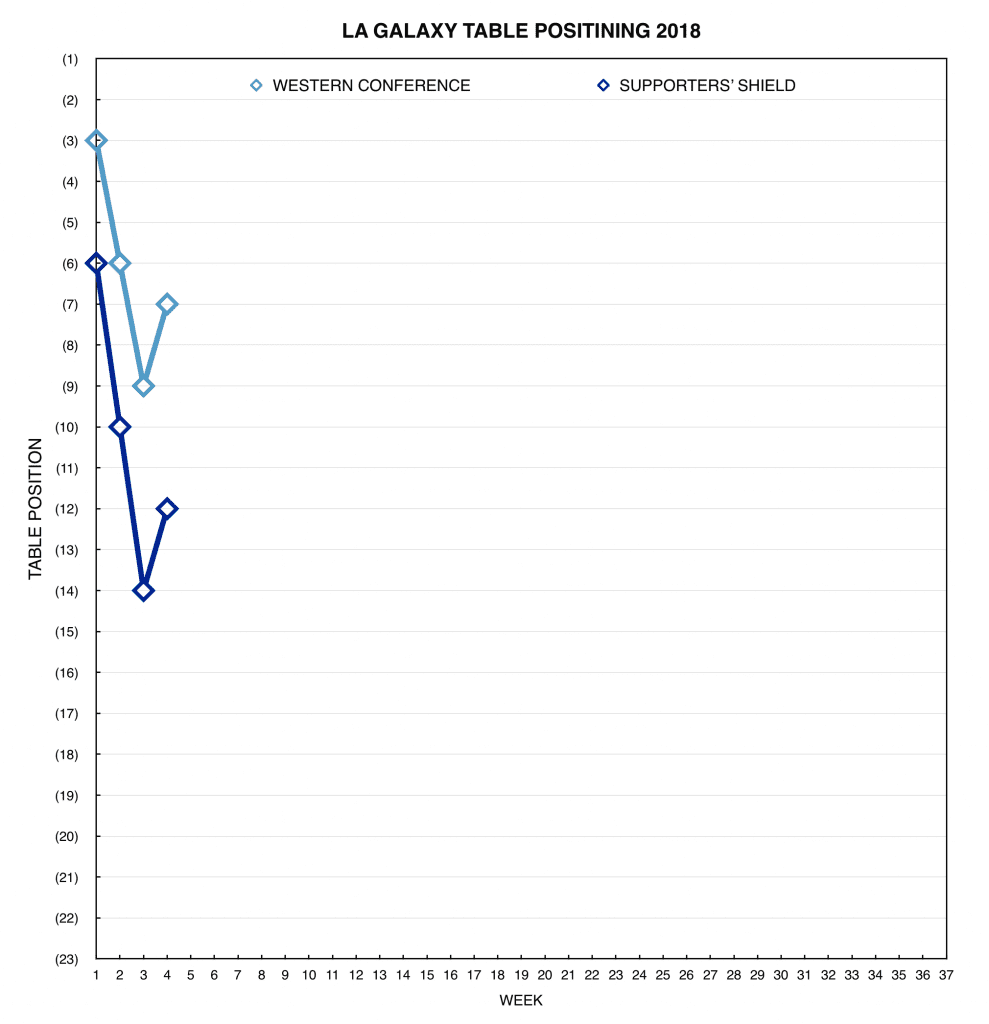 To go back to one of our trusty charts from last year, the Galaxy currently sit slightly below their three-game average on historical points. After three games the 2018 club sits at four points. The team's historical average puts them at 4.6 points after three games. While not a significant difference, the Galaxy would do themselves a lot of favors if they could win on Saturday (March 31) when they host Los Angeles Football Club for the first time in history.
If you look at the Galaxy's historical points average after four games, the totals jump up to 6.1 points. So with a win, the 2018 Galaxy could stay above their previous averages.

On the coaching front, as we did with previous versions of this run-down, we'll compare Curt Onalfo with Sigi Schmid in a couple different ways.
First, we see that Schmid has surpassed Onalfo's start by getting four points out of the first three games (1-1-1) in 2018 versus Onalfo's three points from three games in 2017 (1-2-0). It should also be noted that the Galaxy played their first two games at home before going on the road in 2017, while Schmid, in 2018, has the opposite. Meaning the difference may only be a single point through three games, but with two home games and a road game versus two road games and home game, the 2018 Galaxy would have been expected to do slightly worse while 2017 Galaxy would be expected to be slightly better (more home games vs more away games.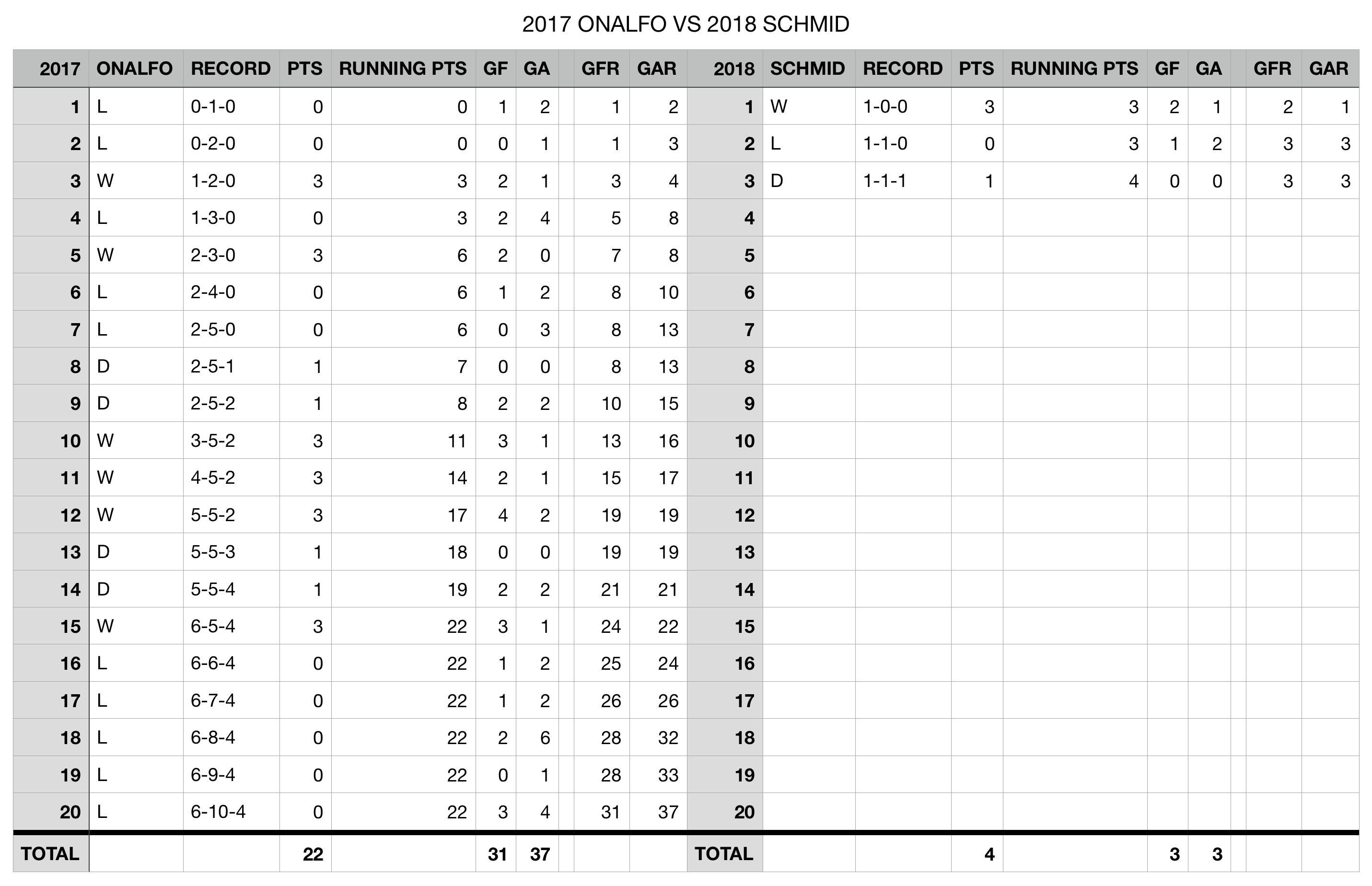 To continue the comparison between Schmid and Onalfo, we look at each through their first 20 games with the club. Through 17 games, Onalfo was 6-7-4 for 22 points, with 26 goals for and 26 goals against (0 goal differential). Schmid, through his first 17 games in charge of the Galaxy is 3-9-5 for 14 points, with 17 goals for and 33 goals against (-16 goal differential).
Schmid would have to win out his next three games if he is going to surpass the points total put up by Onalfo in his first 20 games. But Onalfo's numbers are entering the clubs five-game losing streak that eventually led to his ouster. Onalfo's numbers can go no higher than 22 points, while Schmid still has some room to advance past him.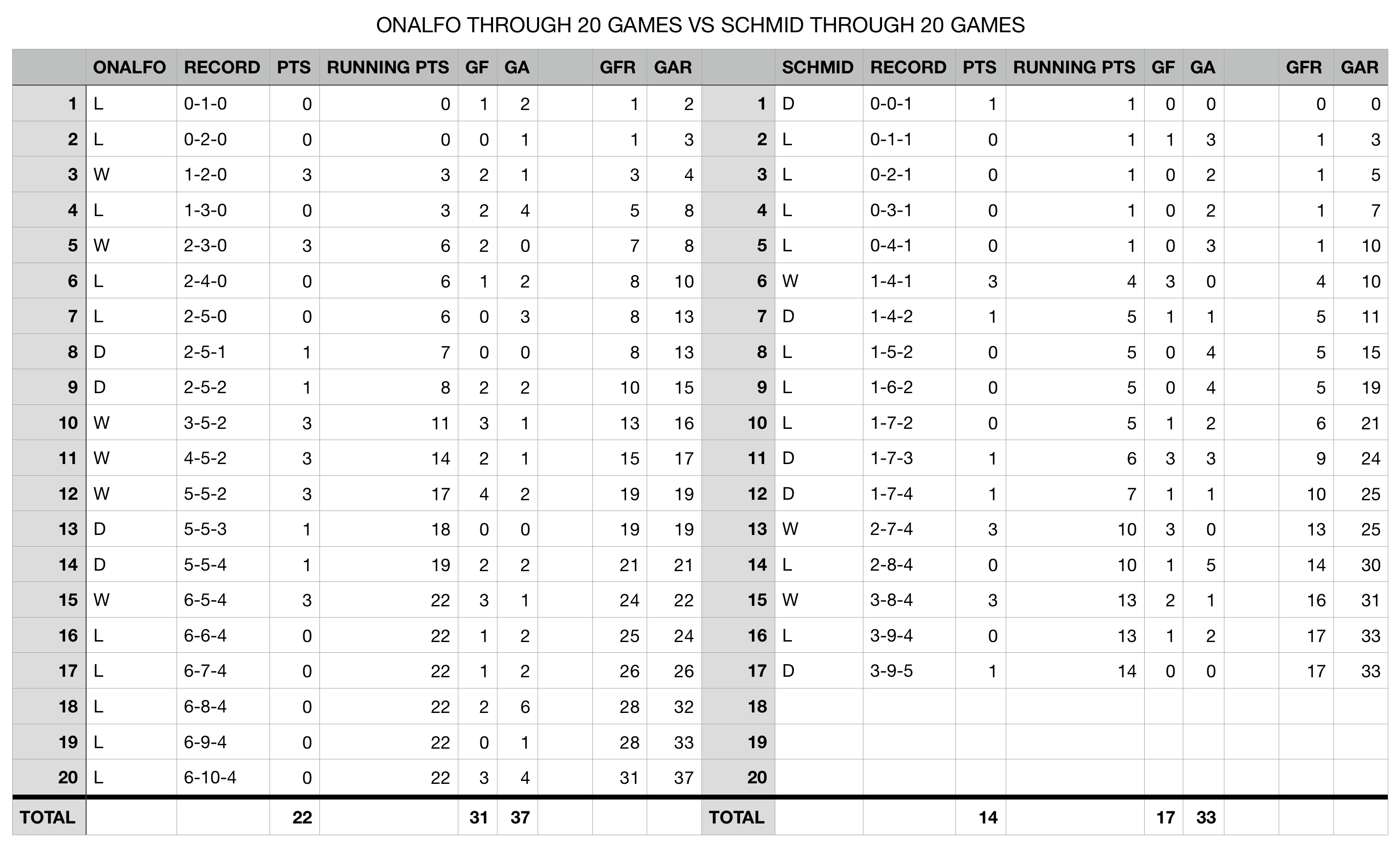 One last note, as you scroll through the charts, we've added an average line to our Points Per Game chart. The Galaxy sit at 1.33 points per game so far in 2018. But the historical average, factoring in the 2018 results as of now, shows the Galaxy at 1.53 ppg.
For perspective, no Galaxy team has won the MLS Cup with a lower than 1.41 ppg. And in the more modern era of MLS Soccer, that number is 1.59 ppg in 2012 is the lowest finisher.
The good news is that it's early in the season and the numbers for average ppg will jump around a bunch.
But for now, you have the knowledge in your back pocket to impress your friends and pick-up strangers at the bar. "Hey, did you know the 2017 Galaxy averaged 0.94 ppg in 2017? No! Do you want to go back to my place and re-watch the 2014 MLS Cup Victory? Yes!" It's just that easy!
Remember to drink and use historical Galaxy data responsibly!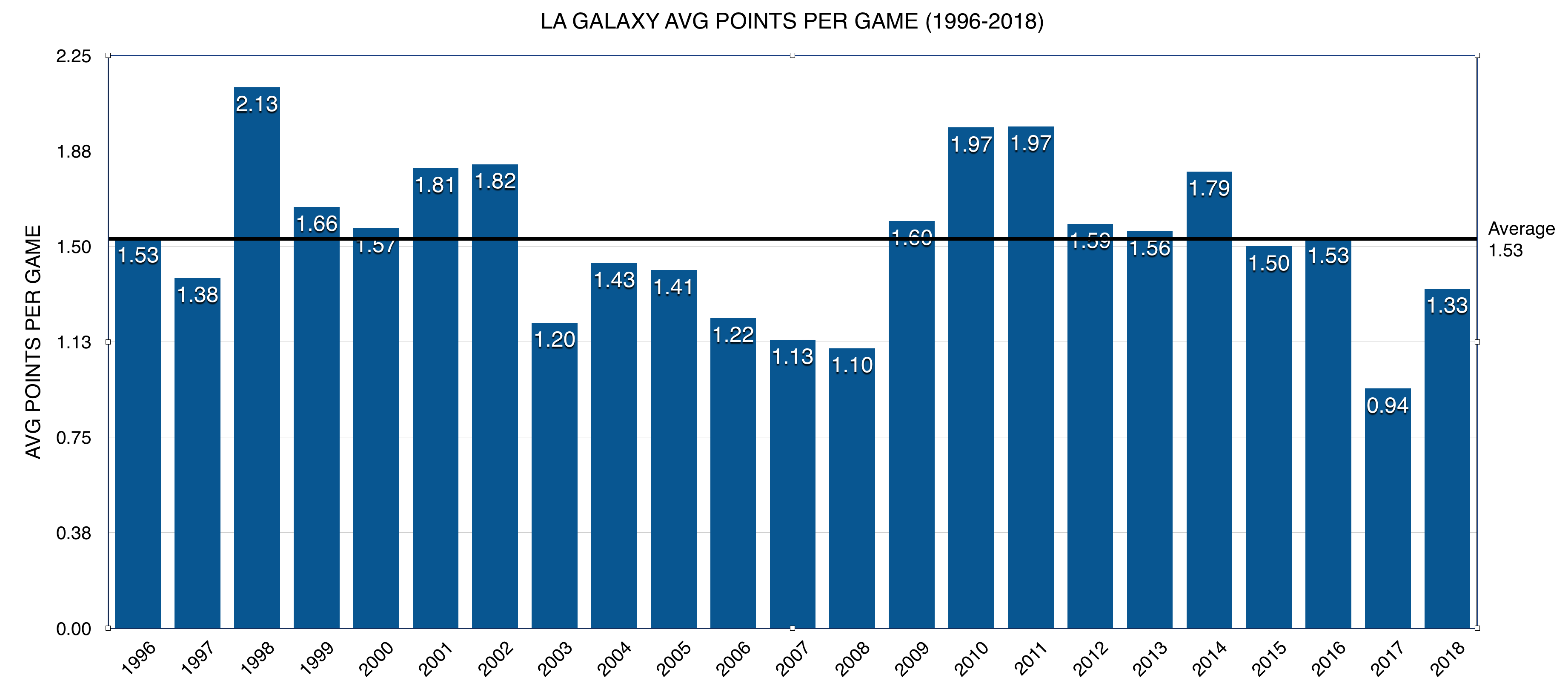 That will do it for this week's numbers comparisons. If you think of any cool charts that we can add, we'll definitely give it a thought. But a lot of time and effort went into making these charts, and for us at least, it's a fun way of keeping track of the history of the Galaxy as well as trying to predict the future of this 2018 club.
Take a look at the charts below as you can see the Galaxy's point totals in a line graph to try and plot out their eventual success or failure in 2018! Plus, you can watch the club's goal differential (zero as of today) climb or fall in our evaluation of the Galaxy's defense.
More free charts, on their way!
LA GALAXY CHARTS