It's been a while since we've taken a look at the LA Galaxy and their numbers. And maybe that was a good thing? For most of the last 10 games, the club has waffled back and forth in table position and hasn't found anything overly positive to hand their hat on.
But with strong wins over the Columbus Crew and a crazy ending that saw them snatch three points from the New England Revolution, the club might finally be on track.
However, you really have to go back further, after the 3-2 loss to FC Dallas on May 30, to when the Galaxy started a streak that is still rolling today, to find the bend in the river that lead them to their position today.
The Galaxy are currently unbeaten in their last six games and have outscored their opponents 16-8 during those matches. The six games unbeaten brings them close to 2017's eight-game unbeaten streak that extended from April 29 to June 21 and saw the club go 4-0-4 during that stretch.
The Galaxy have also won back-to-back games for just the second time all season. Originally winning two in a row on May 21 and May 25 in games at Montreal and home to San Jose respectively. In 2017 they had a three-game winning streak but never more than a single game in a row outside that one stretch.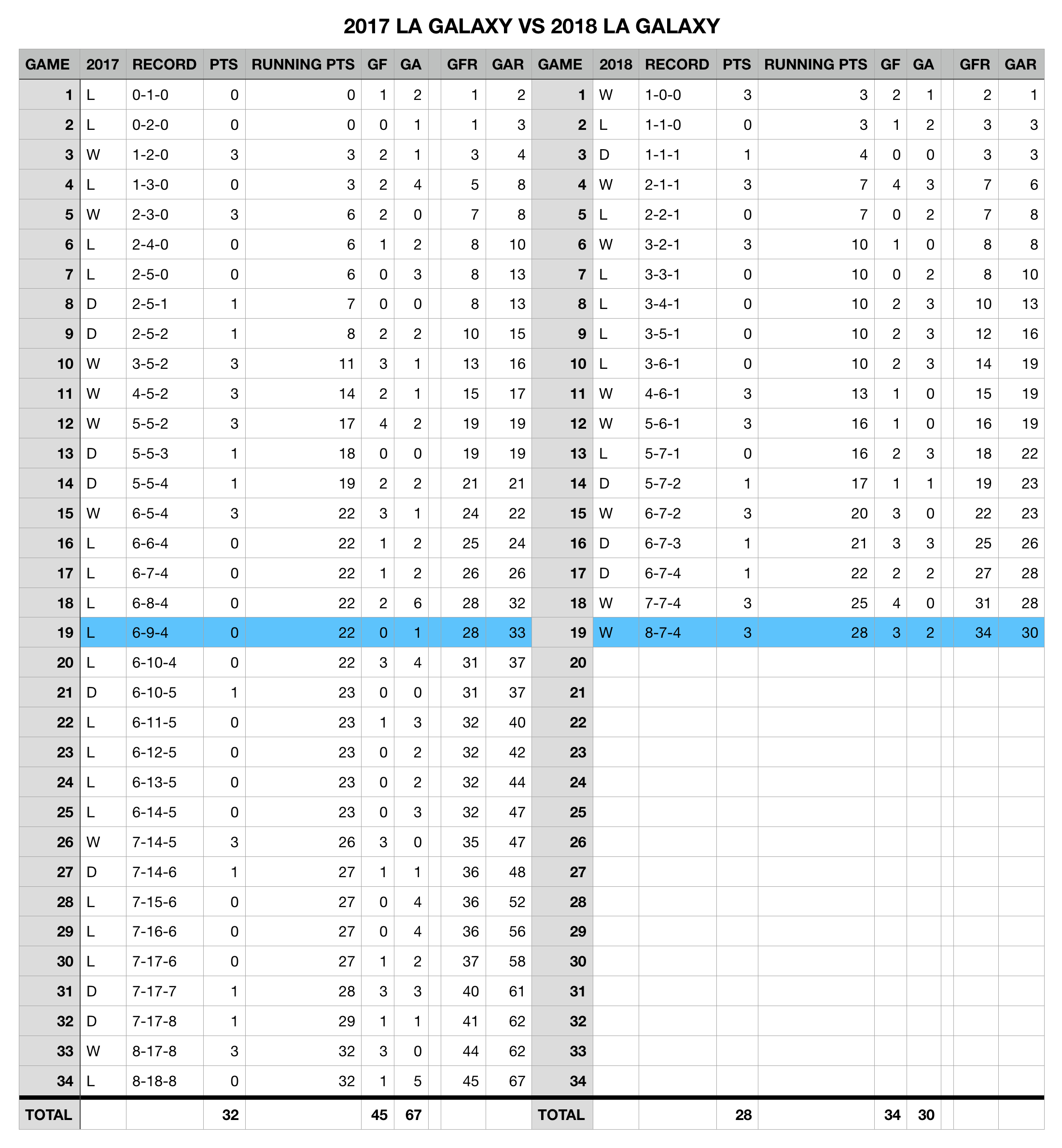 With a record of 8-7-4 for 28 points, the 2018 Galaxy are now six points better than their 2017 record through the same number of games (19). The 28 points are good enough for sixth place in the Western Conference and have put the club back into a playoff position for the first time since week 9 of the season.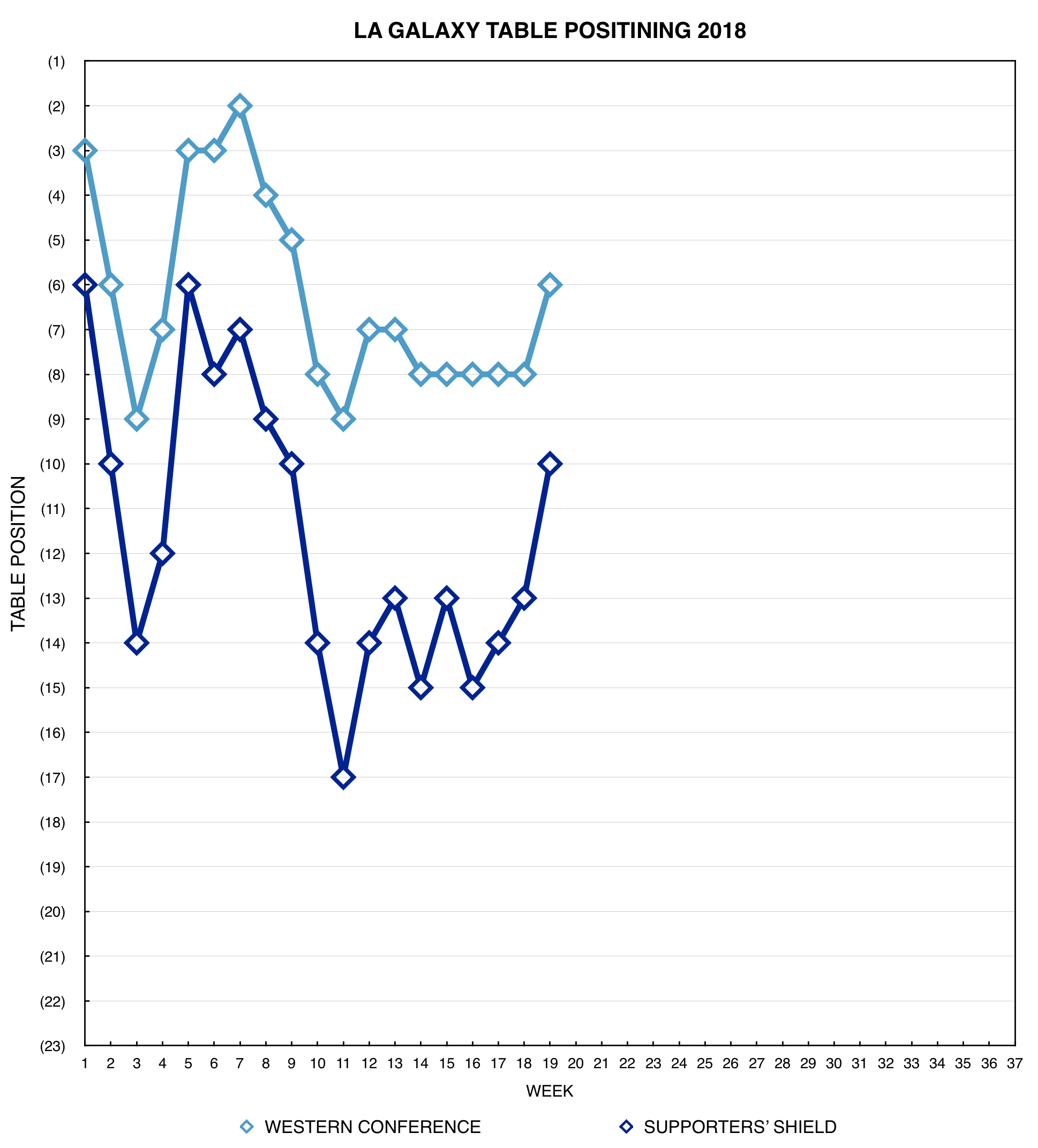 Looking at the Galaxy's results through 19 games the 2018 club is now equal to or better on points than 11 previous seasons. That includes being even with the 2015, 2009 (MLS Cup Final), and 2005 (MLS Cup) seasons. They also continue to trend better than the 2012 season which ended in an MLS Cup.
The 2018 Galaxy, with 28 points, sit just below the average point total through 19 games of all 23 seasons at 28.783. It seems a return to the middle of the road for this Galaxy team is well underway.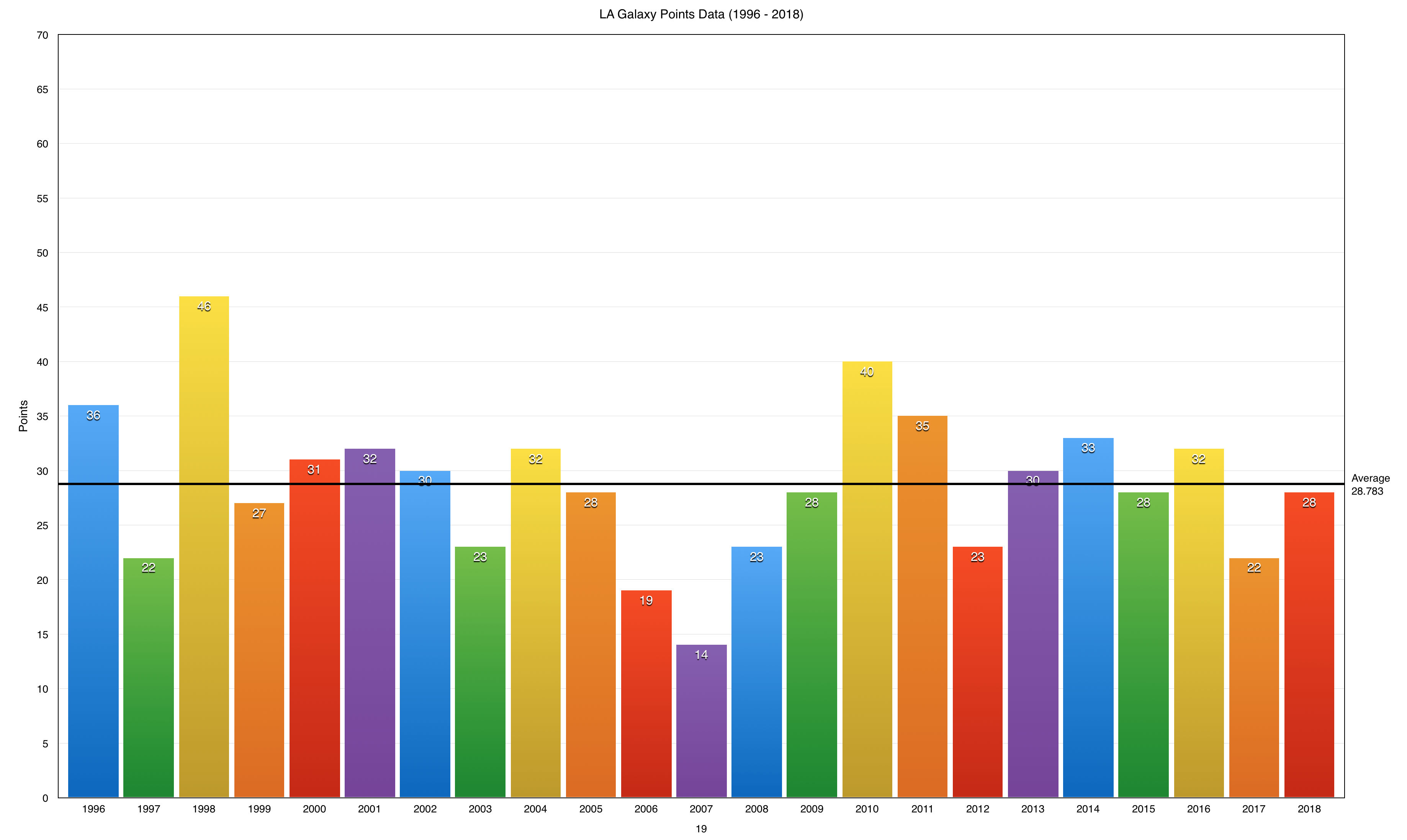 The "middle of the road" classification for this Galaxy team continues when looking at the charts of the all previous seasons. It's clear this 2018 team is far from the bottom through 19 games and with the unbeaten streak fueling a push north in the table, all one has to do is look at the 2012 line to understand what it might take to make the playoffs and be successful in the post-season.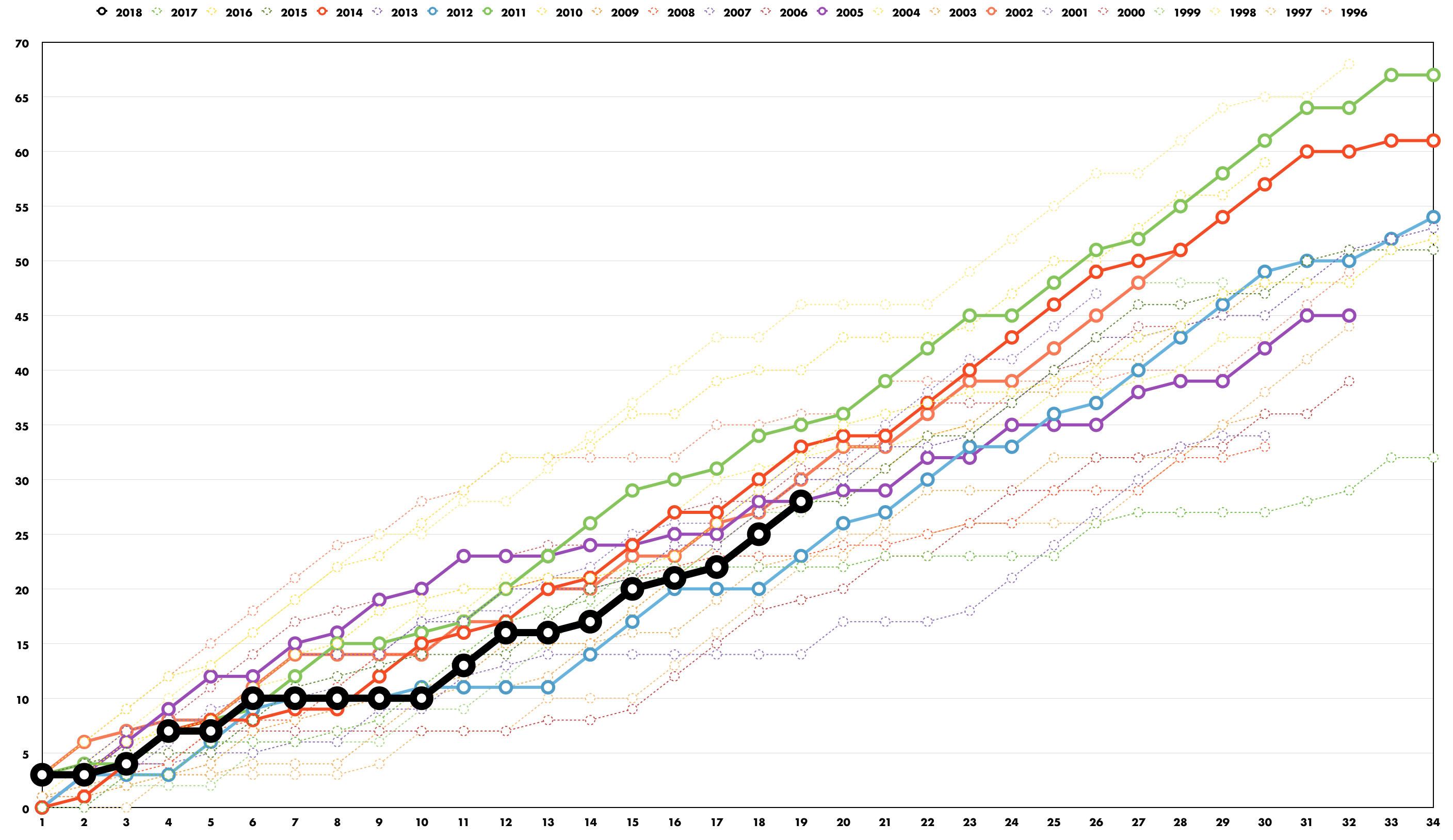 Finally, with the inclusion of Giovani and Jonathan dos Santos back into the starting lineup, the percentage of Designated Player minutes is finally on a rise. While still short of having played more than 50% of the total available minutes, the Galaxy are once again seeing minutes on the field from their three most expensive players.
Romain Alessandrini leads all DP's having played 65.4% of the total available minutes this season. Jonathan dos Santos is second with 41.6% of minutes played, and Giovani dos Santos follows up with just 29.1% of minutes played in 2018.

But in terms of production, Chris Pontius is currently blowing his rivals out of the water. The Southern California native costs the Galaxy just $9,722.22 per game, is worth $18,529 per goal, and earns $97 per minute played through 19 games.
Zlatan Ibrahimovic, while making $107,143 per game in 2018, has made himself worth $56,150 per goal, and is in second place behind Pontius in that regards (top goal scorers only).

The Galaxy seem to be inching closer to being a consistent playoff contender in 2018. But they'll need some good results over the next two road games to really cement themselves as an improving side that demands attention.
Be sure to check out the remainder of our charts below. There are lots of goodies we didn't even touch on!