CARSON, Calif. – It seems like the LA Galaxy have been playing with their backs against the wall for the entire season. They've gone from a nine-game unbeaten streak that stretched from June to July to a seven-game winless streak that took up all of August and half of September.
And now, in the midst of a modest two-game winning streak, the club will travel to take on Sporting KC in front of a sold-out crowd at Children's Mercy Park on Saturday night (5:30 p.m. PT; SpectrumSN, Spectrum Deportes). Once there, they'll take part in a game that could effectively solidify an ongoing chance at making the post-season, or nearly eliminate them from the chase. The line will be paper thin.
Sporting (15-8-7) currently sits in second place in the Western Conference and has won six of their last nine games. And with a win on Saturday, could clinch a playoff berth as they attempt to fight off other conference teams from taking one of the top two spots.
But the Galaxy (12-11-8), boasting the league's second-ranked offense (just five goals behind league-leaders Atlanta United who have scored 65 times), are coming off back-to-back 3-0 shutouts of Vancouver and Seattle and seemed to have found a reason for confidence.
Although, the Galaxy are well aware of the perilous position.
"I think every game is a must-win," Galaxy striker Zlatan Ibrahimović explained after training on Wednesday. "If we do our job by winning let's hope other teams, somebody slips and falls so we can gain that position, that place we need to come into the playoffs."
The Galaxy, with a win, won't clinch anything, but it would put pressure on Real Salt Lake and the Portland Timbers who sit just above LA in the standings. And with RSL and Portland facing off against each other twice in the next three weeks – with each robbing points from the other – continued winning for the Galaxy will see them in the playoffs.
Winning-out however, seems to be their only guaranteed path to the playoffs. Simply getting a point against Sporting KC, won't assure them of anything.
And Ibrahimović's opinion on the matter is clear.
"we need every point in every game we play," he said. "I'm not satisfied with one point. I want three points."
For the Galaxy, however, getting all three points against a team from Kansas City hasn't been easy. In fact, the Galaxy haven't defeated a Kansas City team on the road since 2007. And that was when the Kansas City Wizards (the name was changed to Sporting KC in November of 2010) were led by former Galaxy and LA Galaxy II coach Curt Onalfo.
Since that win, the Galaxy have gone 0-5-5 and been outscored 15 to nine in games played in either Kansas or Missouri.
"It's a tough one," Galaxy interim coach Dominic Kinnear told reporters. "First off you have to meet them physically head-on. Because if you don't, they feed off of it and continue to press you. It's a 90-minute battle for them, and for us mentally and physically. You have to want the ball and you have to want to engage them and you have to want to battle.
"They try and come out especially that first 10, 15 minutes and really put you under pressure. If you're not ready for it coming out of the locker room it makes for a long first half."
The Galaxy will need to face Sporting without Giovani dos Santos, Michael Ciani, Chris Pontius, and Bradford Jamieson IV. All of which will miss this game due to injury.
Also excluded from the roster will be defender Rolf Feltscher who will miss the game due to yellow card accumulation.
Feltscher, who recently was called up by the Venezuelan National Team for the upcoming FIFA International Break, has been a solid starter since returning from a torn pectoral muscle that saw him miss 18 games this season. And his position at right-back will not be easily replaced. Especially as Kinnear seems set to keep the lineup as unchanged as possible.
A replacement could come in the form of defender Sheanon Williams. Williams who has played only 57 minutes since joining the team in June is the only dedicated right-back on the team, outside of Feltscher. However, his longest outing of the season was just 19-minutes back on July 7, and he most recently played 18-minutes in the Galaxy's victory over Seattle on September 23.
Other options would include sliding defender Jorgen Skjelvik to the center-back position and sliding Dave Romney out wide. But Romney and teammate Daniel Steres have been so solid in the middle of the defense in the last two games there's likely to be some resistance to changing what isn't broken.
The Galaxy will, of course, have Ibrahimović and his 20 goals to trot out against KC and will get to pair him with Ola Kamara, Romain Alessandrini, Emmanuel Boateng, Sebastian Lletget, and Jonathan dos Santos.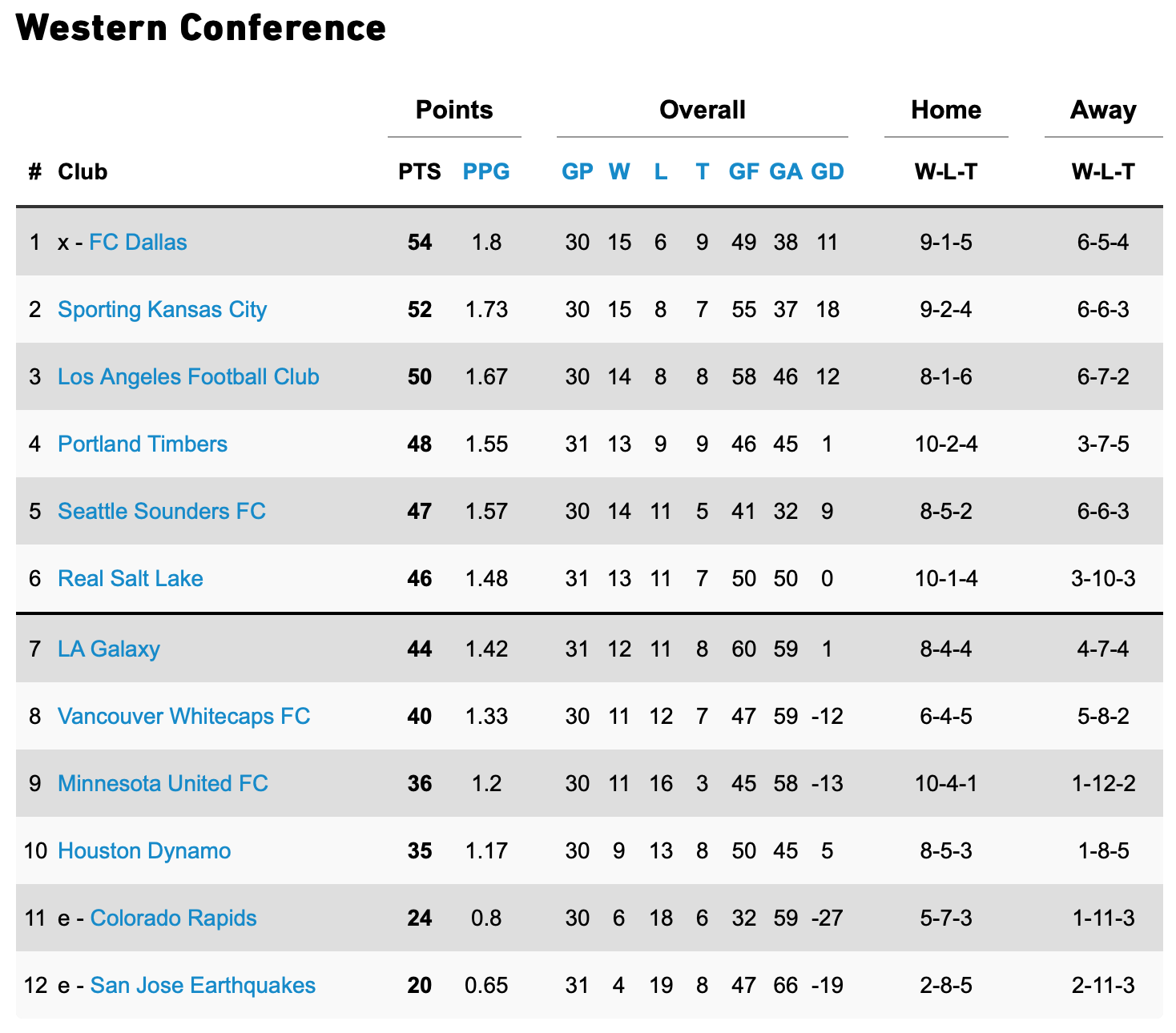 However, Sporting will get to run out Johnny Russell; a man who has scored eight goals and added nine assists on the season and who dribbled through the Galaxy defense for most of the game the last time these teams met (2-0 Galaxy loss on April 8).
But KC's real strength comes from their ability to get everyone involved in the game. They're dangerous across all parts of the field and the Galaxy will need to understand the strengths and weaknesses of everyone on the other side of the ball.
"There's really no one person," Kinnear said of Sporting. "They all have a good role and a knowledge of what they're supposed to do.
"Ilie Sanchez makes them tick when they have possession, Graham Zusi and (Seth) Sinovic … you can go through the whole thing (roster). Ike Opara is difficult and dangerous on set pieces. It's a pretty well-rounded team."
The Galaxy will certainly be under the gun to get as many points as possible. And containing Sporting KC will be one of their stiffest challenges to date.
But with intense scrutiny comes a chance for a team to grow. And the Galaxy seem to be headed in the right direction at the last possible minute. That, Ibrahimovic agrees, can make for a very confident team.
"I know Ash(ley Cole) before the two last games when we do the ring before the signal, he says to everybody, 'Guys, you know what it's all about. We don't win today, it's over.' To put pressure like that is a balance," he said. "Either you can handle it or cannot.
"We did two times and we won both times 3-0. That is a lot of pressure. And that for me is a good sign."
Larry Morgan contributed to this article