CARSON, Calif. — The LA Galaxy are diving back into the Giovani dos Santos saga. And with the latest reporting from, the always excellent, Sam Stejskal, we have our first look at what the Galaxy could actually be trying to do with the Mexican International's big 2019 contract.
Originally signed in the summer of 2015, the eldest dos Santos brother has earned over $17-million since joining the Galaxy. That includes a 2018 season that saw him start just 10 games, play just over 800 minutes and score just three goals for the club.
While some of that missed time can be accounted for in his trip to the World Cup, he also suffered several injuries with most being focused on his hamstring.
Stejskal is reporting that the Galaxy are in negotiations with Giovani dos Santos and are attempting to modify his contract so that he would fall into the Targeted Allocation Money category, instead of taking up a Designated Players spot — which is important because the club currently has four DP's and must be roster compliant (three DP's) by March 1.
This isn't a "buy-down" scenario. This is a contract renegotiation. And the would mean that Giovani dos Santos would tear up his contract for the $6 to $6.5 million he's owed in 2019 (estimates by CoG) and instead, take a salary of a maximum of $1.5-million for an extended number of years.
Galaxy general manager Dennis te Kloese, speaking to Fox Sports Mexico on Friday morning laid out Giovani dos Santos' case pretty clearly. "Gio is committed to the team," he said. "He feels he owes it to the team to stay. He's willing to talk and renegotiate his contract with the LA Galaxy."
If we're being fair, in order for that number to make sense for both parties, the Galaxy would probably need to offer four more years to Giovani dos Santos ($1.5-million x 4 years = $6-million) to make it all equal. Otherwise, why would he tear up a deal for $6-million?
An extension for Giovani dos Santos seems to be betting on a couple of different factors. One, that Giovani dos Santos wants to prove himself on the field – something that has been in doubt in recent years – and two that there is value for him to remain in Los Angeles.
But it could also have the Galaxy looking down the road towards MLS possibly changing the salary structure and the amount of TAM that is currently offered.
But it would be a gamble. It seems unlikely the Galaxy, or really anyone in MLS, knows for sure what the future holds for the Salary Cap, TAM or anything else regarding player compensation — not with a Collective Bargaining Agreement (CBA) expiring at the end of the 2019 season.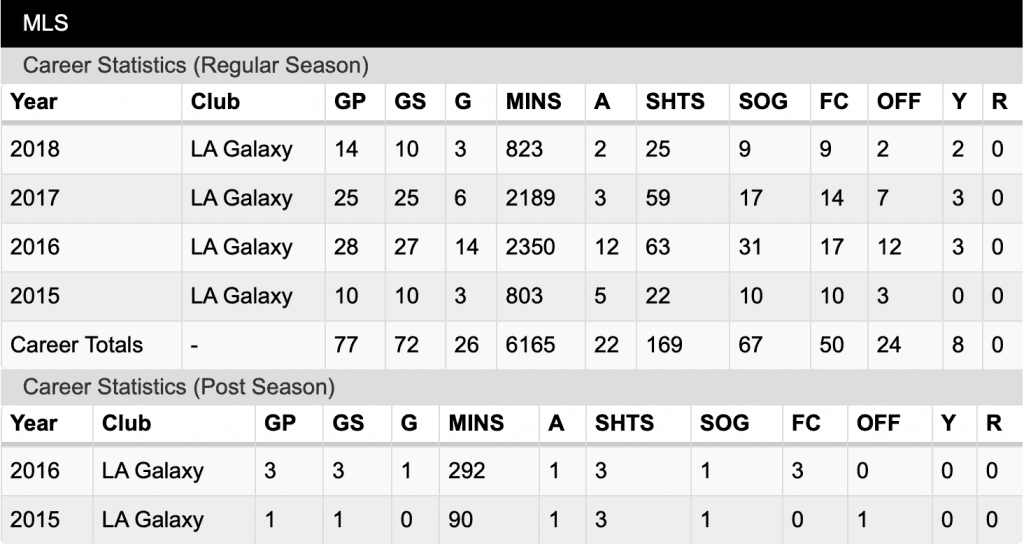 Another scenario could see Giovani dos Santos' salary reduction making him more palatable for a transfer outside the league. When $6-million isn't hanging over his head, perhaps the Galaxy could find him another team that sees that as a reasonable price (although players usually come to personal terms with the club they are transfering to).
But when it comes to $1.5-million dollars in TAM, do the Galaxy really need another midfielder? And where does Giovani dos Santos even fit into the lineup at this point?
Opportunity costs should always be analyzed, and for a team that is one injury away from starting some very inexperienced players at defense, couldn't that money be used elsewhere – even if that means holding onto Gio through this season at a really high price?
The current decision for the club seems to be, "Is $6-million for one year, or $6-million over four years, the best for the Galaxy? And is a team with Giovani dos Santos better than a team without Giovani dos Santos."
Answer those questions for the Galaxy and you should see in what direction the Galaxy are headed.
However, don't be fooled. The reason this report got out is because it's the most likely scenario for this situation. Even if it came as a bit of a surprise to most of us who have been closely watching.
This story was updated on 2.8.19 with quotes from Dennis te Kloese speaking to Fox Sports Mexico.
POLENTA JOINS THE GALAXY
It's taken a long time, but the Galaxy have officially announced the signing of Uruguayan defender Diego Polenta.
The 27-year-old central defender joins the club after playing for Club Nacional de Football in Uruguay's Primera División. While there he made 136 appearances across all competitions (Copa Libertadores, Copa Sudamericana, and league contests.
Polenta had been seen at training over the last few weeks while the deal cleared the paperwork hurdles.
But with the formal announcement, we can now tell you that the Galaxy used Targeted Allocation Money in his signing (meaning he's making between $530,001 and $1.5-million per year), that he will take up an International Slot (the Galaxy currently have all eight international slots in use with the expectation someone is getting a green card this season), and will be added to the team's roster following the receipt of this ITC and his P-1 Visa.
"Diego is a strong and gifted defender in his prime that we believe can become a top defender in Major League Soccer," General Manager Dennis te Kloese said of his newest signing in a press release. "He has experience playing at a very high level in Uruguay and he will contribute to an area of need in our defense. We are excited to add him to our roster and look forward to integrating him into our team as we prepare for the upcoming season."
Rumors put the defender's contract at three years (with the likelihood that a third year is a club option). And this comes on the heels of the Galaxy signing Jorgen Skjelvik as one of the highest-paid defenders in MLS in the winter of 2017.
Skjelvik didn't pan out in 2018. But there are high hopes that Polenta is exactly what this Galaxy defense needs to stop conceding goals.
The Galaxy had the fifth-worst defense in the league in 2018 and have allowed a franchise record 131 goals over the last two seasons.
CURRENT LA GALAXY ROSTER