CARSON, Calif. – LA Galaxy President Chris Klein said he can envision a time when Major League Soccer is among the best leagues in the world. But he's not concerned with those prospects now.
What he is concerned with is what to do with the Galaxy's four designated players and how to pare the group down to the league-maximum three.
Sam Stejskal of mlsoccer.com reported Thursday the Galaxy are trying to restructure the contract of Giovani dos Santos, one of the team's four DP's (the others are his brother, Jonathan, along with Zlatan Ibrahimovic and Romain Alessandrini).
The Galaxy, according to Stejskal, are hoping they can convince dos Santos to accept a new deal that would be bought down with targeted allocation money (TAM). Dos Santos earned $6 million last season and would have his salary trimmed to $1.5 million, the maximum amount for players who are eligible to be bought down. Stejskal also reported the Galaxy would extend his contract which is set to expire after the 2019 season (read Josh Guesman's analysis of such a move).
Galaxy general manager Dennis te Kloese was unavailable for comment, but Klein said Thursday the club was studying "all of our options."
"We know what all of you know, we have four DP's and Dennis' group are trying to evaluate and look at the best things, both for now with the issue we have and going forward," he said. "We are pursuing something, of course. We have to.
"We're looking at what those options are and we know our decision timeline has to be before March 1."
The Galaxy open the regular season on March 2 against the Chicago Fire at Dignity Health Sports Park and face a March 1 Roster Compliance Deadline.
Klein also was asked his thoughts on the chances of keeping all four designated players.
"That's a question for them," he replied, referring to te Kloese and his staff. "It's going to depend on what the best thing is for the team."
Klein said he could see a time when MLS allows at least four designated players on a team. But it might not be as simple as it sounds.
"A DP traditionally was just someone that made over the max salary," he said. "Now we've transitioned to where we have a bunch of TAM players who make over the max salary.
"I think you can envision a time where you have four players that make over a certain amount. I can definitely envision a time where MLS is among the best leagues in the world. I don't know the timeline for that.
"You look around the world and see the salaries being paid and you can see a time when our league is that successful," he continued. "We've been very smart to take gradual steps to get there, so the timeline I don't know what that's going to be."
WELCOME MAT
The long-overdue addition of Uruguayan center back Diego Polenta became official Thursday.
Polenta, who was acquired using TAM and will occupy an international roster spot, has been training for a couple of days and his status for Saturday's preseason match against Toronto FC at Dignity Health Sports Park (7:30 p.m., Spectrum SportsNet) was unclear.
"I'm proud to be here and take this challenge in a new country," he said through an interpreter.
Polenta, who turned 27 on Wednesday, previously played for Uruguayant side Club Nacional de Football in Uruguay's Primera Division. He appeared in 136 matches across all competitions, including Copa Libertadores, Copa Sudamericana.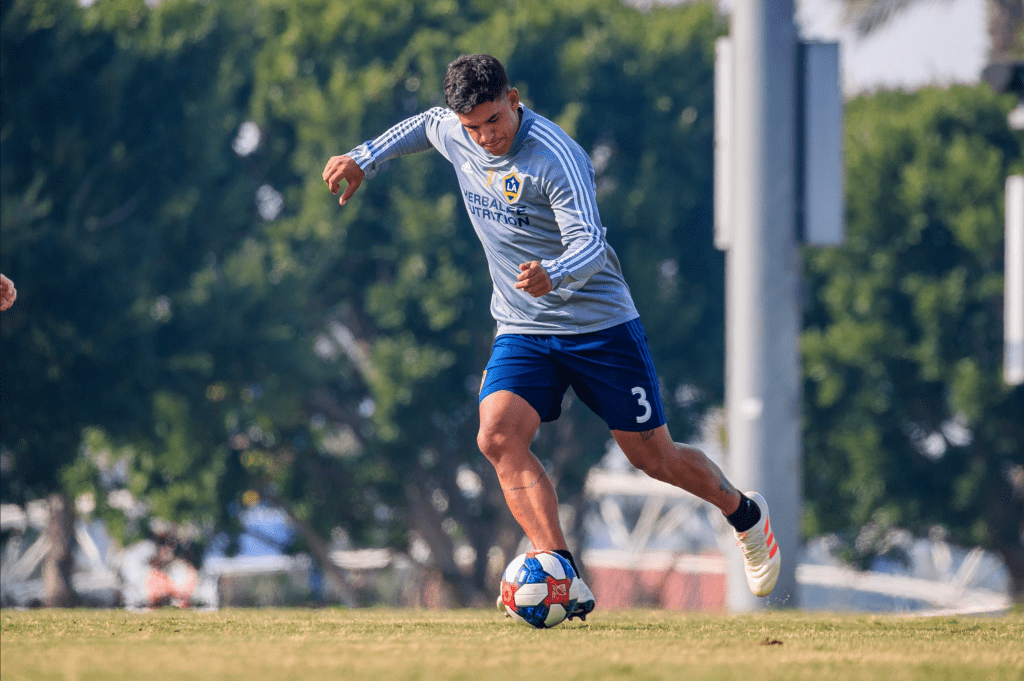 Polenta, who also played in Italy when he was younger, had been inactive for six months – "It was more of a personal decision," he said — and relaxed in the Uruguayan countryside where he took what he felt was a much-needed break from the game. But when Galaxy head coach Guillermo Barros Schelotto called him to gauge his interest in joining the five-time MLS Cup champions, the decision was easy.
"I'm happy to be here," he said. "I chose this league because I think it's very important when the coach calls you up and looks for you.
"I was interested and didn't think twice about it."
Barros Schelloto was thrilled to have him help a defense that has struggled, to put it mildly, the past two seasons.
"He is a very good player who is young but with a lot of experience because he's been playing in Italy and Uruguay at a high level," he said. "He will help us."
FOOTBALL FAN
Ibrahimovic said he watched last Sunday's Super Bowl, won by the New England Patriots 13-3 over the Rams, and liked what he saw.
"I saw the final, yes. The first time I see it," he said. "It was nice, something new. One thing for sure, if I play in the Super Bowl I would win also.
"As long as I play with Tom Brady."