The LA Galaxy didn't get the win they wanted, but they did walk away with a six-game unbeaten streak after a 0-0 draw in Minnesota on Wednesday night.
And perhaps that will be enough for the Galaxy as they take the long plane ride home before facing off against Real Salt Lake on Sunday afternoon (5:00 p.m. PT; SpectrumSN)? But more than likely, the draw against the Loons will only urge the Galaxy to continue to hone their style of soccer and plug holes that injuries have knocked in the starting lineup.
The only change to that starting lineup was Emmanuel Boateng for the injured Romain Alessandrini. Alessandrini was forced to exit the Galaxy's 2-1 win over Houston last Friday in the 16th minute of the match and was scheduled to have an MRI on Monday. But while the Galaxy have acknowledged the MRI has taken place, a diagnosis has not been made public.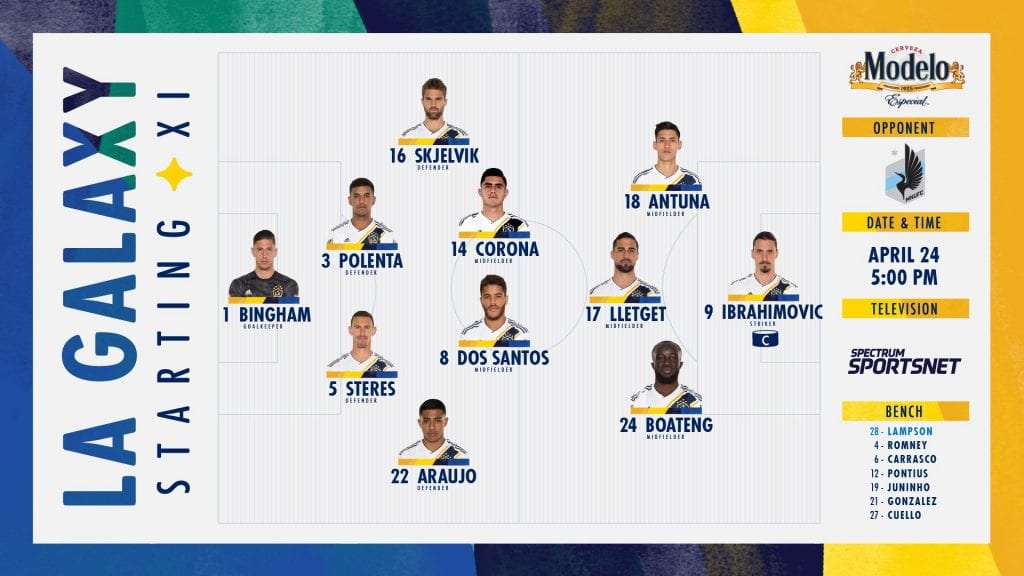 The Galaxy (6-1-1; 19 points) had the lion's share of possession on the night (60%) and lofted more shots on goal (4 to 1) than Minnesota (3-3-2; 11 points). But it was never enough to threaten goalkeeper Vito Mannone on the night.
Only Sebastian Lletget's 58th-minute strike even forced Mannone to the newly planted Allianz Field grass — a field that was seen coming up in chunks and caused some uneven footing for the Galaxy in the early moments.
Zlatan Ibrahimovic, usually the life of the Galaxy's offense, wasn't up to his usual sharpness. He had the ball stolen from his foot inside the six-yard box, and was left apologizing for bad touches and passes throughout the night.
"If the opponent was better, yes," Ibrahimovic explained when asked if a point on the road was good enough. "I didn't see the opponent as being good, so I see it more as we lost two points."
In all the Galaxy weren't nearly creative enough to find their way past a Minnesota defense that was content to put nine players behind the ball and only break that stance when they thought a counter-attack might net them a a quick goal.
The real stars for the Galaxy were Jonathan dos Santos, Julian Araujo, Diego Polenta, and David Bingham.
Dos Santos was as busy as he's ever been and acted as a one-person wrecking crew in the midfield where he took it upon himself to break up almost every counter-attack and keep Minnesota out of the middle of the field. The only thing that left dos Santos down was the eventuality that he'd be gassed in the closing minutes after running from end to end for the entire match.
His man-marking of Minnesota's best player, Darwin Quintero, was a significant reason the Loons had nothing come from the talented forward.
And 17-year-old Araujo, getting his second start in as many games, was impressive all night. He grew more comfortable with every touch and had the speed and the skill to frustrate the Loons' attackers. He was dogged in his approach to defending, he forced attackers wide and consistently won the one-on-one battles.
He was quickly on his way to earning a starting spot at right back before going off with a non-contact injury in the 79th minute. Araujo looked to be favoring his right leg as he limped off with the Galaxy training staff and was seen on crutches as he made his way to the team bus. LA Times reporter Kevin Baxter reported that Galaxy head coach Guillermo Barros Schelotto thought the young Araujo would still be available for Sunday.

"I think he had a really good game," Schelotto said of Araujo. "The defense had a good game. They put a lot of time, the ball in our box but we're always in really good positions.
"But I thought that he (Aruajo) got something with the ankle, but I think he'll be ready for this Sunday."
Polenta, growing more comfortable every game, was also a rock on defense on a night that demanded they keep Minnesota from countering and on a night where any mistake would mean a loss of points. He was patient when defending but also knew when to pop out and support a dangerous attack.
And finally, Bingham would be forced to make one big save in the second half. That's when Angelo Rodriguez would break free inside the box only to have dos Santos and Bingham converge to keep the ball out of the back of the net.
He would also come off his line to punch a dangerous cross in the waning minutes of the match to keep Minnesota from getting a head to a slippery ball.
"Yeah, that's always a plus," Bingham said of the road point. "When you don't play your best and you're still picking up points, especially on the road, that's encouraging.
"At home that's not acceptable, we need three points this weekend and we need to get home and get recovered and get ready to go."
Bingham has been solid behind the Galaxy's defense, and there's no reason the club should consider this run of quality defense and goalkeeping a fluke.
With Giancarlo Gonzalez subbing in for the injured Araujo at right back, the Galaxy are in a position to weather the storm of injuries that have hit the midfield and defense. And fans shouldn't be surprised to see Gonzalez start at right back next game as both of his sub appearances have been there.
The Galaxy will have no time to rest. They'll fly back to Los Angeles on Thursday morning and then get two days of light training before getting ready to host Real Salt Lake on Sunday afternoon.
HIGHLIGHTS: