CARSON, Calif. – Romain Alessandrini simply can't wait.
It's been five months since the popular and talented Frenchman has been on the field for the LA Galaxy, and he is chomping at the bit to help the five-time MLS Cup champions salvage a season that is perilously close to becoming another one without their involvement in the MLS Cup playoffs.
But the 30-year-old native of Marseilles, France knows he has to take things cautiously no matter how much it kills him to remain on the sideline.
"It's been a long time," he said with a grin in an exclusive interview with Corner of the Galaxy following an individual workout on Friday. "Week by week, I train hard, and I want to come back as soon as possible."
Alessandrini played in only fives games (all starts) at midfield this season before hurting his left knee after just 16 minutes in a 2-1 victory over Houston on April 19. He had meniscus root repair surgery in the knee six days later and returned to training, albeit off to the side with members of the training staff, only last week.
Alessandrini, who said he has set a tentative date of September 25 (at Real Salt Lake) for his official return – "I think Montreal (September 21) could be too soon, but I will do my best," he added — said he hopes to rejoin his teammates for regular practices sometime next week, but he won't push it.
"I want to come back," he said, "but I want to be healthy first. I don't want to go on the field and not be able to contribute.
"I want to be ready to come back and help in any way I can."
Alessandrini, who had a combined 24 goals and 21 assists in the 2017 and '18 seasons, said watching his teammates struggle during an ill-timed 1-5-2 slide has taken a toll on him.
"I'm very sad for them," he said. "I would like to be with them, even in these struggles, because I would like to bring something different, you know, myself the player I am on the field and the player I am in the locker room, too.
"But right now we just have to accept it and move forward. Every game right now is the final, and we have to win every game to get into the playoffs. We have to look at it that way."
Alessandrini is intent on doing what he can to help the club qualify for the postseason – no matter how long he will have to wait to get his chance.
"Three years in a row without any playoffs doesn't make any sense for the Galaxy," he said.
---
THE PRESSURE'S ON
There's no getting around the fact the Galaxy's postseason hopes are in danger.
There are only five games remaining in the regular season, starting with Sunday's clash with Sporting Kansas City at Dignity Health Sports Park (7 p.m. FS1), and the Galaxy (13-13-3) are eighth in the West, one spot out of the playoffs.
"Every game here on out pretty much is a must-win," goalkeeper David Bingham said. "That's the spot we're in."
The Galaxy will be taking on a Sporting Kansas City side that is clinging to its own slim postseason hopes – SKC (10-12-7) is ninth in the West with 37 points – and had a three-game winning streak snapped in a 2-1 loss to Portland last Saturday.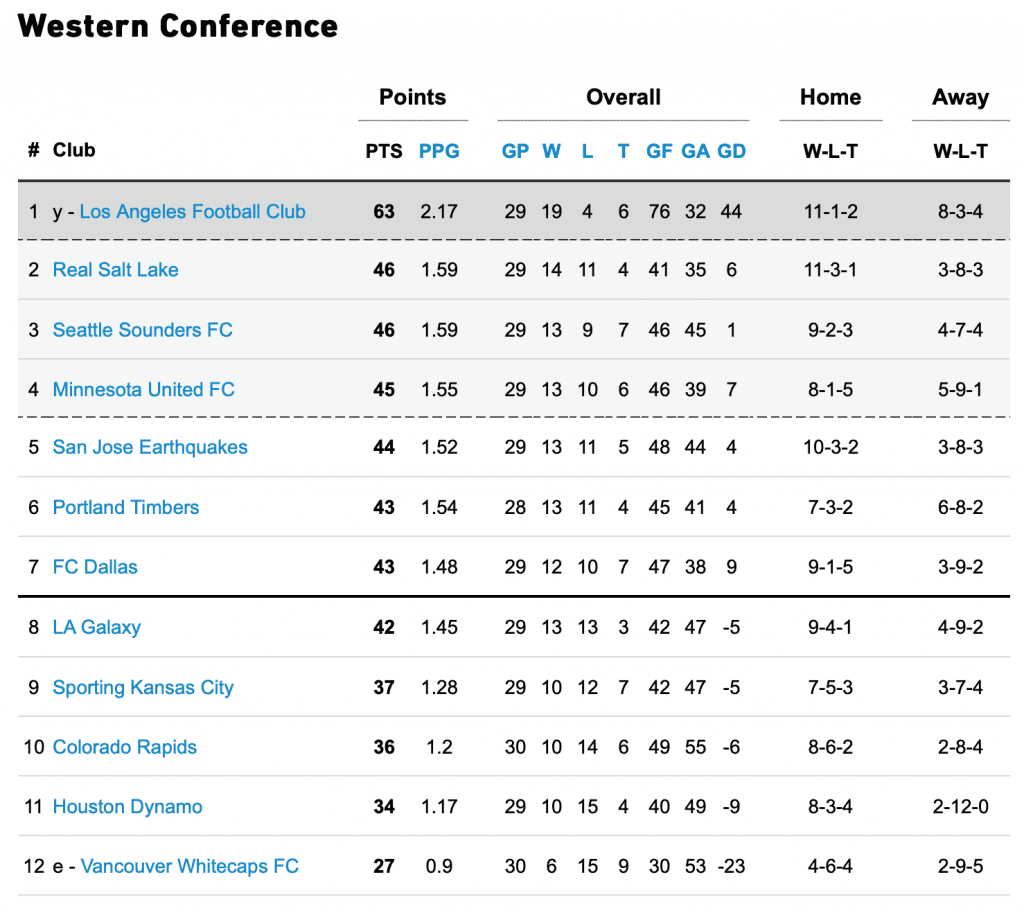 Sporting Kansas City played that game without five players missing because of national-team duties. They included Scotland's Johnny Russell and Hungary's Krisztian Nemeth, who have combined for 16 goals this season. SKC's leading scorer is Chilean Felipe Gutierrez, who has ten goals.
"They haven't had a lot of luck, but they've been in a lot of games," Bingham said of Sporting Kansas City. "Their system is extremely hard to play against, and they know their roles.
"We have to be ready for them. We should be desperate to win every home game and get points."
There actually is some relatively good news to the Galaxy's otherwise precarious situation. They are only four points behind second-place Real Salt Lake and Seattle, so there is no reason to panic.
Not yet, anyway.
"Everybody is confident," Sebastian Lletget said. "It's not like it's doomsday. We're in good spirits still, and we owe it to our fans and to this club.
"It deserves to be in the playoffs. We have to stick together and remain ourselves it's under our control."
That's why head coach Guillermo Barros Schelotto said there was only one approach to take with the regular season in its final weeks.
"We need to be calm, confident and play well," he said. "That's the way to get into the playoffs."
---