CARSON, Calif. — There was no sense for concern, nor was there any cause for alarm as the LA Galaxy prepared for Sunday's regular-season finale at Houston's BBVA Stadium against the Dynamo (1 p.m., Spectrum SportsNet).
Yes, last Sunday's surprising 4-3 loss to the lowly Vancouver Whitecaps was a truly unsettling one and denied the Galaxy a chance to secure a home game in the first round of the MLS Cup playoffs, which begin October 19.
"We were talking about the game last Sunday," head coach Guillermo Schelotto said. "It was very important for us to get the three points for how we can finish in the table. I understand, too, maybe the team was a little relaxed because we made the playoffs on Wednesday in Salt Lake, and then maybe they got a little bit relaxed against Vancouver.
---
---
"We need to come back and play well in Houston because we win this next game we would be in the second or third position, and we can play here at home in the future."
The Galaxy still can finish as high as second in the West — the second-, third- and fourth-place finishers will be at home in the opening round — or as low as fifth in the conference. The fact they are in the postseason for the first time since 2016 appears to have had a calming effect on the team's collective demeanor in training this week.
"Good, good," Zlatan Ibrahimovic said when asked to describe the club's overall mood. "It's like always when you lose a game, there's no happy faces. Then you restart the week and build up the training for the game.
"Everybody is in a good mood and training hard. Everybody is focused, and I think we are ready."
The Galaxy (16-14-3, 51 points) will be taking on a Houston (11-18-4, 37 points) side that is out of the playoffs and ahead of only Vancouver in the West. But Sunday's temperatures are expected to be in the nineties, and the Dynamo are 2-0-1 in their last three home matches.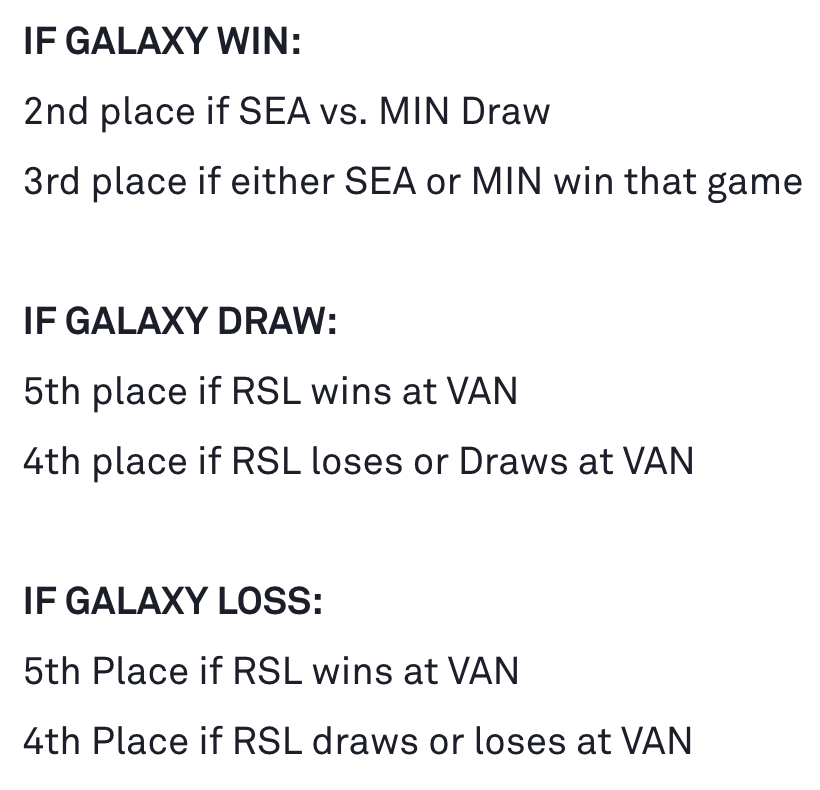 The Galaxy also haven't exactly been road warriors, with a 1-7-1 record in their last nine away games. That lone win was a 2-1 decision over Real Salt Lake on September 25 that secured that coveted postseason berth.
Ibrahimovic, in a heated race with LAFC's Carlos Vela for the league's goal-scoring lead and Golden Boot honors — Vela had 31 goals to Ibrahimovic's 29 entering the weekend — said he expects a heated challenge this weekend. And no pun intended.
"We play at three o'clock (central time). I think it will be very hot," he said. "That makes a big difference also. You have to be smart the way you play with the energy and condition.
"Play the game, try to control the possession, and when we get the chances execute. Punish them."
CUT TO THE CHASE
Ibrahimovic is involved in an epic duel with crosstown rival Vela for the Golden Boot, but he isn't placing as much importance on it as one might think.
The team comes first, as far as he was concerned.
"I prefer the collective win," he said. "When we win that game, that is more important. With the collective success, the individual success comes with it. If I can do good for my team with my team, I know I'm doing good.
"I'm not focusing on the individual bonuses. I always said that is like a bonus. Without my teammates, those things would not be possible. If I win, it's my team that wins.
"Whoever wins the Golden Boot has to think that's not because of him, it's because of his teammates," he went on. "We do it as a team."
INJURY UPDATES
Goalkeeper David Bingham, who missed last Sunday's loss with a quad strain, worked out with the team on Friday but will re-evaluated Saturday. Schelotto, however, said he thinks he will be ready to go in Houston.
So, too, will Favio Alvarez, who missed the last four games with a calf injury but has been cleared to play. Jonathan dos Santos, who was seen limping late in the loss to Vancouver, is OK as well.
Roman Alessandrini, who has not played since April 19 after suffering a knee injury that eventually required surgery, apparently suffered a minor setback last week and took three days off. He returned to training on Tuesday, but his status for Sunday was unclear.
"I want to know how he feels," Schelotto said before making any decision on his availability.
ZLATAN'S BIRTHDAY GIFT