Your hosts are recapping the win over the Rapids in a closed-door scrimmage. But the Galaxy aren't there yet and they're quickly running out of time.
COG STUDIOS, Calif. — The LA Galaxy have just one preseason game left. And it just happens to be at the same game we have our live show. And we're aware it's supposed to rain in the morning. Let's hope it stays that way, and it's perfect for our show!
On today's podcast, your hosts Josh Guesman and Sophie Nicolaou are back in the studio to talk about the closed-door scrimmage win against the Colorado Rapids. Josh will tell you why he wasn't happy with the play on Wednesday and what he saw from the players that was both good and bad. Is it too early to be disappointed with a result?
Then Josh and Sophie will discuss the signing of Cameron Dunbar to a Homegrown Player contract and what we can expect from the 17-year-old Carson native. The first Carson-born player to ever be signed to a senior team contract.
Your hosts will also discuss the Galaxy's chances at competing in the League's Cup and what exactly that means this year. Does qualification legitimize this tournament? Or is it still just a speedbump on the path to MLS Cup?
Finally, Josh will update you on the Alan Franco rumors and talk about why the Galaxy probably did reach out to Lionel Messi's family. And why that's a good thing.
It's a packed show on a week that should bring you three podcasts! THREE!
Thanks for hanging out with us as we get ready for season no. 12 of Corner of the Galaxy.
---
LIVE SHOW AT DIGNITY HEALTH SPORTS PARK ON SATURDAY FEBRUARY 22 AT 1:45 PM – KINECTA PLAZA. COG MEET & GREET AT 1 PM. RAIN OR SHINE.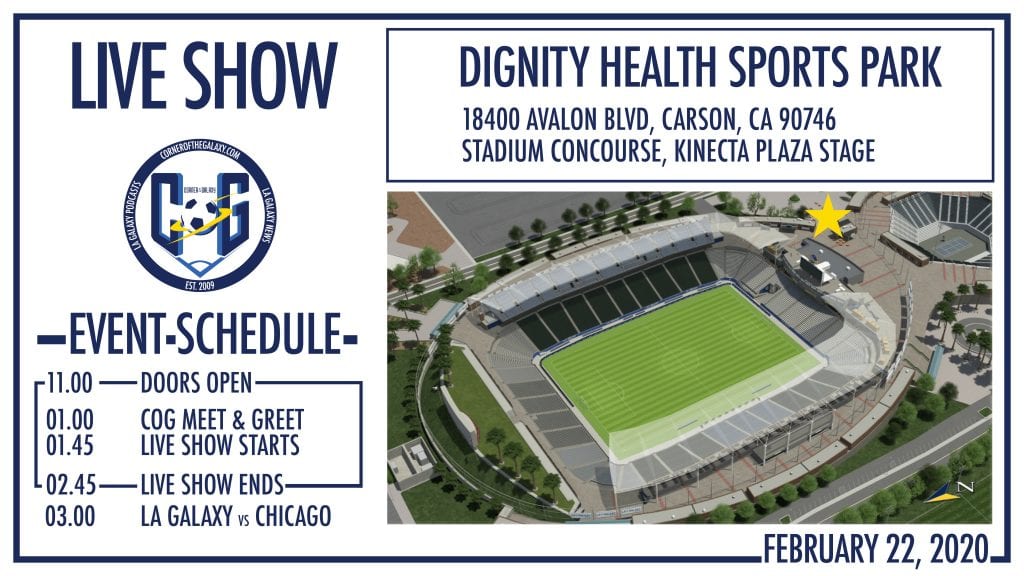 2020 COG T-SHIRT – TOP 50 CITIES AND COUNTRIES THAT LISTEN TO COG. $20 GET YOURS TODAY (THEY START SHIPPING ON MARCH 19).