We continue to look at the rest of our top 16 teams of all time!
Please make sure you check our part one of our CoG Madness Bracket to determine the greatest LA Galaxy team ever.
In this piece, we will look at the rest of the teams in the Round of 16 and let you decide on who should move on to the quarterfinals!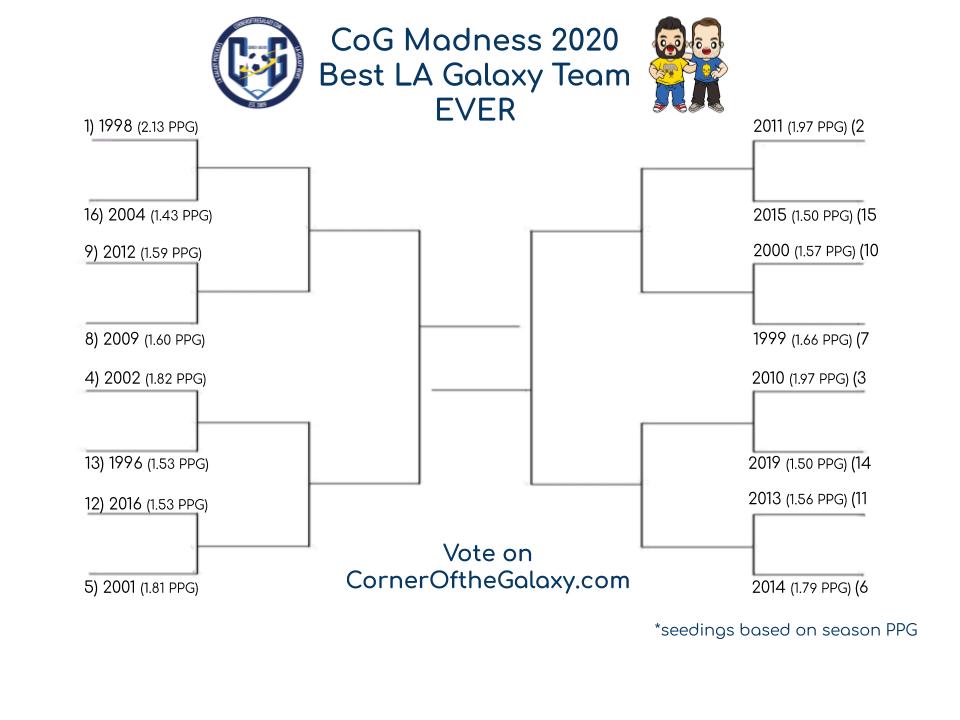 5) 2001 (1.81 PPG) v 12) 2016 (1.53 PPG)
2001
The 2001 LA Galaxy were almost as highly decorated at the 2002 MLS Cup Championship side, finishing first in the Western Conference and capturing a US Open Cup title.
2001 saw a big season from striker Luis "El Matador" Hernandez who led the team in goals, but the breakout star may have been defender Ezra Hendrickson who was voted as the team's most valuable player for his ability to provide an offensive weapon while maintaining his defensive responsibilities.
2001 may not jump out with their statistics, but this team could have been one of the most well rounded and consistent Galaxy teams in history.
2016
In 2016, there was a lot of hope that the LA Galaxy could continue their success that they had seen earlier in the decade when the defense added key pieces like veteran Englishman, Ashley Cole and the Big, Bad, Bald, and Beautiful Belgian, Jelle Van Damme. Both of these players played an integral role in the Galaxy's success that season.
2016 saw the return of LA Galaxy legend and fan favorite, Mike Magee, in addition to a late-season out of retirement cameo from Landon Donovan.
Giovani Dos Santos had arguably his most successful season with the club, tallying double-digit goals and assists, 14 and 12 respectively.
When this team was firing on all cylinders, they looked like they could not be stopped, but a midseason exit from Nigel De Jong marked a clear breaking point for the team.
The 2016 team was not able to get it right in the when it counted most, in competitive knockout matches.
[yop_poll id="7″]
6) 2014 (1.79 PPG) v 11) 2013 (1.56 PPG)
2014
The 2014 squad, in my opinion, is another dark horse candidate to walk away with the best ever title.
Robbie Keane was named league MVP and captained the team while scoring 19 goals and assisting 14 times. Keane played a big role in previous seasons, but he carried this team into the postseason and capped it off with an overtime game-winning goal to clinch the Galaxy's fifth MLS Cup.
Landon Donovan also announced his retirement this season and managed to get one last championship in his farewell campaign. Donovan also became the league's all-time-leading-scorer in this season after being snubbed of a spot on the USMNT's 2014 World Cup roster.
Other notable performers on this team included Alan Gordon, Dan Gargan, and a breakout season from Gyasi Zardes.
2013
The 2013 team had the difficult task defending their back to back titles after the retirement of David Beckham in 2012 and yet the team was still able to finish third in the Western Conference before being eliminated in the conference semifinals.
Robbie Keane and Landon Donovan led this team by scoring 26 of the team's 52 total goals.
Some of the idiosyncrasies of the season included trading an in form Mike Magee, who went on to win the 2013 MLS MVP award with the Chicago Fire along with Carlo Cudicini losing his starting goalkeeping position to Jaime Penedo.
2013 felt like an off-year for the Galaxy, but only because it was sandwiched in between some of the club's most successful seasons in history.
[yop_poll id="8″]
7) 1999 (1.66 PPG) v 10) 2000 (1.57 PPG)
1999
The star of this 1999 team wasn't one player in particular, but rather the defense as a collective. Robin Fraser, Paul Caliguiri, Greg Vanney, Ezra Hendrickson, and Steve Jolley rarely let anyone past them as they only allowed a league-low, 29 goals. Kevin "El Gato" Hartman also tallied 11 clean sheets as the 0.91 goals-against average set a league record at the time.
The irony of the defense having a stellar season is that it was a defensive error after Robin Fraser exited with an injury and a goalkeeper error fro Hartman that cost the Galaxy a chance at their first MLS Cup against DC United.
The MLS Cup final performance aside, this 1999 team was still a dangerous one led offensively by Mauricio Cienfuegos who had a career-high assist total with 17.
2000
There isn't much of a difference between the 2000 squad and 1999 squad as many of the key players returned including Jones, Cienfuegos, Fraser, Vanney, Hartman, and Caliguiri.
The major difference came in the striker positions which say Carlos Hermosillo swapped out for Luis Hernandez, although Hernandez's best season came in 2001.
The 2000 team may get lost in the shuffle without any finals appearances or silverware.
[yop_poll id="9″]
8) 2009 (1.60 PPG) v 9) 2012 (1.59 PPG)
2009
The 2009 LA Galaxy team planted the seeds for what would be one of the most successful decades in Major League Soccer.
Landon Donovan once again led the team in goals with 12 and the 2009 team finished first in the Western Conference after starting the season with only one win in eleven games.
Bruce Arena's first full season in charge also saw this team make a run to an MLS Cup final where they were eliminated in heartbreaking fashion in a penalty shootout.
The magic in the line up was the mix of veterans like Gregg Berhalter, Todd Dunivant, and Dema Kovalenko there to provide mentorship to the rookie duo of Omar Gonzalez and AJ DeLaGarza, who went on to become distinguished veterans in their own right.
2012
The 2012 LA Galaxy team went on to secure back to back MLS Cup championships on the shoulders of the familiar trio of Keane, Donovan, and Beckham.
Robbie Keane led the team in goals with 16, Landon Donovan led the team in assists with 14, and David Beckham provided a veteran presence in his final season with the club.
Other notable performers on this roster were the Brazilian midfield tandem of Marcelo Sarvas and Juninho. While fouls committed isn't usually a stat to brag about, Sarvas and Juninho led the team in this category, highlighting their importance in breaking things up in the midfield.
It is possible that this was the team that got to see all of the players in this dynasty era of the club playing best when it mattered most. While the team only managed a fourth-place finish in the Western Conference, they still found themselves hosting the MLS Cup final which saw them raise their fourth cup in franchise history in front of their home fans for the second season in a row.
[yop_poll id="10″]
That wraps up our Round of 16! Check back in later this week as we see who advances to the quarter-finals and gets one step closer to being named the greatest ever.
RESULTS FROM THE FIRST HALF