The LA Galaxy are hoping to jumpstart a stagnant offense when they travel to Real Salt Lake on Wednesday night. And taking care of the ball is key.
It definitely is a disappointed and humbled LA Galaxy team that will take on Real Salt Lake at Rio Tinto Stadium in Sandy, Utah on Wednesday (6:30 p.m., Spectrum SportsNet).
The Galaxy had been one of Major League Soccer's hottest sides going into last weekend thanks to a six-game unbeaten streak (4-0-2), but that impressive run came to an abrupt end with Saturday's 2-0 loss to Colorado at Dignity Health Sports Park. The Rapids played superb defense in shutting down the Galaxy's Cristian Pavon (six goals and four assists, both team highs) and limiting the host team to just 45 percent possession.
The latter statistic, according to Galaxy goalkeeper David Bingham, was the story of the game.
"Against Colorado we gave the ball away pretty cheaply," said Bingham, who had turned in two consecutive shutouts before the loss. "Everyone on the field, from myself to our forwards. We gave the ball away too easily.
"When you look at the games before that, we were able to keep the ball in the attacking third and keep it moving and kind of dictate the flow of the game. Against Colorado, we weren't able to do that. If you can't keep the ball in the attacking third, you defend a lot. You're going to give up chances, and teams are good enough in this league that they're going to punish you eventually."
Bingham said such ineffectiveness with the ball caught him off-guard.
"You're always surprised when players of our caliber give the ball away that easily," he said. "We have national team players in the middle of the field and going forward. So yeah, it's surprising sometimes, but at the end of the day, everyone's human.
"We all make mistakes. We don't shy away from that when we make them. We own up to them. We know we gave the ball away too easily, and we can't do that on Wednesday, and we can't do it on the weekend (Sunday at home against Seattle). We accept it, and we move on."
The Galaxy (4-4-3, 15 points, tied for seventh in the West) will take on a Real Salt Lake (3-4-5, 14 points, 11th in the West) club that has dropped its last two home matches to Los Angeles FC and Vancouver. The latter contest proved especially costly, with veteran midfielder Kyle Beckerman receiving two yellow cards and unavailable for Wednesday's match.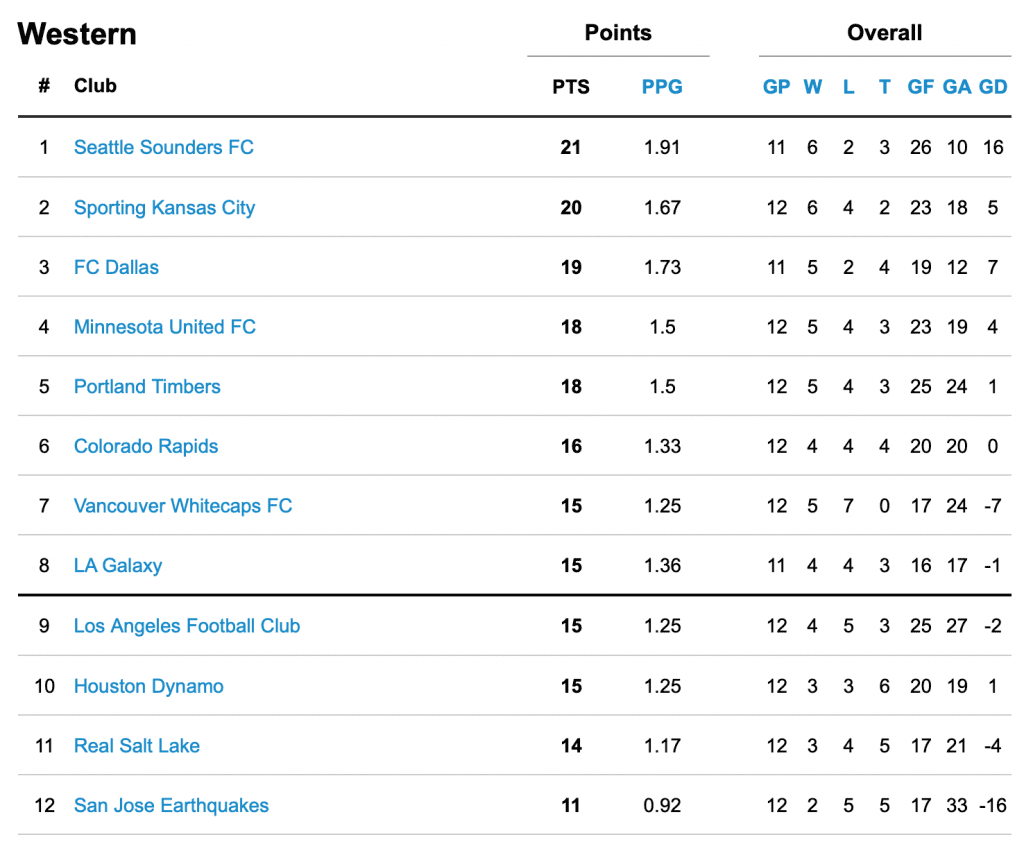 Also absent will be the Galaxy's Julian Araujo, who was ejected after receiving two yellow cards in the loss to Colorado. Rolf Feltscher is his likely replacement at right-back, but Feltscher missed out on Saturday's loss with a minor injury.
Head coach Guillermo Barros Schelotto said Jonathan dos Santos and Javier "Chicharito" Hernandez, both of whom are recovering from injuries (sports hernia surgery and calf strain, respectively), could receive more playing time this week, but that decision will be made the day of the game.
"I don't know if they are 100 percent now," Schelotto said, "but they are ready to play Wednesday."
The match also marks more grueling travel for the Galaxy, who will fly to Utah on game day and fly back to Southern California that night. They've followed similar schedules for earlier encounters in Portland and San Jose, and Bingham said it's definitely not been fun.
"Our first travel day was a rough one," he said, referring to a game in Portland on Sept. 2 which the Galaxy wound up winning, 3-2. "It was about 22 hours we were away by the time I got home. We land at wherever we're playing, go straight to the hotel, have a snack, go to your room for a little bit, have a pregame meal, back to the room, then we go to the stadium, play the game, then it's straight back to the airport and fly home.
"It's a long day. It takes a toll on your body. Especially after the game, you don't really get what you need to get the re-gen (re-generation) going right away. But at the end of the day, every team's doing the exact same thing.
"It is what it is this year," he went on. "Some trips are harder than others, but it's no excuse for the 90 minutes on the field. You've got to go there, and you've got to perform."
There actually is a silver lining to MLS travel this season — all clubs have been flying by charter since the recent MLS Is Back tournament in Orlando, Fla.
"Going on a charter flight compared to a commercial flight is night and day," he said. "Going on a commercial flight is the worst situation for a pro athlete, to be honest. In regards to sleeping after the game, I don't think any player can sleep after a game. You're up to three, four, five in the morning regardless.
"It's a long day, but the exciting thing is you get to play games. Plus, the way the year is going, playing games is the most important thing and the most fun as well. It kind of makes it all worth it."