The Colorado Rapids had another positive coronavirus test today, and that's thrown their schedule, and that of the LA Galaxy, up in the air.
Major League Soccer announced today that the LA Galaxy game against the Colorado Rapids has been postponed.
The match, originally scheduled to take place on Saturday, October 10, at 4 PM (PT) in Colorado, would be rescheduled to a later date "following one new confirmed case of COVID-19 among the Colorado Rapids player pool."
The Rapids have had a series of players and coaches test positive for the coronavirus in recent weeks and haven't played a game since a 5-0 win at home over the San Jose Earthquakes on September 23.
Since that game, four teams have had their schedules altered because of the spread within the club, of COVID-19 — Sporting KC, Portland Timbers, LAFC, and now the Galaxy.
But when could the Galaxy and Rapids make this game up? That answer is difficult.
---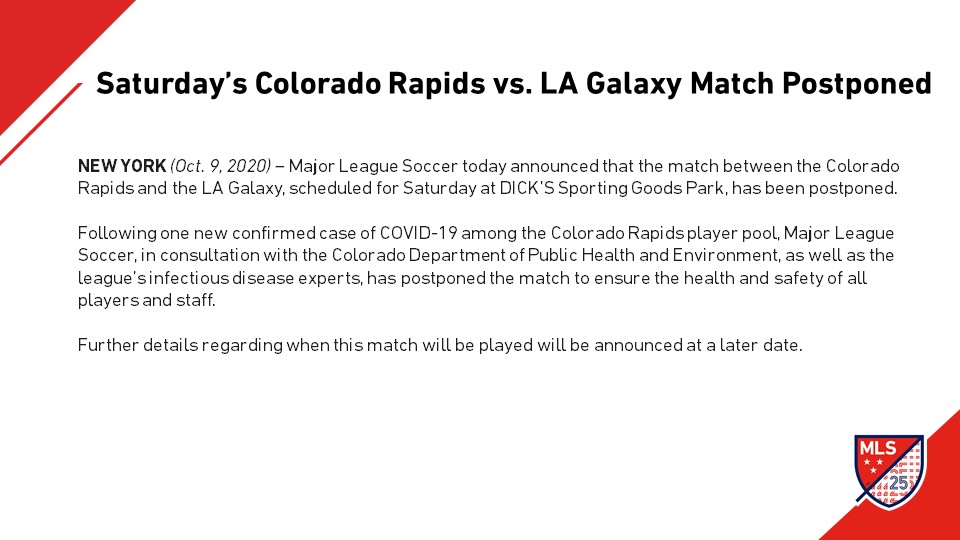 ---
Because of the previous postponements, Colorado's schedule already has them booked with two games a week until the end of the season. There was already no room to replay the LAFC match, and several conversations pointed to a game being played after the "last day" of the regular season and just before the playoffs.
However, by adding the postponed Galaxy game to that list, the schedule would have to be extended past Decision Day, through an international break, and into the playoffs. And it seems that's not a feasible option at this point. Nor would that be particularly favorable to the Galaxy.
Not to mention that Colorado is supposed to travel to play the Sounders on Wednesday — if they can finally stop the virus's spread within their ranks. If that game doesn't happen, everything will fall apart even more.
With both the health and safety of the teams still playing, and the validity of an already wacky schedule, someone at MLS needs to be willing to blow up the rest of the Rapids' season to save the Western Conference. That's a decision that must be made sooner rather than later.
For the Galaxy, they'll get the weekend off while they start prepping for an October 14 match against the Earthquakes at Dignity Health Sports Park (7:30 PM; SpectrumSN). The rest will be warranted and appreciated, but the schedule ahead still has plenty of bumps left in the road — and a very new unknown.