The LA Galaxy should look to the wings with uncertainty on either side of the formation. Our analysis gives the club some targets to point at.
As the offseason rolls along, we are continuing our assessment of the statistically best-available options for the Galaxy. We'll move on to focus on the statistically best-available left and right-wingers, as well as attacking midfielders.
With the uncertainty surrounding Cristian Pavon's return to the LA Galaxy, it would be prudent to see which left-wingers are available. At the top of the list is a player that has made quite the splash in the playoffs in "Hot Boy" Kevin Molino of Minnesota United. Of all available left-wingers playing more than 1,000 minutes, Molino had the highest goals (0.64 G90) and expected goals (0.36 xG90) per 90, all while scoring 0.29 more goals than expected per game (G-xG90), almost tripling next-best Columbus' Krisztian Nemeth, who is naturally a center forward, but can play on the left-wing.1 Not only does he score the goals, but he also makes his team better. When Molino was on the field, Minnesota scored 0.36 more goals than expected (onG-onxG90) to go along with his 0.11 expected assists.2
---

---
As a green card holder, Molino does not occupy an international slot. He also made about $546,254 in 2019, and presumably more in 2020. He has publicly stated he is no longer returning to Minnesota, but his situation is far from settled. Molino had an amazing season and he wants to be compensated adequately. Better informed sources than this writer have indicated that Molino is only eligible for a 15% raise from his 2020 salary per the MLS CBA (though it's unclear whether the old or the "new" CBA is being cited). However, there is an Outperformance Mechanism that may be able to settle these issues or via league approval.4 Also, there is the real issue that he has a history of knee injuries, missing 39 games in 2019 due to a torn right ACL, and 29 games in 2015 due to a left ACL. However, he seemed perfectly fine and thrived like another ex-Galaxy player.
---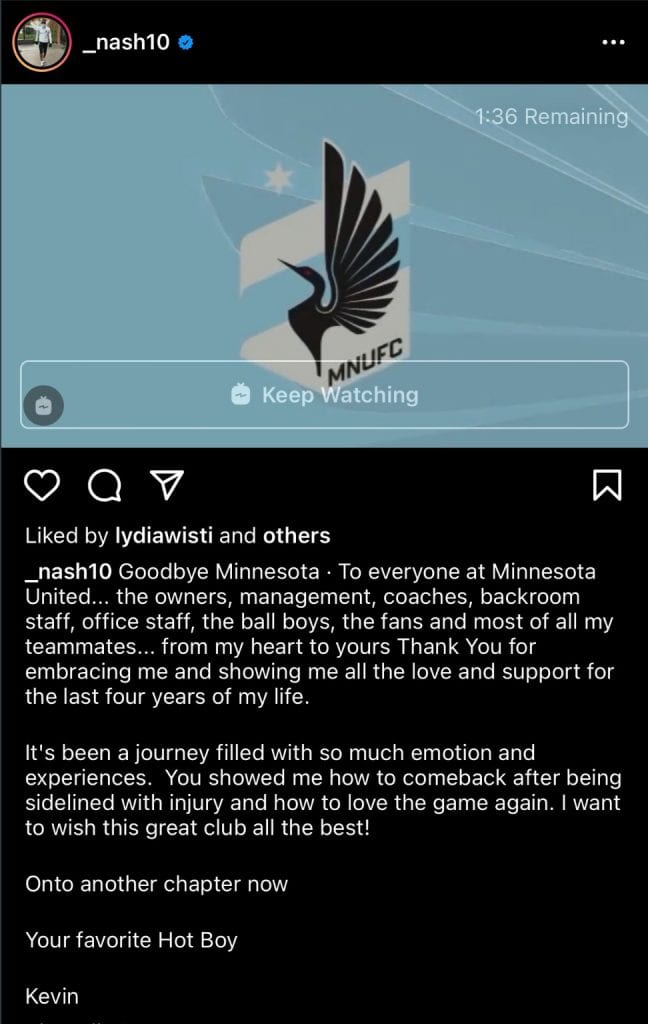 ---
A poor background check, pandemic, and lack of team identity forced the LA Galaxy to scramble and sign a right-winger in Yony Gonzalez. Unfortunately, he was never able to settle in and have any positive influence. The search for a right-winger continues and again Kevin Molino is the clear leader in this scarce pool of right-wingers. The conundrum here is that Molino is a natural right-winger, but can also play on the left. And aside from him, there are no good available options for the right-wing position.
---

---
You might be asking why players like Miguel Ibarra, Brek Shea, Joevin Jones, or Ema Boateng are not listed as wingers? To be fair, their lack of playing time as wingers (they mostly played as midfielders) indicates that their roles as wingers in MLS may be coming to a close.
A lack of available quality right-wingers could present two options for the Galaxy. First, they could sign Molino as a left-winger and look elsewhere for a right-winger. Or second, they could sign Molino as a right-winger, and go after Columbus' Youness Mokhtar as a left-winger.
Mokhtar has very impressive per 90 statistics: 0.34 G90, 0.27 xG, and a 0.07 G-xG90. In fact, Columbus scored 0.30 more goals than expected with him on the field while adding 0.17 expected assists per game. Again, like Molino, Mokhtar doesn't just score the goals and gives great final passes, but also improves his team overall. Unlike Molino, however, Mokhtar will occupy an international slot and would be taking a pay-cut from his 2019 salary of $533,845.
It is arguable that no one on the current Galaxy roster is at the level of Molino, regardless of position. In Molino, LA has an opportunity to go after a player that is naturally a RW but can also play as a LW. And at the age of 30, we could see him play his hand slowly in hopes for one last big payday.
---
---
1 Expected goals (xG) measures the probability that a chance (shot or header) will be a goal.
2 Expected assists (xA) measures the probability that a pass will become an assist. It does not necessarily rely on a shot actually being taken. Every pass in a game is assigned a value. It takes into account the probability that the average player would score as a result of the pass.
3 Player Market Values are based on data prior to 12/18/20. There was an update on 12/18/20 that is not reflected in this table.
4 Refer to Sections 29.6 and 29.9 of the 2015-2019 CBA.
Sources: FBREF.com, MLSplayers.org, MLSsoccer.com, and Transfermarkt.com.
---