Julian Araujo finally has the starting spot he earned, but if he goes, the LA Galaxy will be back to looking for a difference-maker in an important position in modern football.
Today we're looking at right-backs that are available via free agency. On Wednesday, Rolf Feltscher signed with Wurzberger Kickers of the German 2. Bundesliga, leaving Julian Araujo as the only right-back on the LA Galaxy.
The team's situation is a little tricky due to the strong interest that Araujo has garnered over the past couple of months and weeks from outside the league. If Araujo is sold either in January or thereafter, the Galaxy will receive 95% of any transfer fee.1 And it's a fair assumption that any fee received will be more than enough to replace him with a starting XI MLS-caliber right-back. However, it is CoG's opinion that he will remain with the team at least through June.
One other factor to consider is the expected schedule congestion that may see Araujo miss a few games. The Galaxy have many options in how they wish to approach the right-back situation. They may want a player that has MLS experience that will both push Araujo, but also provide depth in the event he misses games with either the U-23 or senior USMNT teams.
Statistically, defensive players are the most difficult to judge because defensive actions are not as isolated an event as an offensive action like a goal or an assist may be. Good defenders often play quiet games, whose names you may not remember being mentioned or even making a play on the ball. A lot of their responsibilities are off the ball, where few if any, statistics are kept.
Inter Miami's Alvas Powell is at the top of the list of available right-backs. Individually, he is very active defensively with 3.17 blocks per game (B90), 1.36 interceptions (Int90), and he recovers about 12.66 loose balls per game (Recov90). In the air, he won 100% of his duels. In addition, Miami regained possession 20.19% of the time Powell applied pressure on the opposing player receiving, carrying, or releasing the ball (Press%).
---

---
A more sophisticated and much more comprehensive way to analyze defenders comes from American Soccer Analysis' (ASA) goals added (g+) model that measures a player's total on-ball contribution in attack and defense.4 For all available right-backs, Powell comes in at fourth with a -0.11 g+, indicating he had a negative effect on his team's performances. However, Miami was so bad this past season that only six players finished with a positive g+, and Powell had the tenth-best g+ statistic on a poor Miami team.
---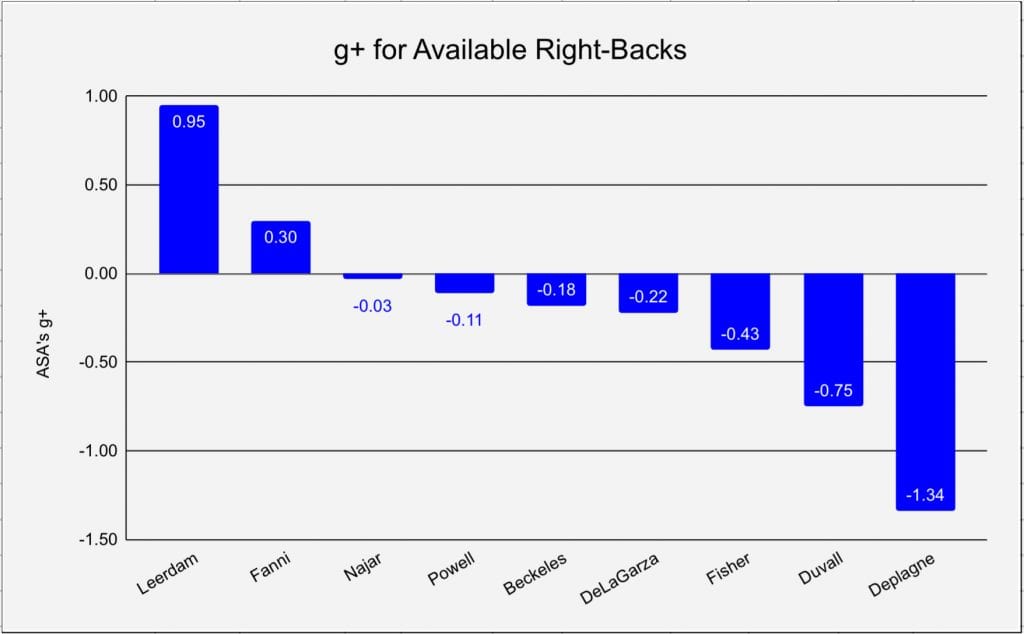 ---
Powell's added value comes in his status as a green card holder, anticipated low salary, and experience. He has seven-and-a-half years of MLS experience, including a MLS Cup, and has 49 caps with the Jamaican national team, including being a two-time CONCACAF Gold Cup finalist.
While Montreal's Rod Fanni has better individual stats, including a better g+, the combination of his age (39) and use of an international slot rules him out. Likewise, LAFC's Andy Najar also has the individual statistics and a better g+, however, it is reasonable to believe that his anticipated salary will be too high to even be considered a backup for a Galaxy team that could potentially sell its starter in Araujo and go after a subsequent costly right-back. There's also the fact that he played very little due to his longer-than-expected recovery from an ACL injury.
For the Galaxy, there is also the potential signing of LA Galaxy II free-kick specialist Mauricio Cuevas (17). While he has featured as the starting left-back for Galaxy II, he is a natural right-back that some consider to be the heir-apparent to Araujo. As they say, "If you're good enough, then you're old enough." Only the opportunity to play will let fans know if Cuevas is ready.
And while we believe Powell provides the best value strictly speaking from a numbers perspective, there is a name on the list of available right-backs that cannot be ignored by any means in A.J. DeLaGarza.
However, there is a possibility where he could rise to the top of the list. Individually, DeLaGarza has comparable, if not better, numbers than Powell. But using ASA's g+ model, he is slightly behind, and therein lies the issue. The drop off from Powell (-0.11 g+) to DeLaGarza (-0.22 g+) could be overcome if the latter took a significant pay cut on his end for this to make sense from a numbers-perspective. Both Powell and DeLaGarza look to be taking pay cuts from their 2019 salaries listed as $251,625 and $253,750, respectively. Thus, one way of justifying DeLarGarza over Powell would be for him to take a larger pay cut than Powell.
DeLaGarza checks every box and then some for what the Galaxy might be looking for in a back-up right-back.
---
1 Per MLS Rules and Regulations, teams will receive 95% of any transfer fee for the transfer of any non-DP, non-Homegrown Player (i.e. Araujo). The remaining 5% will be retained by the league.
2 Blocks per game (B90) is the number of times a player blocks the ball by standing in its path, which includes blocked shots, blocked shots on target, and blocked passes.
3 Player Market Values are based on data prior to 12/18/20. There was an update on 12/18/20 that is not reflected in this table.
4 American Soccer Analysis' goals added (g+) model measures a player's total on-ball contribution in attack and defense by calculating how much each touch changes their team's chances of scoring and conceding across two possessions.

Sources: AmericanSoccerAnalysis.com, FBREF.com, MLSsoccer.com, MLSplayers.org, and Transfermarkt.com.