As the LA Galaxy work on getting fans back into the stadium, we take a look at how many fans DHSP holds and how the tier system will affect that capacity.
Governor Gavin Newsom made a March 5 announcement that quickly put the far-off plans of welcoming back fans to stadiums around California into a more compressed timeline. And with the LA Galaxy and Major League Soccer ready to start the 2021 season off on April 17, the planning needs to be ramped up considerably.
Newsom tied capacity allowed to the colored tier system that California has been using for most of the Covid-19 Pandemic. And with LA County in the most restrictive purple tier currently and improving every day, we could see a red or even orange tier assessment by the time the Galaxy get ready to host their first game.
But if we've learned anything from the Victoria Block Capacity announcement, we know there are many different shades of what total capacity could mean for the Galaxy. So we put together a chart from the latest numbers provided by the Galaxy (from March 7, 2020) so you could get an idea of how many fans might be attending games in the near future.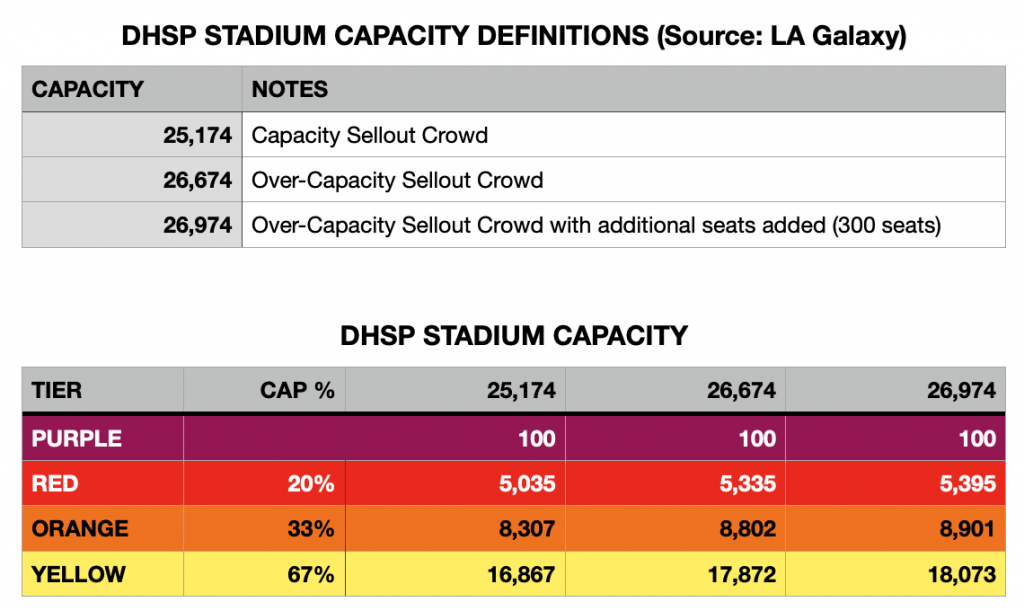 The three capacity numbers come from three different operational situations and configurations for the stadium. In normal circumstances, the Galaxy would call 25,174 seats a sellout. But when they open the grass berm, they can gain some additional capacity and call 26,674 an over-capacity sellout.
But let's say it's a highly anticipated game or a playoff game, then the Galaxy can build some additional bleachers in the Northeast and Southeast corners to add another 300 seats for the extraordinary "Over-Capacity Sellout + 300 seats." And that 26,974 is the closest we can get to that once mythical 27,000 number — and to be fair, the Galaxy did lose some capacity – say 26 seats or so – when they remodeled the stadium and added in Victoria Block.
So which number will the Galaxy use to calculate their capacity? It's probably the 26,674 number. Without constructing those overflow bleachers, the Galaxy can rightfully and reasonably say that they can get 26,674 people into the stadium and justify that capacity without having to bend over backward.
The purple tier is always going to get you a max capacity of 100 fans. That's it. It's capped. And that doesn't say whether or not media and support staff are included in that. Having been at the stadium last year, I'd guess there were close to 100 people there when you count the players, the referees, support staff, police officers, medical workers, and media at the stadium. So that isn't going to do much for anyone. But when and if LA County drops into the red tier, they can get 20-percent capacity. That would allow the Galaxy around 5,335 fans at the stadium using our over-capacity sellout number.
That improves to 8,802 (33% Capacity) when the county graduates into the orange tier and nearly 18,000 (67% Capacity) when in the yellow tier.
Masks mandates will still be prevalent, and they'll be strictly enforced, as will the requirement that the fans attending be from the area — we don't know if that means California, LA County, Southern California, or what? But with vaccinations averaging over 2-million per day over the last week in the United States and transmissibility rates dropping across California, there's a real chance that fans could see the red and orange tiers very soon.
The Galaxy have said that they'll give priority access to current Season Ticket Members. But how that access will be given is unclear.
And with the total number of Season Ticket Members a closely held Galaxy secret, we can only guess at the number. But the last reported STM number was around 9,500. So let's pretend like years of bad play, and a global pandemic didn't shrink that number. Even an orange tier capacity of 8,802 wouldn't get every STM back in the stadium — but it might get every STM who wants to come back into the stadium. And the likelihood of LA County reaching a yellow tier without just getting rid of the tier system as it stands seems to be a likely scenario.
Things are trending in a positive direction after a year of question marks and empty bleachers. So any move towards a return to normal feels good to talk about. But the hard decisions are going to be made behind-closed-doors. And how the Galaxy and the league plan to roll out access to regular-season games seems like a critical decision.
---