MLS released all 27 home openers on Wednesday and the Galaxy have back-to-back East Coast opponents and a visit with David Beckham ahead.
Major League Soccer announced the home openers for all 27 teams on Wednesday, and for the LA Galaxy, they'll get to pick up where the pandemic had shut them down.
The Galaxy's opening game of 2021 will be away to Inter Miami on April 18th and will be broadcast over-the-air on ABC (12 PM PT; Spanish – ESPN Deportes). For those who remember, this game was originally scheduled as the Galaxy's third game of the season in 2020. But with the global pandemic shutting down the league just minutes before the club was to depart for Florida, the game was postponed and then canceled.
The Galaxy's home opener will be played a week later, at Dignity Health Sports Park — with fans — when they host Eastern Conference opponent New York Red Bulls on Sunday, April 25th on FS1 (2:30 PM PT; Spanish – Fox Deportes). That's another opponent the Galaxy didn't face in 2020.
With the schedule's announcement, the league has already changed gears from the covid-19 condensed season of last year. The fact that the Galaxy will be traveling across the country and then be flying back to play another team that has traveled across the country shows the regional matchups that defined the 2020 season are gone. And it indicates that MLS plans on playing a normal 34-game schedule — as normal as one can be with the genuine threat of surges from the virus still in everyone's mind.
The Galaxy can now go through preseason with a name on the board. And with the possibility of the first three games qualifying MLS Teams for a significantly paired down US Open Cup, the first two games could mean a possibility at getting into that competition if the Galaxy want to go after the easiest way to a CONCACAF Champion's League berth.
The entire league will start on Friday, April 16th when the Houston Dynamo host the San Jose Earthquakes and the Seattle Sounders host Minnesota United. That's a small change from the initial start date of the league that was announced as April 17th.
Just three teams will have to wait past the first two weeks for their home openers, and two of them will do it because they have new stadiums to debut. FC Cincinnati will open their new home on Sunday, May 16, and Austin FC will open their new Stadium on June 19. Real Salt Lake is the only team that has to wait until week 3 for their home opener that won't be because of a stadium issue.
And then come the Canadian teams. All of them will be starting the season by hosting their games in the United States. Montreal will partner up with Inter Miami and use their stadium, Toronto will share the stadium with Orlando City, and the Vancouver Whitecaps will use Salt Lake's Rio Tinto Stadium as their temporary home.
The league is hopeful that the Canadian teams will eventually go back to their homes north of the border before too long.
The opening schedule is far from perfect. But what it really shows is that MLS is determined to make this feel like a normal year. How normal it ends up being is obviously something that will be followed throughout the year.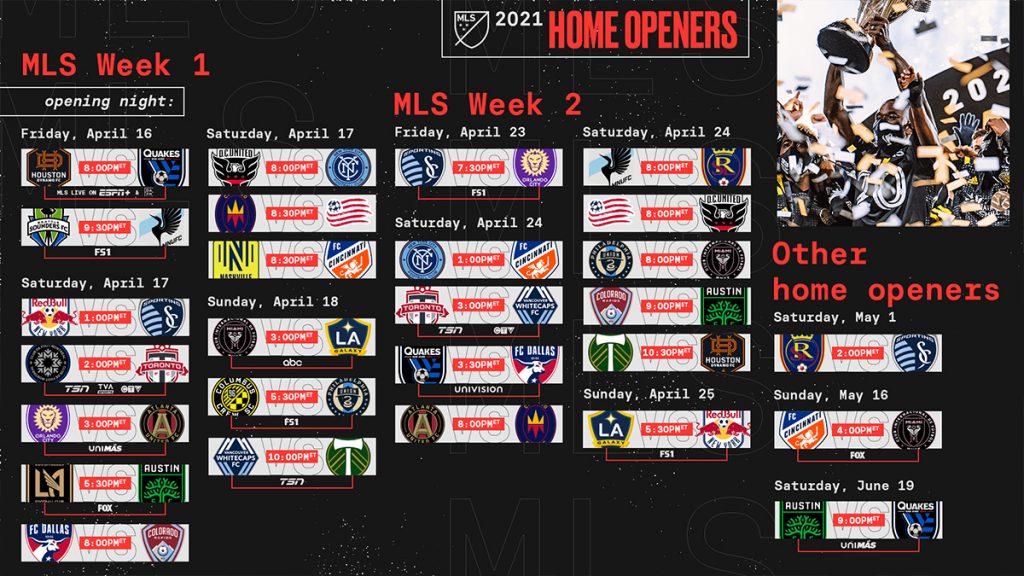 ---
SEASON TICKET MEMBER UPDATE:
UPDATE: The LA Galaxy sent out an email to Season Ticket Members where they explained that STM's would be notified when they would be able to "purchase" tickets to the upcoming games. This has caused a lot of confusion.
While CoG awaits official confirmation, we've been told that you won't have to "pay" for your tickets. If you were an STM from last season and you accrued credit for the games you weren't able to attend (all but one), then you'll use that credit to "purchase" your tickets.
This system is necessary because there will be limited supply (our story on our best guess numbers is HERE). This will basically reserve your spot in the stadium for a game you're able to attend. If you can't go to the game, don't feel safe going, or don't get tickets even though you applied, you won't pay.
Again, this is preliminary information from the Galaxy, but it lines up with what their process seems to be and from the conversations I've had, it makes sense to people within the organization.
The Galaxy say they'll release more information about how this system will work at a later date. The Governor surprised a lot of people with how quickly he'd open things up. So it seems everyone is figuring this stuff out on the fly.