19-year-old Efrain Alvarez was the hero on the night when his stoppage time shot wrestled all three points from the Vancouver Whitecaps on Wednesday night.
The LA Galaxy will love how they finished their 2-1 victory over the Vancouver Whitecaps on Wednesday night in Sandy, Utah, but they'll hate how they got there. And if Efrain Alvarez wants to save all of his wonder-goals for stoppage-time winners, the Galaxy will love that too.
Alvarez, who came off the bench in the second half to help the Galaxy close out a 1-0 lead that they gained after Javier "Chicharito" Hernandez knocked in a Sebastian Lletget pass in the 47th minute, found himself in the opposing penalty box with only a couple minutes left on the clock as the ball slowly bounced his direction.
One minute earlier, Janio Bikel had leveled the score for the Whitecaps when he stormed past a passive Cameron Dunbar and drove home a low shot past Galaxy goalkeeper Jonathan Bond.
Sixty seconds later, Alvarez blasted that bouncing ball that Vancouver didn't clear, calmly brought the ball down, and fired off a left-footed missile that arched around Whitecaps goalkeeper Maxim Crépeau and crashed into the back of the net.
"It was honestly a moment that I had been waiting for a long time," Alvarez said after the game. "I saw Nick [DePuy] going up for the ball and I was like, 'I'm going to stay back and see if I can get the rebound.' I had in mind what I was going to do. And I was ready for the opportunity."
In total, the game was tied at one goal apiece for no more than 113 seconds, and it still took a wonder-save from Bond in the sixth minute of stoppage time to preserve the win and take home three points.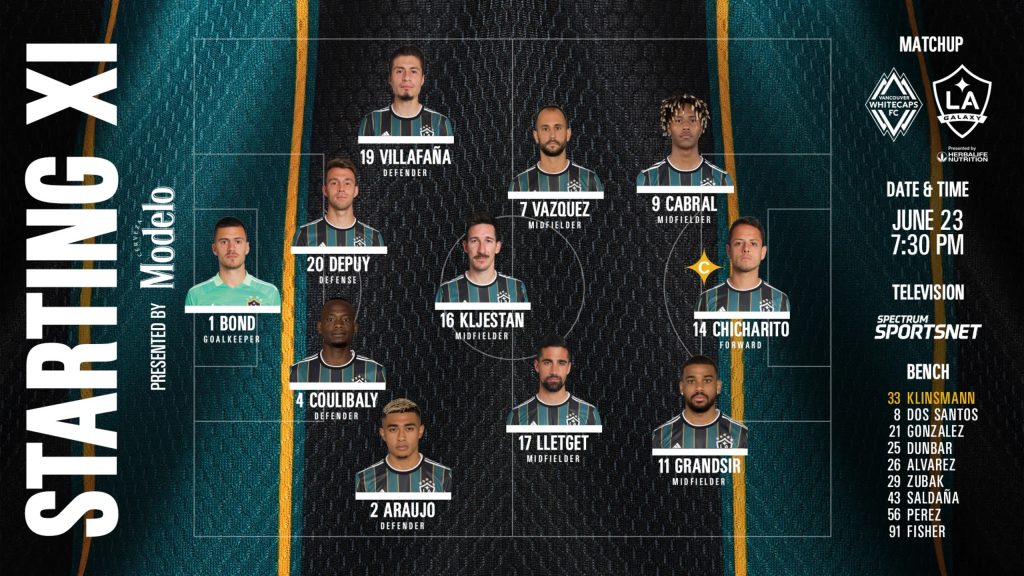 The Galaxy started in a more comfortable formation than the 4-2-2-2 they rolled out with varying degrees of success against the Sounders last weekend. Galaxy head coach Greg Vanney started a front three of Kevin Cabral, Chicharito — and returning to the starting lineup for the first time since a 3-0 loss to the Portland Timbers on the road at the end of May — Samuel Grandsir.
The midfield trio of Victor Vazquez, Sebastian Lletget, and Sacha Kljestan was repeated from the weekend, and Nick DePuy slotted in for the injured Dan Steres on defense.
The 4-3-3 formation allowed Cabral to play in a more natural position and gave Cabral and Grandsir license to attack the sketchy backline of the Whitecaps.
But having put all of that effort into creating chances for a more offensive lineup, the Galaxy got precisely zero shots on goal in the first half. Only a 19th-minute photo by Vazquez produced anything close to danger for the Galaxy.
The second half was a different story, however. And Chicharito's league-leading eighth goal, started by a beautiful back-press move from Cabral and finished by two perfect passes from Kljestan and Lletget, really opened up the game for both teams.
Overall, the Galaxy got Jonathan dos Santos 31 good minutes after recovering from a calf injury, and Alvarez replaced Cabral. Cabral had a better game than he did last weekend against Seattle, but outside the stolen pass that led to the goal, his offensive chances were few and far between.
But with a lead, the Galaxy should have done better with their possession. Instead, they stepped backward over and over until they spent most of the second half defending against half chances and almost shots.
So when Bikel scored in the second minute of stoppage time, it came as no surprise to the Galaxy or those watching at home.
"I was frustrated on how we were managing the 1-0 lead just trying to get messages into the guys about shifting the field position a little bit more, we were sitting deep recovering ball and then trying to play out of pressure and not getting out of pressure, not getting numbers high, and then we kept putting ourselves under pressure," Vanney said of the Galaxy's lead. "I felt like it was it was coming a little bit. We weren't doing the right things to manage the game especially in a really difficult place to play like Salt Lake.
"Obviously once we gave up the goal, it's a frustrating way to give up a goal, but the response was outstanding. Obviously the goal was a wonder goal from Efra [Efrain Alvarez] to bury that. We dug ourselves out one today on an incredible play and a great save by Bondy [Jonathan Bond] it's a situation and a save where we just don't need to make that save if we move out team up the field and we play longer and into their half of the field we can shift the field position and manage that game with a little bit more security."
What did come as a surprise was 19-year-old Alvarez deciding the game wasn't over yet, though. And his fabled left foot found a way to make up for several bad passes and no real impact on the game until that moment.
That was Alvarez's second goal of his MLS career, with the other coming against the Portland Timbers last November.
The Galaxy will want to learn from a stressful second half that never saw them wrestle control from a Vancouver offense that suddenly came to life. And because of that lack of possession, the Galaxy should count themselves fortunate to come away with the victory.
Playing their third game in eight days however, amid a rivalry fueled Cali Clasico against the San Jose Earthquakes on Saturday, will still be a tough hill to climb for a team that is battling a bit of an injury bug — especially with Jorge Villafana having to exit the game after a collision on a challenge deep into the second half.
But the Galaxy's six road points are just two shy of their total of eight points gained in all of 2020 on the road, and their 18 points from 9 games this season is four points short of their 22 game total of 22 points in last year's covid-shortened debacle.
And with an extra three points in their carry-on's, their second win on the road this season, and a points-per-game total of 2.00 – good enough for third place in the Western Conference – they'll travel to San Jose with a big smile on their faces.