The LA Galaxy get mentioned in rumors every time someone wants to join MLS. We'll tell you what we know and whether you should believe it.
COG STUDIOS, Calif. — The LA Galaxy are now under new head coach Greg Vanney and, together with general manager Dennis te Kloese, they're plotting to change the course of a team that has no discernible direction except down.
So how do they rebuild a roster that needs a lot of help? They do it by hunting for the best and brightest outside and inside of Major League Soccer. And this is our totally incomplete attempt at tracking and validating some of the rumors swirling around the Galaxy.
Below, you'll find our rumor tracker. Ranked with stars for no particular reason, we'll give you our best guess (sometimes with inside knowledge) about who is on the Galaxy's radar and what likelihood we give to their possible signing.
With the world constantly putting the Galaxy name in every MLS rumor, we'll do our best to cut through the absurd and land in the possible.
---
THIS TRACKER WAS LAST UPDATED ON AUGUST 2, 2021
---
8.2.21 — Updated Jovelic rumor
7.28.21 — Updated Joveljic rumor
7.26.21 — Updated Joveljic rumor
7.23.21 — Added Dejan Joveljic to the tracker
5.19.21 — Added Edin Dzeko to the tracker
5.18.21 — Updated Raveloson rumor
5.12.21 — Added Efrain Alvarez to the rumor tracker
5.10.21 — Added Rayan Raveloson and Willian rumors to the tracker
4.28.21 — Added Augustine Williams to the rumor tracker. Confirmed Coulibaly
4.13.21 — Added Sega Coulibaly to the rumor tracker
4.8.21 — Cabral Signs with LA Galaxy, Updates to Da Matta, Pavon, and Balic rumors
4.5.21 — Cabral Rumor update, 2nd update at 2:45 PM
⭐️ = COLD
⭐️⭐️ = NOT AS COLD
⭐️⭐️⭐️ = WARM
⭐️⭐️⭐️⭐️ = HOT
⭐️⭐️⭐️⭐️⭐️ = REALLY HOT
| NAME | AGE | POS | CURRENT CLUB | RUMOR RANKING |
| --- | --- | --- | --- | --- |
| DERRICK WILLIAMS | 28 | D | BLACKBURN ROVERS | ✅ |
| SAMUEL GRANDSIR | 24 | RW | AS MONACO | ✅ |
| VICTOR VAZQUEZ | 34 | CM | NONE | ✅ |
| KEVIN CABRAL | 21 | M | VALENCIENNES | ✅ |
| SEGA COULIBALY | 24 | CB | AS NANCY | ✅ |
| AUGUSTINE WILLIAMS | 23 | F | LA GALAXY II | ✅ |
| RAYAN RAVELOSON | 24 | CDM | ES TROYES AS | ✅ |
| DEJAN JOVELJIĆ | 21 | CF | EINTRACHT FRANKFURT | ⭐️⭐️⭐️⭐️⭐️ |
| PIRIS DA MATTA | 26 | CDM | FLAMENGO* | ⭐️ |
| EDIN DZEKO | 35 | F | ROMA | ⭐️ |
| EFRAIN ALVAREZ | 18 | CAM | LA GALAXY | ⭐️ |
| WILLIAN | 32 | MF | ARSENAL | ⭐️ |
| CRISTIAN PAVON | 24 | LW | BOCA JUNIORS | ⭐️ |
| HUSEIN BALIC | 24 | LW | LASK | ⭐️ |
| SERGIO AGUERO | 31 | F | MANCHESTER CITY | ⭐️ |
| MARCOS ROJO | 30 | D | MANCHESTER UNITED | ☠️ |
| SEBASTIAN GIOVINCO | 33 | MF/FWD | AL-HILAL RIYADH | ☠️ |
DEJAN JOVELJIĆ HEADED TO THE GALAXY: ⭐️⭐️⭐️⭐️⭐️
UPDATED STORY (8.2.21) — Fabrizio Romano is staying on top of the Jovelić transfer story. And today, he has the Galaxy's 21-year-old target heading across the pond to Los Angeles where he's expected to complete his permanent transfer to the Galaxy.
Sources within the organization have confirmed the information and have also confirmed the contract length at 4.5 years. Additionally, Jovelić will take up the final U-22 roster spot the Galaxy have available.
The Galaxy are hopeful that the whole deal will be completed by the end of the day, and that could mean an official announcement later this week or early next week.
As for when Jovelić could be available for the club? That's more of a guessing game. He'll need to go back out of the United States before he can re-enter under his P-1 visa, and he can't do that until the visa is issued. But Galaxy sources are hopeful the process will be quicker this time when not dealing with the French Embassy.
So if you've been saving your money and waiting for the subsequent Galaxy signing, you might want to transfer that to your checking account. This is happening.
UPDATED STORY (7.28.21) — Reports are once again surfacing about Dejan Joveljić. And this time, superstar Italian reporter extraordinaire Fabrizio Romano is giving Galaxy fans a reason to be excited. According to Romano, Joveljić "will join LA Galaxy from Eintracht Frankfurt, done deal. Agreement reached on a permanent move, paperwork set to be signed and here-we-go.
"Joveljić will sign his contract [4.5 years] within Friday – he's ready for this new MLS chapter."
And while Galaxy fans should be fired up, sources with the Galaxy organization have indicated it might just be a tad premature.
Per our source, the Galaxy are "almost" there on Joveljić, and they still have some negotiating to do. However, judging from the tone, we'd be surprised if the Galaxy or Joveljić faltered at this point. It all seems to be pointed in the right direction, and Friday seems like a great day to make everything official, although we wouldn't be surprised if they wait until next week.
We're going to DEFCON 1 and bumping this rumor up to 5 stars!
UPDATED STORY (7.26.21) — Contrary to the reports that a deal has been made, sources within the Galaxy have indicated to CoG that the deal for Dejan Joveljić is progressing positively and there's hope that green lights will be given from both sides to move forward and complete the move.
Joveljić has been held out of games with Eintracht Frankfurt as they announced he was negotiating with a club about a possible transfer.
We've updated to four stars and this deal seems like it's moving toward a signing.
Conversely, time is running out on Giancarlo Gonzalez's time with the Galaxy. The 33-year-old Costa Rican International defender will return from the Gold Cup and back to the Galaxy. But Gonzalez hasn't played a minute for the club since November of 2020, and Vanney seems to have already moved on without him.
The Galaxy are currently shopping Gonzalez both inside and outside of the league. They'll need both his senior roster slot and his international slot if they want to bring in Joveljić. At the moment, the Galaxy see that as something that will happen and feel very confident that moving Gonzalez won't hold up this deal.
ORIGINAL STORY (7.23.21) — According to overseas reports the Galaxy are negotiating to sign 21-year-old center forward Dejan Joveljić. The deal apparently revolves around a $4.12 million transfer fee to Eintracht Frankfurt — with bonuses — to lock in the forward for a five-year contract.
Joveljić scored 19 goals in the Bundesliga and Europa League in the 2020-21 season as seems to be a rising star in Germany.
However, sources within the organization have told CoG that Joveljić is just one of many players they are scouting and that while he's "definitely a good player," that the Galaxy are "not close" on landing his services. Not yet.
This signing would be very interesting for the Galaxy because Joveljić could be signed as a U-22 player — the Galaxy have one spot remaining after signing Julian Araujo, and Efrain Alvarez as U-22 players earlier this year. But Joveljić's salary would have to be under the $612,500 maximum budget charge in order to qualify for that deal.
Additionally, the Galaxy would need about $200,000 in salary cap room, and they'd need to clear an international slot and a roster spot to add him to the team. One player, Giancarlo Gonzalez, would clear up nearly everything the Galaxy would need for the deal to go through and rumors of Gonzalez's exit have been circulating for more than six months.
The bottom line is that the Galaxy are looking for a second striker. With questions surrounding Chicharito's ability to stay healthy, a long-term backup is a good idea. And Joveljić would be that and so much more. He'd get plenty of playing minutes with the current squad. But the Galaxy don't seem to be close to pulling the trigger on this deal, yet.
EDIN DZEKO TO THE LA GALAXY: ⭐️
ORIGINAL STORY (5.19.21) — The LA Galaxy are in pursuit of Roma striker Edin Dzeko, according to reports out of Bosnia. And those reports have gone quite a way to link Dzeko to the LA area. They've talked about his wife's attachment to the area as well as his step-daughter's search for a school in Los Angeles. So this one definitely has legs, right? No!
And those Bosnian reports have lead footballitalia.com to also publish their article on it.
CoG, after talking to multiple sources, can report that there is nothing to this rumor. "There's nothing there."
While fans dream of Dzeko on a TAM deal, the Galaxy are still out there searching for their next target. And while it's unlikely they're done, it's clear that the salary cap and the team's budget is just about at its end! Not that you couldn't get creative.
CHIVAS EYEING EFRAIN ALVAREZ: ⭐️
ORIGINAL STORY (5.12.21) — Reports from Goal.com have Chivas de Guadalajara interested in 18-year-old LA Galaxy midfielder Efrain Alvarez. The article reports that Alvarez's father, Crescencio Álvarez, once played for Chivas' U-20 side and that the younger Alvarez has already made his comments about playing in Mexico for them known.
The fee that Chivas has apparently estimated for Alvarez is in the $12-million range.
The article makes clear that Chivas has not reached out or contacted the Galaxy at this time. And when CoG contacted sources within the Galaxy that seems to be the case. But our sources also scoffed at the idea that Chivas would be willing to pay anywhere near $12-million for Alvarez given their current financial situation.
Without Chivas actually contacting the Galaxy this falls more into wishful thinking than even a rumor. But from an observer's perspective, if Chivas want to poach an 18-year-old bench player from the Galaxy for that amount of money, the Galaxy should be more than willing to sell. Like now.
For right now, however, there just isn't anything to this story! We'll give it one star just so that if Chivas hits the PowerBall this week, we can say we saw it coming!
LA GALAXY PURSUING MIDFIELDER RAYAN RAVELOSON: ⭐️⭐️⭐️⭐️⭐️
UPDATED STORY (5.18.21) — Listen, we're upgrading this rumor. The bottom line is that Rayan Raveloson has been all over the Galaxy's social media, liking posts from the team and the players. He's started following them, and he's tracking their every move. You don't do that unless you plan on heading for Los Angeles.
Kevin Baxter was first to report the deal as done on Monday night's podcast and the Panda is on top of this one.
Plus, there's this: CoG can confirm that the LA Galaxy have signed Rayan Raveloson with an announcement expected later this week (possibly Thursday).
And as of right now, we're going to assume that this rumor and the mystery-man rumor are the same person. But that doesn't mean that we're done with the concept of the mystery-man. As Kevin said, the Galaxy are still on the hunt and certainly chasing after someone else. Mystery-Man II!
ORIGINAL STORY (5.10.21) — Reports out of France have the LA Galaxy courting another French midfielder in the past weeks. And while the Galaxy have already landed Samuel Grandsir, Kevin Cabral, and Sega Coulibaly in recent months, they are now after 24-year-old defensive midfielder Rayan Raveloson. Raveloson is just finishing up his season with ES Troyes AC in France's second division but is sitting on an expiring contract with Troyes on their way to promotion.
COG can confirm that the Galaxy are interested in the Malagasy and French midfielder with one source saying that he's a "good candidate" and that the club should know more in the coming days.
With Raveloson's contract expiring on June 30, and Troyes' season ending very soon, the Galaxy are in a position to wait out Troyes and acquire him on a free transfer this summer if it comes to that. That would save considerable money on the deal. But the Galaxy probably wouldn't be opposed to getting him as soon as Troyes could release him.
MLS's Primary Transfer window closes on June 1st. But the secondary transfer window opening just 37 days later, there's plenty of opportunity to get Raveloson on the roster in 2021.
The reports out of France have the Galaxy offering a three-year contract.
WILLIAN TO DEPART ARSENAL AND COME TO MLS: ⭐️
ORIGINAL STORY (5.10.21) — Rumors have been swirling for the last week that former Chelsea midfielder and current Aresnal player, Willian, is making a move to Major League Soccer this summer. Those same rumors have placed the LA Galaxy as one of three MLS teams to be interested in the Brazilian who made a name for himself at Chelsea over sevens seasons.
Willian would definitely be a Designated Player if he were to come to MLS and as of right now the Galaxy don't have a DP slot open. That's not to say the club couldn't get creative, but it's still a stretch.
Speaking to a person with knowledge of the situation there seems to be little to no interest from the Galaxy at this point, and calling them "favourites" seems to be incorrect. And while we won't rule out a summer move that would probably include the transfer of Jonathan dos Santos to free up a DP slot, there doesn't seem to be any real interest in the 32-year-old from the Galaxy.
Back to the drawing board rumor-maker-people.
UNKNOWN PLAYER TO BE SIGNED BY THE GALAXY: ⭐️⭐️⭐️⭐️⭐️
ORIGINAL STORY (4.28.21) — Normally we have names and positions for you when it comes to Galaxy transfer rumor targets. But in this case we don't have much. But we can put together a compelling argument.
During the Galaxy's recent town hall, Galaxy President Chris Klein said that the club would be adding two signings. CoG was able to confirm that one of those signings would be Sega Coulibaly who just signed with the Galaxy. We also told you that the Galaxy are just waiting for league approval on Augustine Williams.
Now nearly everyone can count to two, but in this case, Williams and Coulibaly don't equal two. What we're trying to say is that CoG can confirm there is an additional player the Galaxy are after and they're close to signing him. This unknown signing will be the second one that Klein was talking about.
So do you have any guesses?
GALAXY INTERESTED IN DEFENSIVE MIDFIELDER PIRIS DA MATTA: ⭐️⭐️⭐️
ORIGINAL STORY (3.24.21) — The LA Galaxy seem to be interested in defensive midfielder Robert Ayrton Piris Da Matta Mendoza (Piris Da Matta). Da Matta is a 26-year-old who is currently under contract with Brazilian side Flamengo but is being loaned out to Turkish side Genclerbirligi Ankara. That loan is not expected to expire until June of 2021 with Genclerbirligi having an option to purchase the player outright.
Da Matta is a very direct player who is robust in his challenges with above average tackling ability. He makes good movement into space to work as a relief valve when the defense is under pressure but can still move the attack forward. He loves big passes to switch the field or open up play but he isn't always successful with those. And while he reminds us of Nigel de Jong in stature and his direct nature, he's neither as talented nor as violent (too bad) as De Jong.
But he's absolutely capable of getting red cards in MLS.
CoG has spoken with someone close to the Galaxy and we can confirm there is interest. But whether or not it has progressed past that point is unknown. The Galaxy have two international slots remaining as currently configured, and signing Da Matta may be a higher priority than any of the other rumors. But the Galaxy also still have a DP slot to fill. There's going to be some wrangling here.
Maybe Jonathan dos Santos finally gets that Green Card we've all been predicting for the last two years?
GALAXY TO RE-SIGN CRISTIAN PAVON: ⭐️
UPDATED STORY 4.8.21 — With the signing of Kevin Cabral, the LA Galaxy don't have a Designated Player spot to give to Pavon. For that reason, it's time to put this rumor in a dark secret place until the Galaxy do something to open a DP spot, or get creative with the accounting!
It's not dead, it's just resting its eyes.
UPDATED STORY (3.17.21) — We now have a serious report of a deal between Boca and the Galaxy with everything hinging on his legal outcome.
With CBS Sports' Roger Gonzalez saying there are still many things to work out, he also reports that the deal is done in principle. And while COG can't independently confirm the report, we can say we've heard similar things and this exact rumor was the reason for our 3.16 update.
If we were to guess — and we like doing that — we'd say this "deal" probably goes back to just before Pavon's surgery. So it's something the both club's have been patiently sitting on for more than a few weeks.
And while this seems like a progression of the Pavon saga, in actuality, to our understanding, it's more of a pause button. Nothing more can be done but wait for a clean break from Pavon's legal troubles and for the accusation to be dismissed or for Pavon to be found not guilty. With Pavon due in court on March 23, there's a small chance that a resolution will be found on that day. But in reality, legal issues are very rarely cleared up in a single court meeting and it should be expected for any decision to be weeks if not months away.
But with this report, you can see why the Galaxy have not wanted to finish this deal. Just the hint of a deal has already sparked small PR fires and the linkage between the club and the rape charges at every turn. And now, those on the outside, are starting to question the Galaxy's reasoning for their continued pursuit of someone who has sexual assault charges pending.
For those that read all these updates, you'll know the deal was likely complete in all but price for some time and that this all started well before the accusations started flying.
Now everyone will wait. Without a clean resolution (not guilty, charges dismissed, etc.) Pavon won't set foot into the Galaxy locker room.
UPDATED STORY 3.16.21 — This is a short update, but the Galaxy seem to be pulling back on actively pursuing Cristian Pavon. The view may be that they'll need to wait and see about Pavon's legal troubles, and with Pavon due in court in a week, that might provide more clarity on if this will be carried any further.
Doing what is best for the team seems to be the Galaxy's priority. Even while they privately believe in his innocence. But if this drags out, the Galaxy could be without a Designated Player until the summer window opens up.
UPDATED STORY 2.22.21 — Welcome back to the soap opera that is Cristian Pavon. More news broke on Friday night and carried through this weekend, and you can thank John Rojas for it (side note: John used to sit next to me in the press box and he's one of the smartest soccer reporters I know).
But this update comes in two sections with Pavon's lawyers answering John's questions in different parts.
In the first part they go after the report that Pavon has a travel restrictions placed on him and poke holes in the veracity of the claims provided by the accuser. You can read it below, but basically they're telling you that Pavon is free to travel anywhere he wants. If he has to relocate permanently, he'll just need to let the prosecutor know where he's going to be.
It's also important to note that Pavon has opened his own case against the accuser. He claims that allegations are false and is countersuing. And his lawyers continue to make the case that he hasn't been charged in this case at all.
In the second part of these responses you can look at the timeline. Months or years to come to completion on the journey. So if the Galaxy are confident, and they seem to be, this might be a situation that follow hims for his entire career with the Galaxy.
Last we checked the Galaxy haven't hit pause, and Boca is still deciding on the most recent offer. So that's where we stand.
COG TAKE: We're along for the ride with everyone else! If it gets any closer, we'll let you know!
UPDATED STORY 2.19.21 — Hello Walter Pavon!
Cristian Pavon's dad has just announced himself with some BIG words targeting Boca Juniors. According to friend-of-the-show John Rojas, the elder Pavon was on a radio show and had some choice words for the storied Argentine club.
Walter accused Boca of not caring, of not monitoring the surgery and recovery of Cristian, and accused them of not getting a deal done despite there being a good deal on the table — he mentioned the $10-million for 50-percent deal that we've reported down below.
But really, it's about Walter Pavon declaring war on Boca and putting even more pressure on the club to get things done.
There are hints that the Galaxy wanted to talk have the surgery done under their watch and make sure that Cristian recovered well, and that Cristian has been playing in pain for years and this surgery will help him be even more effective. There's also the little fact that Cristian had 9 bone fragments removed from his ankles. Ouch!
But the biggest revelation is what Walter closed with. "Being honest, any option is better than Boca right now," Walter said according to Rojas.
Also, we offer one clarification. Rojas had a typo on when Pavon's contract is up with Boca. Instead of saying June 2021, it should be June 2022. With Pavon able to negotiate a free move in December of 2021 when he could then leave on a free transfer.
We talked about this in-depth on our last Corner of the Galaxy Podcast (LINK).
COG TAKE: Pavon wants out. He's told the coach, his father has told the world, and now there's no way for Pavon to stay with Boca. Boca fans have even likened Cristian Pavon to a River player (River Platte is Boca's biggest rival). The relationship is broken there. Now it's time for the Galaxy and Boca to get this done. The momentum is there. And if you can put aside the sexual assault allegations (which the Galaxy certainly seem to be doing for reasons only they can explain) then you can get Pavon into the United States and begin his rehab from surgery.
UPDATED STORY 2.18.21 — Yesterday was a busy day. And last night, Cristian Pavon took to Instagram to post a statement from his lawyers. In the statement, his legal team refutes the earlier reports that Pavon had a travel restriction applied to him and says that Pavon hasn't been charged with a crime and that he has voluntarily been cooperating with investigators.
Being that my Spanish leaves a lot to be desired, and being this was written more in legalese than straight forward Spanish/English a discord member typed it all into Google Translate to get the best idea of what they said (the best idea from a non-Spanish speaker)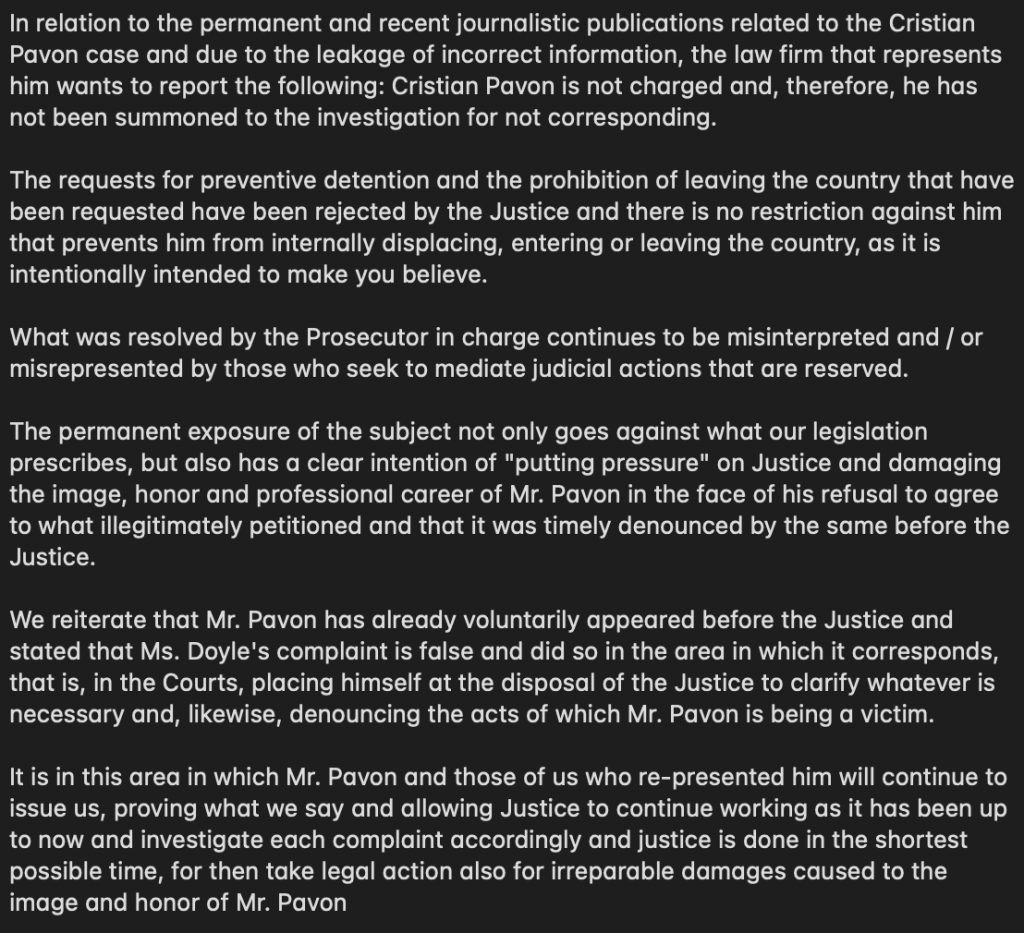 However, as is normally the case, that's not the whole story. According to more reports, the court released a statement this morning addressing the case and in some ways, contradicted what Pavon's lawyers have put out.
In general the press release does note that Pavon would have to get approval to relocate outside the country — say to the United States to play for the Galaxy — and would have to provide reasoning and motives for such a move.
It doesn't seem like a high bar to clear for Pavon, should he and Boca agree to a deal with the Galaxy. But there does seem to be some restriction of his movement per the press release.
Are you done with this yet?
COG TAKE: The Galaxy seem very confident in Pavon's innocence. I don't expect that anything related to this case will get them to take a step backward. But maybe the surgery and the late start to the season gives everyone a chance to hit pause and take a breath for awhile. Also, I've been advised to take most of what is being reported out of Argentina with a giant grain of salt. That goes for leaked negotiations with Boca and much of this legal wrangling.
UPDATED STORY 2.17.21 — We want to update you on two things with regards to Pavon.
First, we want to give you an update from earlier this week (2.16.21). CoG has a source that has indicated that the Galaxy submitted a new offer for Pavon — an updated bid to Boca that follows the swell of reports from last week. This seems to be a new bed. We can't report any numbers, but the Galaxy seemed confident it was a good deal. This source acknowledges that this is taking a long time to get done.
The second update is from today and pulls Pavon's sexual assault allegations back into focus. Pavon's accuser had sought to keep him from traveling abroad. It seems the prosecutor agrees and has issued an order that will keep Pavon in Argentina for the time being. Or, at the very least, he'll need to get permission from the prosecutor to leave.
He just underwent surgery for ankle fibrosis this morning and is expected to take 2-months to recover. So his immediate travel plans shouldn't be affected. However, any long-term deal that the Galaxy are thinking of making surely hits the brakes when this news is relayed.
COG TAKE: This seems like a good time to bail for the Galaxy. If you're still interested in him this summer, come back to the deal after this case has been tried. But if you can't be 100-percent sure, you shouldn't be entertaining Boca with offers. The Galaxy can't become obsessed with him and they shouldn't be attempting to sign someone with a giant question mark in their past. If they do and get it wrong, multiple people should be fired!
If you're the LA Galaxy, do you really want your name splashed about at every opportunity when it comes to allegations of sexual assault?
UPDATED STORY (2.11.21) — Rumors are picking up pace. With a new set arriving this morning claiming that the Galaxy and Boca have reached a deal for winger Cristian Pavon.
Reporter Luis Fregossi is saying that both clubs have agreed to sell Pavon for $10-million and a 50% sell-on clause. That would value Pavon at $20M and put the Galaxy star at one of the most expensive players in MLS.
However, a Galaxy source couldn't confirm the acceptance of the deal. The source stated that an offer for Pavon had been made, but that no agreement had been relayed to the Galaxy. The source said that the Galaxy made a more than fair offer and that they were hopeful it would be accepted.

Reportedly, the deal would include a $10-million. But the offer would be offset by a loan fee return of $600,000 — a contractual clause that stated that Boca would have to return the loan fee if they denied a Galaxy offer. That would make this deal worth $9.4-million in cash from the Galaxy to Boca and would value Pavon at $20-million. A familiar number for Galaxy fans.
The sexual assault allegations remain omnipresent, however. Without a concrete resolution, it's hard to get too excited about the deal. Without a resolution, the Galaxy are gambling big on a very talented player. If that Gamble doesn't pay off, it could spell the end for Dennis te Kloese and nearly anyone who allowed this to go forward.
COG TAKE: After a period of silence, it seems this deal could be on the verge of wrapping up. And the discrepancy in timing between Boca's Board voting to accept the deal, and then instructing the President of the club to call the Galaxy to tell them they've accepted the deal, there's a great chance for some lag in communication. This rumor moves up to a 5-star rumor.
ORIGINAL STORY (1.18.21) — The Cristian Pavon saga is a complex one. Made all the more complex by the sexual assault allegations that were levied at the Boca Juniors winger. Pavon cooperated with authorities and his lawyers have denied all the allegations. But this certainly puts a wrench into already difficult negotiations with Boca.
COG TAKE: We're going to get right to our analysis. CoG can confirm that as of last Thursday, the Galaxy were still interested in the the 24-year-old Argentine. They are monitoring the situation with regards to the sexual assault allegations and are in no hurry to make a decision with some initial indications that it could be an extortion play.
But the Galaxy are also looking at all their options. They are not married to the idea of needing to sign Pavon and if they find something they're looking for somewhere else, they will move on it.
With uncertainty surrounding the start of the season due to COVID-19 and the negotiations around the salary cap, expect for their to be a lot of silence around Pavon and his possible return.
We know the Galaxy have talked with Boca. We know they're interested. But the certainty drops when adding in the assault allegations and a Galaxy-side that can't afford to get the optics wrong on this.
GALAXY SHOW INTEREST IN WINGER HUSEIN BALIC: ⭐️
UPDATED STORY (4.8.21) — With the Signing of Kevin Cabral, this rumor should probably be a dead one. But we're willing to keep it at one star in case something happens down the line and the Galaxy need another winger.
ORIGINAL STORY (2.3.21) — At last, we have a real rumor.
The LA Galaxy, according to reporter Tom Bogert (a trusted MLS source), are looking at 24-year old Husein Balic. Balic is an Austrian international who can play at any of the attacking positions, but is primarily a left-winger.
In 12 appearances with LASK (who sit in 4th place in the Austrian Bundesliga) he has 12 appearances with two goals and one assist.
As Bogert points out, his nickname is "the sprinter" because of speed up and down the wings. And in case you wanted to know his FIFA speed rating, it would 94 (but who uses such things). And if he'd be coming to play on the wing in his preferred position, he'd likely be pushing Cristian Pavon out of the way.
But with Balic's ability to play on either wing or in the center, he could be a versatile starter capable of backing up a bunch of different positions. A player like this gives coaches a lot of flexibility with their formations and substitutions and fits in with what COG has been telling you about the Galaxy's hunt for signings — they're looking for quality and versatility.
Transfermarkt has him valued at around $2.2-million but that doesn't exclude him from being signed. He's a good shout at a TAM signing if the Galaxy could get him on a multi-year contract. And at 24-years-old, he could be with the team for a long time.
Bogert states that no offer has been placed on him yet. But with the Galaxy shopping for midfielders, this might make a ton of sense!
COG TAKE: Nothing is stopping us from saying this has a real chance and the source is good. So let's sit back and see if this one picks up steam!
GALAXY CHASING AFTER SERGIO AGUERO THIS SUMMER: ⭐️
UPDATED STORY (3.29.21) — While it is true that Aguero will be leaving Manchester City when his contract expires at the end of June, he won't be coming to the LA Galaxy.
On last night's podcast, LA Times Soccer Reporter Kevin Baxter squashed the idea that 32-year-old Aguero would be finding a new home with the Galaxy. Baxter quoted Galaxy General Manager Dennis te Kloese as saying "He's not" when asked when Aguero would be arriving.
Will we kill this outright? No. Plenty can happen between now and then. But this seems highly unlikely and borders on fantasy more than reality.
ORIGINAL STORY (2.3.21) — What are we even doing here? MLS is on the verge of locking out its players and we're talking about long-shot summer transfers?
You're right! We're bored. So let's talk about why Sergio Aguero to the Galaxy makes sense and then dismiss it at the end as pure and wild speculation… for now.
Aguero is going to be 32 years of age (as of June 2) and is finishing out his contract with English Premier League giants Manchester City. There's been wild speculation about where he could end up. That could include PSG, Bayern Munich, Barcelona, or Inter Milan — all world class, big name, clubs.
According to this report, the Galaxy are interested in brining in the forward this summer after his contract expires.
Having two strikers is always a good idea, and even if Chicharito blows the doors off the 2021 season, having two goal scorers is better than none. Really, there's nothing that keeps this rumor from becoming reality except a healthy salary (the article writes this off as a sure thing) and an open Designated Player slot (something the Galaxy already has).
It would mean either passing on Cristian Pavon (which seems more and more likely at this point) or moving another DP during the summer window (can you say, Jonathan dos Santos). All things that are possible.
Aguero's age would make him a good signing, and his goalscoring record, whether with Atletico Madrid or Manchester City, would make him a big name with big marketing opportunities for a Los Angeles club that loves to tout their big stars.
Having said all that? The salary considerations are a big stumbling block. Aguero is reportedly making close to $315,000 a week, or $16.3-million a year. If the Galaxy halved that amount, he'd be the highest-paid player in the history of the Galaxy and the league — surpassing Zlatan Ibrahimovic's $7.2-million per year.
So the salary seems like a big stumbling block. And you'd have to imagine those other clubs we mentioned above would be more than capable of signing him for more than $8-million.
But as Aguero's aged, he's been picking up more injuries, and his longevity — on a 3-year deal, according to this report — would be a risk.
And we're sure that the Galaxy wouldn't be the only MLS team interested. It's an extremely weak link to the Galaxy with even the most optimistic outlooks. But here we are.
COG TAKE: Sergio Aguero is going to go somewhere. So why not the LA Galaxy? At this point, that's a reach. But can you absolutely count it out?
AUGUSTINE WILLIAMS SIGNING WITH THE SENIOR TEAM: ✅
ORIGINAL STORY (4.28.21) — The LA Galaxy will be signing Auggie Williwams to a senior team contract after spending the 2019 and 2020 seasons with LA Galaxy II a source has confirmed to Corner of the Galaxy.
The 23-year-old originally was brought through the Portland Timbers' T2 program where he combined to play in 67 matches. But in 2019 he made the move to the Galaxy where he appeared in 29 matches in 2019 scoring 7 goals, while scoring 13 goals in 16 appearances in a USL season that was shortened do to the pandemic.
Williams will not occupy an international slot and his announcement is expected after the league approves all his paperwork.
GALAXY PURSUING CENTER-BACK SEGA COULIBALY: ✅
UPDATED STORY (4.28.2021) — The LA Galaxy have signed Sega Coulibaly to a two year contract with a club option (STORY HERE).
ORIGINAL STORY (4.13.2021) –– The LA Galaxy are pursuing and are close to signing 24-year-old Sega Coulibaly — a center back — from France's Ligue 2 AS Nancy. A CoG source says that there are "details to work out" but that Coulibaly is a candidate. The same was said about new Young DP signing Kevin Cabral at this stage in the negotiations.
Per the source, the Galaxy are working out final details are trying to have Coulibaly — whose contract doesn't expire until the end of June — leave after Nancy's season is over in the middle of May. Currently, he is unavailable to Nancy while he recovers from injury.
Foot Mercato has the original reporting on the story.
Coulibaly is apparently having a breakout season in Ligue 2 and was, earlier in his career, being pursued by English clubs.
Coulibaly would be the third Frenchman to join the Galaxy this season along with Cabral and Samuel Grandsir. He'd also be added to a growing list of center backs the Galaxy have in their stable. Daniel Steres, Pipo Gonzalez, Derrick Williams (signed this offseason), Nick DePuy, Markus Ferkranus, and Jalen Neal.

We'll have more as the story develops.
GALAXY READY TO SIGN WINGER KEVIN CABRAL: ✅
UPDATED STORY (4.8.21) — CoG breaks the story that the Galaxy have signed 21-year-old Kevin Cabral as a Young Designated Player.
UPDATED STORY (4.5.21; 2:45 PM) — French newspaper L'Equipe is reporting the deal is done with MLS's Tom Bogert confirming our reporting and putting a US dollar figured to the deal.
L'Equipe values the deal at €5-million which translates to around $5.9-million in the US. That may line up with what Bogert's source says is "a bit more" than $5-million. Both L'Equipe and Bogert lean heavily on the likelihood of Cabral becoming a signing under the U-22 initiative.
L'Equipe also lists the contract as being signed through 2026 which would put Cabral on a 5-year deal that would extend past his U-22 expiration of 2025. But it's likely that they are counting options years. And it wouldn't be surprising to see Cabral on a three or four deal with option years attached. Especially being Cabral will expire from the U-22 initiative the year of his 25th birthday.
This signing does not eliminate the Galaxy from signing a third Designated Player.
UPDATED STORY (4.5.21) — The LA Galaxy are on the verge of signing Frenchman Kevin Cabral. Reports out of France this weekend saw Cabral not make the Valenciennes's roster with insinuation from the team that there was a deal in the works.
The tweet roughly translates to, "Kevin Cabral? The chair will speak at the scheduled time. If he wasn't there, there are reasons. Everyone knows that he is an important player who is in high demand."
Over the weekend, CoG was able to reach out to a Galaxy source who said the deal was "almost done."
This source went on to say that Cabral was still young, and was "dynamic and fast, with good technique for a tall guy."
Rumors from France had Cabral on a plane to the United States as of last night — although that could not be verified by CoG. But that could mean that Cabral is already in Los Angeles.
This is an imminent signing for the Galaxy. We have ourselves a five-star rumor.
ORIGINAL STORY (3.19.21) — The LA Galaxy are aware of 21-year-old Kevin Cabral. Cabral is currently playing for Valenciennes FC in France's Ligue 2 as a six-foot-one right-footed winger. The rumors have Cabral coming to the Galaxy in exchange for a $5-million transfer fee on a player who has a market value of around $2-million per Transfermarkt.
Cabral is a speedy attacking player that can take quick technical touches, can shift balance quickly, and routinely beats players to the ball that already have steps ahead of him. And while the highlights show he may dribble too far into the box and runs out of steam in the attacking third, he's a young talent who could be developed.
If the Galaxy want to sign Cabral, it's likely that he'll be acquired under the U22 rule that would allow MLS teams to sign a player with no limit on transfer fees or acquisition costs and who would have a max salary of $612,500 but would only hit the cap at less than $200,000 — MLS has not released the final wording on the new rule. The U22 rule would also require that the player can't turn 23 in the first year of the contract and that they can stay in the program until they turn 25.
CoG has learned that the Galaxy are interested in Cabral, but that nothing formal had taken place as of a couple of weeks ago.
GALAXY CLOSING DEAL ON VICTOR VAZQUEZ: ✅
ORIGINAL STORY 3.16.21 — It's a rumor that has been out for a couple of weeks. But until just recently, CoG hadn't been able to put a finger on whether or not the LA Galaxy would be interested in a 34-year-old central midfielder who hasn't exactly set the world on fire since his departure from Toronto FC in 2018.
Stints with Qatari sides Al-Arabi and Umm Salal didn't exactly go well and he only made one appearance in 2020 with Belgian side Eupen. But the Barcelona product has made some impressive stops over the years. Most notably with Club Brugge (121 appearances, 15 goals), and Toronto FC (52 appearances, 16 goals).
And it's that connection with former TFC boss Greg Vanney that puts this potential deal into perspective. According to a source Vanney has a lot of "trust" in Vasquez and the Galaxy boss sees him as a good player to provide "quality and depth." And with a 2017 MLS Cup under his belt, Vazquez would provide some championship pedigree to a locker room that has limited experience in that realm (Villafana the only current player to have won an MLS Cup).
But on a team that is still short of starters, and at the tail-end of his career, Vazquez is facing an uphill battle for a midfield that is already occupied by one veteran, Sasha Kljestan. But between the two players, there's ample opportunity to rotate them regularly.
This deal is quickly closing and CoG is tentatively expecting an announcement as early as Wednesday.
WINGER SAMUEL GRANDSIR DRAWING GALAXY INTEREST: ✅
UPDATED STORY (3.11.21) — The LA Galaxy officially announced the signing of Samuel Grandsir on a 3-year deal (with a club option) from Monaco. (ARTICLE)
UPDATED STORY (3.5.21) — The LA Galaxy are finalizing the deal for Samuel Grandsir. An announcement is expected next week unless it gets squeezed out on a Friday (that seems unlikely).
This is a deal that is now expected to get done and quickly. Enjoy your weekend!
ORIGINAL STORY (3.2.21) — 24-year-old French winger Samuel Grandsir is definitely on the Galaxy's radar. A Galaxy source indicated there is interest from the club a day after new head coach, Greg Vanney, talked about adding six to eight more players to the roster and that some of those would be TAM signings.
Grandsir is currently "playing" for AS Monaco in France's Ligue 1, with a contract that doesn't expire until June 30, 2023. He's been loaned out for much of his stint with Monaco, though, and hasn't featured in a game since July of 2020. He's totaled 81 Ligue 1 appearances with six goals and seven assists.
He's a right-footed right-winger that can play on the left in a pinch. And while he's not fast, he does have a quickness about him and a technical skill that should find a good home in MLS.
COG TAKE: This seems to line up with players getting visas and the struggle with actually getting players into the US during the Pandemic. If the Galaxy do move forward on him, and it looks like they might, the mechanism by which they sign him will be an important part of the puzzle. With time left on his contract, could the Galaxy take Grandsir on loan?
GALAXY CLOSE TO ANNOUNCING DEFENDER DERRICK WILLIAMS: ✅
UPDATED STORY (3.4.21) — The LA Galaxy have announced the signing of Derrick Williams from Blackburn Rovers. Article HERE
ORIGINAL STORY (3.1.21) — CoG has learned that the Galaxy are closing in on 28-yeard-old defender Derrick Williams. Williams was playing for Blackburn Rovers before being injured in December. He underwent surgery but has been in the United States finalizing the move with the Galaxy. Details and terms are unknown at this point. Galaxy expecting to announce him in the coming weeks.
Article HERE
MARCOS ROJO TO THE LA GALAXY: ☠️
UPDATED STORY 1.29.21 — It's dead. Rojo is going to Boca Juniors. We figured that was the case and not it's done. The only problem is that we've only got one active rumor. One. Maybe another one will pop up.
ORIGINAL STORY (1.25.21) — Are the Galaxy looking for a top-tier defender? Some would argue for that, while others don't see the Galaxy spending any big bucks on a backline that already includes Giancarlo Gonzalez (a TAM Signing).
However, if the Galaxy were looking for someone, a 30-year-old Marcos Rojo might be that guy. The Argentine is apparently ready to leave Manchester United and has his sights set on heading back to Argentina — Boca Juniors to be exact. But reports say that both Getafe (LA Liga) and the Galaxy (MLS) are interested in the center back and may have offered the defender a contract.
With a market value of $6.6M (per Transfermarkt) it's unlikely he could simply come on a free transfer. But those details seem lost in most of the rumors. For now, it looks like this is another case of the Galaxy's name being mentioned for every move.
COG TAKE: We're not part of the crowd that is expecting the Galaxy to sign a splashy center back. And another TAM/DP level guy doesn't seem to be on the radar. But we'll watch this one to make sure it stays quiet.
SEBASTIAN GIOVINCO TO THE LA GALAXY: ☠️
UPDATED STORY (2.1.21) — The LA Galaxy are not interested in Sebastian Giovinco. A source, siting Giovinco's age, and while acknowledging his talent, says the club is not interested in the player and has no formal engagement with him.
This firmly plants the Giovinco rumors in the "dead" category.
UPDATED STORY (1.27.21) — No. We said it would make some sense but that no one was biting in terms of the Galaxy's interest. We mentioned the questionable sources, but that it was a position of need for the Galaxy. So what do we end up with? This!
Is there any wiggle room in this? Nope. Unless the Galaxy decide that they're suddenly interested in Giovinco after having not been interested. This rumor dies. It goes away. And no one should mention Giovinco's name for the rest of 2021. Unless the Galaxy are suddenly interested in him this summer. Should we start that rumor now?
UPDATED STORY (1.25.21) — This story isn't getting quieter. And maybe that's a good thing. You can read below about the origins of this rumor, but we'll upgrade it today to three stars. There's still a lot that makes sense. And if the reports are true that the arrival of Luciano Vietto to Al Hilal has limited Giovinco's minutes, then there might be more impetus for the Italian to move.
COG TAKE: The source is certainly a questionable one, so we're not banking on that information. But to be sure, the fact this is still around gives it some legs. For staying power alone we'll upgrade this to three stars.
And out of all the rumors, this one still makes the most sense. But with relatively little to go on and no confirmation from the club they're in talks, it continues to be a hard sell. Plus, will he be a DP or a TAM signing? But it's Monday and you need something to hope for.
ORIGINAL STORY (1.18.21) — Rumors have linked former MLS MVP and former Toronto FC attacker Sebastian Giovinco with the LA Galaxy. The basis of these rumors seem to hinge on the relationship between Galaxy head coach Greg Vanney and Giovinco.
Giovinco is currently playing in Saudi Arabia. Making a move back to MLS a reasonable step. Giovinco would plug into a central attacking midfielder or second striker role and could be the playmaker the Galaxy have been missing for many years. At 33-years-old he's a borderline Designated Player (Galaxy have one spot open) or a TAM player. He would not be a long-term signing for the club.
COG TAKE: We have no specific information that links Giovinco to the Galaxy. In fact, most of the information we can gather points to there being nothing to this rumor. But we're going to provide for two stars just because we feel like this could be something — there's just nothing.