After a long ride, Douglas Costa finally lands in Los Angeles. Now, can he find some of that technical form that made him one of the best wingers in world football?
CARSON, Calif. — Douglas Costa is finally a member of the LA Galaxy, the club announced on Thursday morning.
He was pictured with his girlfriend, Nathalia Felix, at a LA Lakers home game at Crypto.com Arena on Tuesday night after arriving from Rio de Janeiro on a United Airlines flight by way of Houston, Texas.
The 31-year-old midfielder will join the Galaxy for two years, per the club's press release, with the first six months of the deal being a loan from Brazilian second division side Gremio.
Gremio has a loan for Costa from Italian side Juventus. That loan will expire at the end of June, in which case the Galaxy will permanently sign Costa for a reported, but unconfirmed, $5-million per year. Costa will occupy a Designated Player spot for the Galaxy – their third and final slot – and occupy their last remaining international slot (8 of 8). The contract will put Costa under the Galaxy's control through the 2023 season
"Douglas is a world-class player and a proven champion at the highest level. His capacity to create and finish will add yet another level to our attack," said LA Galaxy Head Coach Greg Vanney. "We are excited to integrate him into the team as we push toward the start of the season."
In an interview with the Galaxy, the Brazilian noted that he was aware of the high-profile names the club had signed in the past. He named David Beckham, and Zlatan Ibrahimovic as players he followed and admired and knowing the Galaxy had such big names that have signed for the team before was a factor in him choosing the Galaxy.
"I know the league is growing a lot and that the Galaxy has had several important historical players, such as Beckham, and Ibrahimovic — players I used to follow closely before coming here and this was a determining in my decision to join the Galaxy," he said.
"I think that it's a new challenge… I believe the MLS is growing a lot so why not play on the best team in the league."
Costa began his career with Gremio, who was in the top-flight of Brazilian soccer until last year's relegation. But in 2010, he moved to Ukrainian side Shakhtar Donetsk. Five years later, he would make his first move to German side Bayern Munich, for a $33-million transfer fee, before bouncing back and forth between Bayern and Juventus in a series of purchases and loan backs.
Juventus purchased the player for $44-million in the 2018-2019 season but loaned him back to Bayern during the 2020-2021 season. Later that season, the Brazilian was loaned to Gremio and played first division soccer in Brazil until their relegation.
Costa has over 460 professional games under his belt, has scored 68 goals, and assisted 99 times. That includes 76 games in the UEFA Champions League, 73 games in Seria A, and 61 games in the Bundesliga.
And his accomplishments during his time in Europe were many. Costa was three times the German and Italian Champion. He added an Italian Cup and an Italian Super Cup. He was five times a Ukrainian Champion and three times a Ukrainian Cup winner. Costa also won the Club World Cup with Bayern Munich in 2021.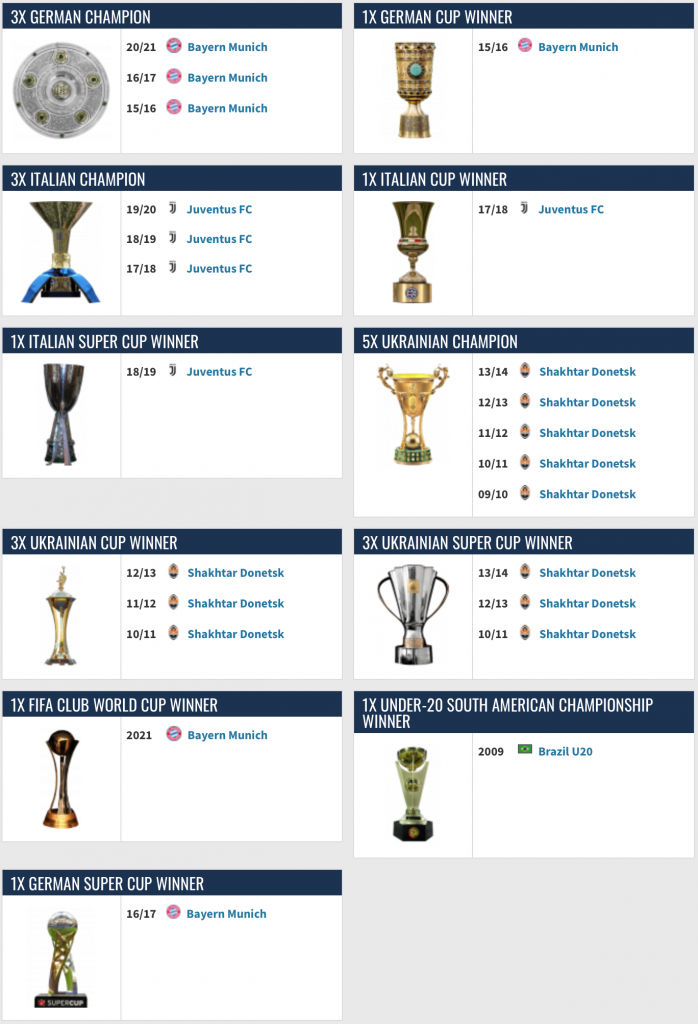 Costa also has 31 caps for the Brazilian National team and has played in two World Cup matches during the 2018 tournament in Russia.
"Douglas is an exceptional talent who has played at some of the biggest clubs in the world," said LA Galaxy Technical Director Jovan Kirovski. "He is a big addition to our team, and we believe he will be a difference-maker in MLS."
But since 2019, Costa has also faced a series of injuries. His most recent injury, a hairline fracture of his foot, saw him miss more than 120 days.
Still, the biggest rub on Costa hasn't been his injuries, but more his motivation — or perhaps lack thereof. Questions have popped up about his work ethic, dedication to his game, and ability to adjust and correct for technical skill that is still there but starting to fade.
There is no doubt about it, Douglas Costa can be one of the most gifted and talented players in Major League Soccer. But at 31, will he still want to work hard, or harder than he ever has to stay competitive and win games for the Galaxy?
Vanney will need to decide how and where Costa will plie his trade for the club. Costa, primarily a right-sided winger, could play inverted for the Galaxy on the left side. Vanney likes to have his Wingers cut inside and create overload problems at the edge of the box. Costa could also slot into the central midfield, an area where the Galaxy currently lack a playmaker.
Javier "Chicharito" Hernandez sometimes occupies that spot as an almost false 10, and midfielder Victor Vazquez can line up centrally. But for the most part, the Galaxy have few game-changing options that can pull the creative strings in the center of the field. Costa could be that guy.
That could also force Samuel Grandsir or Kevin Cabral to the bench on occasion. Something Vanney will be hesitant to do, especially with Cabral catching some early goals in the 2022 preseason.
The bottom line for the Galaxy is that they're adding a very talented player to their roster in Costa. Now Costa will have to do his part to show the club their trust in him hasn't been misplaced.