With the announcement of Lucas Calegari joining the LA Galaxy, let's take a look at who he is, what he has done, and how he could integrate to the team.
---
Who is Calegari?
Calegari is a twenty-one year-old homegrown product of Fluminense's academy and was their backup right-back in what was his fourth season with the senior team. Standing at five-foot-seven-inches, he is a right-footed right-back and has been used as a right midfielder and left-back in a pinch. After a breakout season in 2020, playing 22 of 38 games and helping them finish fifth overall. However, his playing time was going down each subsequent season. And this season, he has only played in less than half of the available minutes. He has great speed and ball-dribbling ability, a very good one-on-one defender, and on the offensive side has great vision and makes good decisions.
---
What has he done?
Calegari comes from the Brazilian Serie A, which is a perennial top-ten league that consistently competes in Club World Cup Finals alongside UEFA Champions League Winners. He has about eighty games of experience under his belt across all competitions, including Brazilian Serie A, Brazilian Cup, Copa Libertadores and the Copa Sudamericana – CONMEBOL's versions of the UEFA Champions League and Europa League, respectively. During his time with Flu, he scored one goal and had two assists to go along with only eleven yellow cards and one red card. He is considered a relatively "clean" player because he has such great recovery speed and is adept in one-on-one situations. Injury-wise, there's little to report as well as he has only missed four games due a hamstring injury towards the end of last year.
---
How could he fit in?
Major League Soccer (MLS) is not an easy league to adapt to due to the travel, change in time zones as well as temperature, the physicality of play and toll on the body, and not to mention the language and culture. Thankfully, Los Angeles is one of the most diverse cities and boasts a small Brazilian population that could help Calegari ease the transition from his native Brazil to the United States. In addition, it will help that guys like Douglas Costa, who is Brazilian himself, and both Tyler Boyd and Uri Rosell – who have both played a few years in Portugal, which shares the same national language as Brazil – can make the transition smoother for him.
Stylistically, Flu plays very similar to how Coach Greg Vanney sets up the Galaxy. They also play with wingers that cut in and with full-backs that overlap. All the coaches Calegari has had have played a four-man backline with some variation of a 4-3-3 with either one or two defensive midfielders. Using statistical data from SmarterScout, Calegari has had seasons that resemble players such as Jaylen Lindsey with Sporting Kansas City, Auro Alvaro da Cruz Junior with Toronto FC, and Julian Araujo with the LA Galaxy. What is interesting about these player profile comparisons is that all three players play in four-man backlines as part of 4-3-3 formations with wingers that cut inside on their dominant foot. And ironically enough, both Auro and Araujo have played under Vanney.
Below is a table reflecting season by season comparison of percentiles in a given category. His 2022 season was evenly split playing both right and left back (only right-back data shown). Below we see he is very good at keeping possession (91st percentile), dribbling at players (90th percentile), as well as getting past them in duels (73rd percentile). In 2021, he had his most minutes (988) at right-back and put up amazing numbers in some of the key defensive categories, such as defending quality and quantity (84th and 83rd percentile, respectively), as well as pass disruption and interception (93rd percentile). And finally in 2020, he has least amount of minutes (195), but again placed in the 99th percentile for both defending quality and pass disruption.
---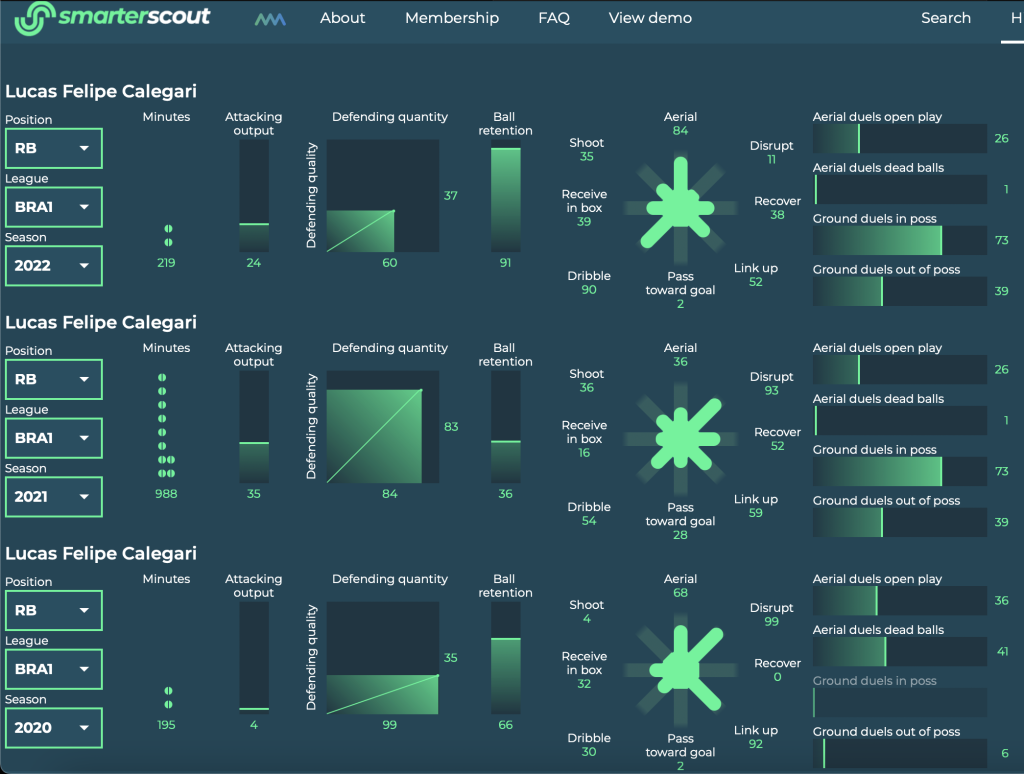 ---
Calegari was acquired for the 2023 season via a loan with a purchase option that has been reported to be around the $2 million range. His current contract expires at the end of 2023. As an U22 signing, he must be with the team for a minimum of two years per MLS' rules and regulations. In reality, we don't see Calegari being with the Galaxy for more than 2-3 years. This provides for an interesting idea because we have to imagine it sets up the LA Galaxy to convert more money to GAM (General Allocation Money) from a potential transfer (after transfer fee has been recouped) per the U22 MLS Rules and Regulations. And finally, this signing shows that U22 signings should be starters, especially when you can bring in someone with no limit on their transfer fee and the only limiting factor being their salary. Thus, allowing U22 players that only hit the salary cap at $150,000-$200,000 would provide the team to have a ton of depth in terms of available salary cap.
---
Calegari is a great signing on paper, and is expected to be the starting right-back for the Galaxy and will dazzle with his deft footwork and shutdown defense.
---
Sources: Transfermarkt, MLSsoccer, SmarterScout