IT'S HERE. AND IT'S GORGEOUS!
Life's a beach. Introducing the new 2015 #LAGalaxy secondary kit: http://t.co/ukyPM9MQxR #BlueOnBlue pic.twitter.com/rmcHNhfiIz

— LA Galaxy (@LAGalaxy) March 2, 2015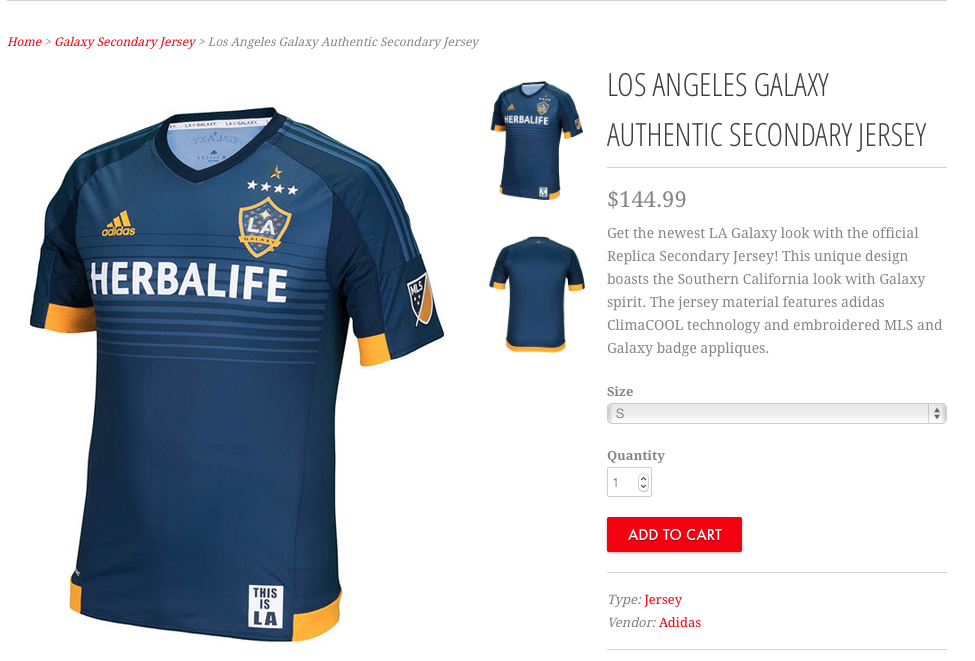 It's AJ's turn to give us our latest clue. Although this clue is a little less exciting because, surprise, it has an MLS logo. Shocker… I know. However, it is a Gold and Blue MLS logo. So that's something.
The #whiteandgold jersey teaser continues… Just kidding its #blueonblue pic.twitter.com/Id5qSyJtXi

— AJ DeLaGarza (@AJD_20) February 27, 2015
Dan Gargan is today's luck LA Galaxy player to tweet a teaser pic of the new secondary kit. This time we're seeing an inside band, of some sort. Maybe it's the detail around the inside of the collar or perhaps it's around the seam at the bottom of the shirt. Regardless, there are plenty of quasars and Galaxy logos to go around.
It's all in the details, isn't it? RT this for a chance to win my first game worn new #BlueOnBlue @LAGalaxy jersey. pic.twitter.com/KqrhIynhXc

— Daniel Gargan (@HeyDanGargan) February 26, 2015
Note: Baggio Husidic has added to the LA Galaxy players using Instagram to tease the "Blue on Blue" secondary kit.
Note: No third kits this year. MLS is phasing out 3rd kits throughout the league. So you're going to get an every-other-year update to the first and second kits. LA Galaxy Insider Adam Serrano has been saying this since last year. Other people also reporting this fact. So I guess the Seattle-killer kits are dead.
If you're one of those people who clamor for the announcement of a new LA Galaxy kit, or if you love seeing, commenting, and wearing brand new LA Galaxy designs, and finally if you're one of those people who scours the internet to find pics of the early releases of kits, then this is your lucky day.
Major League Soccer announced today that Starting on February 28th and ending on March 7th MLS teams across the country would take part in revealing their brand new designs for the 2015 season.
COMPLETE LIST OF TEAMS AND DATES HERE
You can follow along on social media with the hashtag #JerseyWeek, as MLSSoccer.com will provide coverage of the new designs for each club.
LA Galaxy Secondary Kit
The LA Galaxy are listed as revealing their SECONDARY kit on March 2, 2015. The venue is listed as a digital release of the kit itself with an event to follow the next day. As of right now we have no further details on the event but we will update this story as more information is revealed.
But ahead of the release the LA Galaxy have enlisted some players' social media accounts to start with the tease.
Are those pinstripes we see Robbie Rogers? Blue on Blue indeed!
https://instagram.com/p/zdbZjbnPF4/