When tearing both ACLs threatened to sideline Elvis Romero from the sport he loves, he couldn't bear the thought of a life without soccer. "I just looked for an avenue or a way to stay in the game," says Romero. He'd toyed with the idea of launching his own clothing line, but hadn't found a niche. Then, in February 2014, it clicked: "As it got closer to the World Cup, that's when I started thinking 'wait, this is perfect.'"
Elvis partnered with a designer on a U.S. Mens National Team inspired t-shirt, "Don't Tread On Us." When the first run sold out immediately, he knew he was onto something. Amidst the frenzy of the 2014 World Cup, On the Volley Apparel was born.
"I just looked for an avenue or a way to stay in the game."
—Elvis Romero, founder, On the Volley Apparel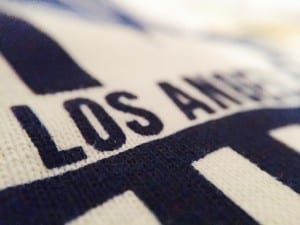 When it comes to soccer-inspired fashion in the States, "there's really not much going on," says Romero, "it's not saturated." So inspired by his early success, Elvis set out to fix that. Mixing soccer with a dash of hip hop culture, he and his designers create shirts with inspirations ranging from Landon Donovan to the Wu-Tang Clan. One design, called "Players Only," even riffs off the restroom signs at Sporting KC's home stadium.
The look is casual, to a tee. "You can wear it in both worlds," says Elvis, "your personal life as well as your athletic life." And he's right — there's a distinct lack of pretension in the designs. 'Minimalism' is almost too strong a word for it.
Fans have embraced the make-it-your-own aesthetic, and run with it. Like Jessica Sanchez, formerly of the Galaxy Star Squad, who customized her shirt by snipping off the sleeves. Or Minnesota United's own Christian Ramirez, who posed in front of Christ the Redeemer decked out in VAFC gear.
https://instagram.com/p/0bSFterybe/
On the Volley Apparel is the rare trend that's caught on with players before the public at large. Just a year into it, Elvis has big plans for his company, including hosting street soccer and viewing parties. But none of that detracts from the actual work — answering the question of what comes next. You can bet Romero's on it:
"At this point right now, if I just pull the trigger, I have six to ten designs ready to go."
For more on Elvis Romero, check out the latest episode of Corner of the Galaxy's podcast. And be sure to support local soccer culture — drop by VA Football Club's website.