The LA Galaxy have all the momentum they ever wanted heading into the heated second leg of a three-part El Trafico against cross-town rival Los Angeles Football Club on Thursday night (7:30 p.m. ESPN). Unbeaten in their last seven games and winners of three straight, the Galaxy (9-7-4) sit in fourth place in the Western Conference just two spots and four points from LAFC (10-5-5) who sit tall in second place.
But for as much as the first matchup between these two rivals set a new high watermark in entertainment and drama back on March 31 — seeing the Galaxy close a three-goal deficit by scoring four goals in the final 29 minutes of the match with Zlatan Ibrahimovic's debut seeing the Swede score two of those goals in 4-3 victory at StubHub Center — this game, the first-ever between the two at LAFC's brand new Banc of California Stadium, could end up to be a close second.
"The first game was one thing, this is another," Ibrahimovic told reporters after training. "One thing for sure, we are ready. Let's see the outcome of the game."
Both teams are desperate to prove themselves in the brightest of spotlights and LAFC is surely looking for some sweet revenge. They even went so far as to rest Designated Player Carlos Vela,  and to limit Adama Diomande's minutes — their leading goalscorer with nine goals in nine games played —  in their previous match. But in doing so they seemed to have surprisingly gotten played off the pitch with their defense allowing five goals to Minnesota United in a shockingly easy victory for the Loons (5-1).
LAFC takes a short week from their game in Minnesota on Sunday and will need to quickly regroup before a sold-out crowd in Los Angeles with head coach Bob Bradley's crew needing to forget all their missteps from the loss.
The Galaxy, on the other hand, played some of their better soccer of the year in Saturday night's defeat of the Philadelphia Union, 3-1. A game that saw Ibrahimovic pair nicely with striker Ola Kamara, and also saw Romain Alessandrini come off the bench to get two assists on a rain-soaked field.
The Galaxy haven't lost a game since May 30 when they fell 3-2 to FC Dallas at home. And adding another win to the aforementioned unbeaten streak of seven games would see the club match a similar streak in 2017. And, by winning on Thursday night the Galaxy would stretch a win streak to four games — something they haven't accomplished since July of 2016 under the watchful eye of then manager Bruce Arena.
Three points from LAFC would also see the Galaxy become the first team in MLS history to get the victory at Banc of California stadium where LAFC remain undefeated through nine games (5-0-4).
"We are slowly starting to click," Ibrahimovic said. "We have shown by the results. We are connecting, we train hard, we train good and the World Cup is over. Everybody's back from injury. Coach has a lot of choices."
Those choices will get more difficult as both Sebastian Lletget (ankle) and Bradford Jamieson IV (hip strain) seem likely to be available for the match and as Galaxy head coach Sigi Schmid already has a choice between starting Chris Pontius or Alessandrini.
It's those choices that saw the Galaxy struggle in the first 45 minutes against the Union only to see a truly balanced 3-5-2 emerge with Alessandrini and Pontius playing true wing-back position on the outside for the very first time this season.
But with a history of bringing Alessandrini off the bench, and with Galaxy captain Ashley Cole back from red card suspension, it wouldn't be surprising to see much of the lineup remain unchanged and for Alessandrini to reprise his role off the bench.
"I think we're getting more used to playing with each other," Schmid told reporters. "I think we have a better understanding of how to play with Ibra as well. I think he understands his teammates better.
"Anytime you win games it gives your team confidence. Everything becomes a little bit easier and training starts to go a little better. Confidence is a big factor for everybody."
With the Galaxy picking up 11 points out of their last five games, and LAFC hovering near the top of the conference for some time, this matchup, even a month ago would have pitted an in-form LAFC against a struggling Galaxy team.
But with the Galaxy surging, and LAFC faltering ever so slightly in their last match, Thursday's matchup will be one of desperation from both sides. With neither team willing to give a single inch to their rivals over the battle for the hearts and minds of those in Los Angeles and for a decent bump in overall table standings.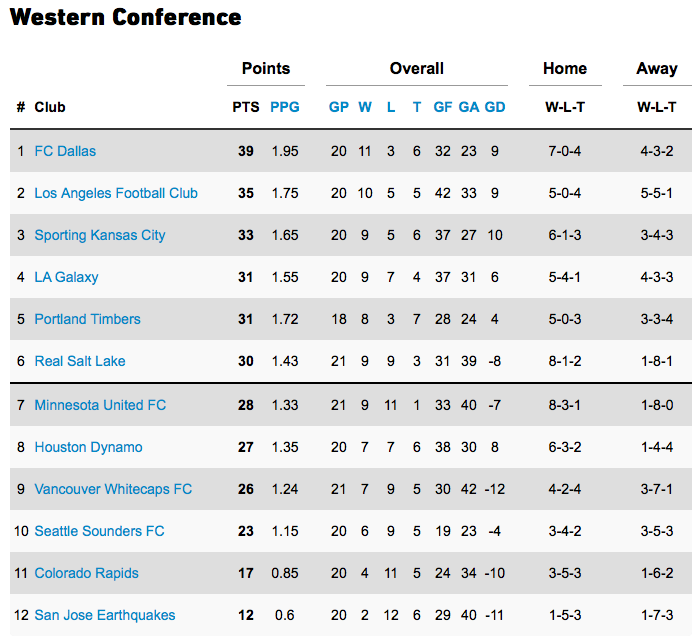 And while many are willing to dismiss the game as a manufactured rivalry, the atmosphere that surrounded the first match, and the fevered buzz that accompanies the second, means something special is clearly happening here. And whether it goes by the name of El Trafico or anything else the supporters of these two clubs come up with, it's clear neither team is willing to lose this game. And that means anything can and will happen in the course of 90 minutes – a win for neutrals and die-hards alike.
Speaking to one Galaxy source, they assured me that while the transfer window is open, all focus, right now at least, is on Thursday. In fact, you'd be hard-pressed to find a Galaxy official who even acknowledges that the club will be playing at home on Sunday to Orlando City (6:30 p.m.; FS1) — a very winnable game on paper.
The focus for most of the soccer-loving city will be on Banc of California Stadium on Thursday night. The Galaxy themselves will be focused on gaining a motivational and mental edge over their rivals. The type of victory people write stories and make movies about and the type of victory that erases the bad memories from a year ago.
And if the first part of this series was any indication, moral victories aren't something that will be recognized or tolerated when the final whistle blows.
So if you don't already have a viewing option in mind, Schmid has some words of wisdom:
"If you don't have a ticket, you've got to make sure you turn on your TV."
Larry Morgan contributed to this article.