LA Galaxy score in stoppage time thanks in large part to Sacha Kljestan and Efrain Alvarez.
CARSON, Calif. — It took a long time for the LA Galaxy to remember what winning felt like. But after their 2-1 victory over the Portland Timbers on Saturday night in front of 15,322 at Dignity Health Sports Park, the Galaxy may just be feeling a little bit better about a 2021 season that has just five games remaining.
But it wasn't easy for the Galaxy (12-11-6), who saw a 0-0 scoreline at halftime hold strong despite holding 70-percent possession and 11 first-half shots. They had multiple chances to take the early lead, and Javier "Chicharito" Hernandez probably will feel he should have scored two or three times in the opening 45 minutes.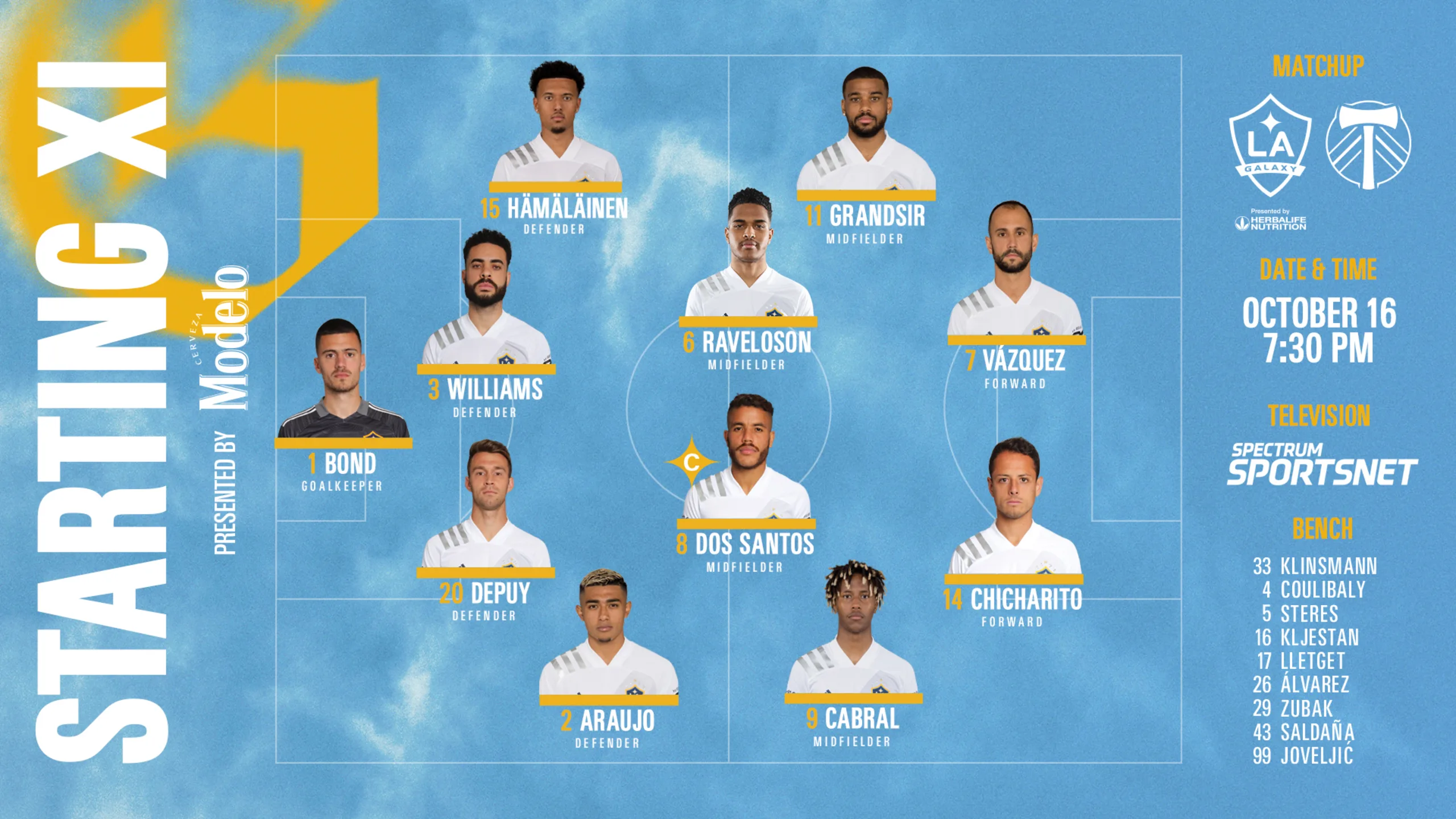 No, it took a 62nd-minute cross from Victor Vazquez that somehow snuck behind two Portland (14-11-4) defenders and Timbers goalkeeper Steve Clark — a half chance, if you will — and fell to the outstretched right foot of Chicharito to finally get the Galaxy a lead. It was Chicharito's 13th goal of the season and his third in his last seven games, and it meant the Galaxy scored first for the first time since August 28 in a 3-3 draw with LAFC on the road.
But the Galaxy would cough up the lead 10 minutes later when defender Julian Araujo got picked at the top of the box by a Portland attacker and couldn't get out to Sebastian Blanco. Blanco fired a looping shot toward the Galaxy's back post, and goalkeeper Jonathan Bond couldn't get back fast enough to do anything with it. Blanco's shot would hit the far post and angle into the netting for the goal.
Vanney quipped after the game that it almost seemed comical how the Galaxy could give up goals. "We also found another way to give up a goal today, which we hadn't this year," he said. "So, you know, put that back on the board." But it was surely a momentum killer.
Substitutes Sacha Kljestan and Efrain Alvarez, who came on right after the Galaxy had scored their opening goal, and battled through Portland's goal still wanted to put their stamp on the game.
So with four minutes of stoppage time ticking down, Alvarez dribbled into the edge of the box and ran parallel to the goal line before being tripped up by Portland's José Van Rankin for an LA penalty kick. It was a blatant foul, and it allowed Kljestan — who had made a couple of great defensive plays during his 27 minutes of action — to score the penalty kick in the first minute of added time.
It would be Kljestan's fourth goal of the season, and despite the goalkeeper guessing the correct way, it was a well-hit and executed shot.
"I don't pay attention to the goalies," 36-year old Kljestan said of the penalty kick. "I decide the morning of the game where I am going to shoot if I get a penalty. So this morning, I had a feeling we were going to get a penalty tonight. I just didn't know if I was going to be on the field to take it or not. But I knew when I put the ball down that I was going to shoot it that way and that I was going to hit it hard, and hopefully he wouldn't get there."
It was a poetic moment for a player who just days earlier had confessed to having his best days are behind him but always wants to be on the field when he can be. And his celebration afterward was emotional, inspirational, and loud.
"I felt like I went a little crazy after I scored tonight," he said. "I wanted to jump up in the crowd, but I quickly remembered that I had a yellow card already, and I didn't want to get sent off. I jumped off really quickly, and then I went to run across the other side where my family was seated, and waved at my kids. So it's just a really good feeling."
Kljsetan and Vanney were both cognizant of what a result like this could mean to a team that has played well in spurts despite being, at the time, in a nine-game winless streak. But when the breaks aren't going your way, it's hard to feel confident that the path the team is walking down is the right one.
When scoring the first goal, the Galaxy improved to 11-2-2 and hadn't accomplished that feat in their last seven games.
It was also the Galaxy's first win since an August 14 match at Minnesota, and it was their first home win since an August 4 victory over Real Salt Lake.
The win could almost be seen as palette-cleansing for a Galaxy side that was — if not for the three points they earned against Portland — slowly slipping out of playoff contention.
And with Real Salt Lake and Minnesota United both winning their Saturday matches and with Vancouver hosting Sporting KC on Sunday, there was a reasonable chance the Galaxy could have found themselves below the playoff line before the weekend was over.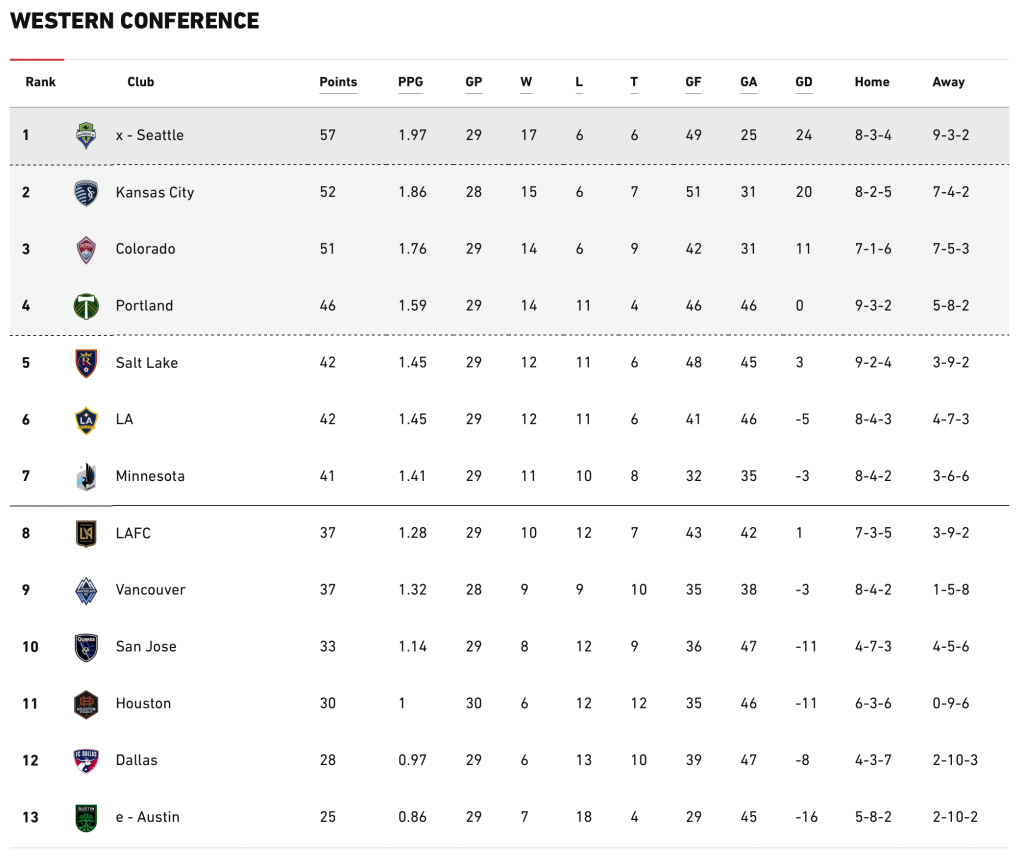 But the victory allows them to keep pace with Real Salt Lake (42 points, 5th place), who holds the goal differential tie-breaker on the Galaxy (42 points, 6th place), and it allowed the Galaxy to jump back ahead of Minnesota (41 points, 7th place)
The Galaxy will hold onto the sixth spot in the Western Conference regardless of other results on Sunday. And the win against Portland closed the gap between the Galaxy and a chance at a home playoff game (Portland holds the fourth spot with 46 points. The Galaxy and RSL have 42 points).
But the Galaxy's week isn't over. They'll travel to Houston to face the Dynamo on Wednesday night and then return to host FC Dallas on Saturday night at DHSP.
"It is really nice having some music blasting in the locker room again after a game," Kljestan said about the customary loud music that is only played after a victory. So that is just a good feeling.
"I think everyone is a bit relieved, especially with the way the game went tonight," he continued. "I thought we played exceptionally well. I thought we were in total control. We had a lot of possession. We created some great chances. It felt like one of those games in the first half where they were going to get one chance and were going to score after we had so many. And they score a fluky goal to make it 1-1 and you just think, 'oh no, not again.'
"So to get that win in the end, I think it is a big exhale for everybody, and now hopefully it is the start of a winning streak or an unbeaten run."